Whether you just met, you've been together for years, or you're celebrating a special occasion, a shared meal has a way of bringing people together. But it's easy to get stuck in a rut when it comes to dining out. Instead of going to your old standby, may we suggest trying something new? The restaurant scene in the Omaha area is thriving, so we've collected a few of our favorite local eateries that would make the perfect addition to a night on the town.
Next time your significant other asks where you want to go to dinner, don't say "I don't know." Instead, say "I just read the perfect blog post…"
Casual Night Out: $
Upstream Brewing Company
Photos courtesy of Upstream Brewing Company
Upstream Brewing has two locations, one in the heart of Old Market and the other in West Omaha. Known for their flavorful dishes and made-in-house craft brews, Upstream Brewing is the perfect place to unwind with your special someone. In fact, Best of Omaha voted them the #1 Microbrewery, #1 Brewpub and the #3 Sunday Brunch Spot — among others. So whether you're planning a special evening or a morning brunch date, you'll still be dining at one of the best options in town!
Kitchen Table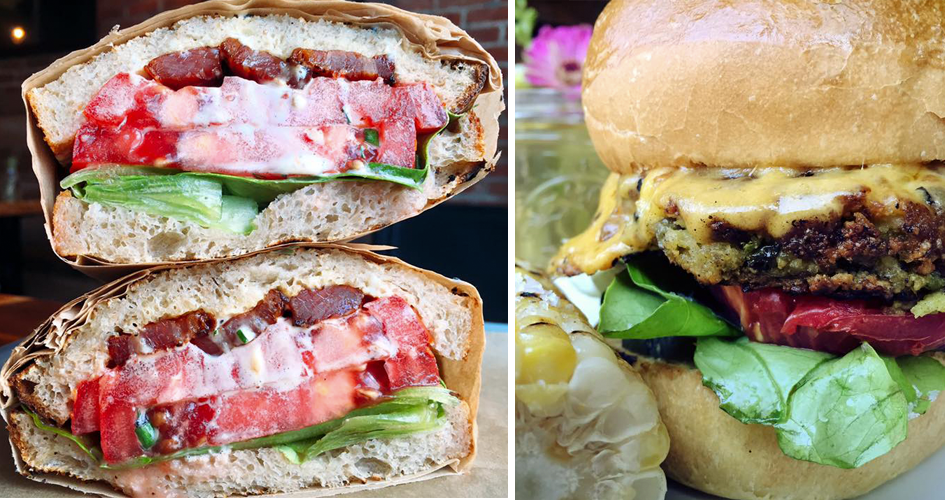 Photos courtesy of Kitchen Table
Kitchen Table serves lunch, small bites and dinner, and can be enjoyed in-house or picked up on your way home. In addition to their main menu, they also offer dinner specials for each night of the week — including pasta, taco and burger nights. Because their food is made from scratch with local ingredients, their offerings change seasonally. But one thing always remains a constant — their focus on quality foods packed with big flavors, and served in a welcoming atmosphere.
LOCAL Beer, Patio and Kitchen
Photos courtesy of LOCAL Beer, Patio and Kitchen
LOCAL Beer, Patio and Kitchen has the largest local craft beer selection in town with brews from all across Nebraska, including local favorites Upstream Brewing Company, Brickway Brewery and Distillery, Farnam House Brewing Company, and more! To help you find the perfect accompaniment to your meal, LOCAL's menu offers beer pairing suggestions. So grab a seat on their rooftop patio and order the Sloppy Charlie with a bold, hop forward IPA, or the Spicy Sriracha Patty Melt with a light, refreshing Saison. We promise it won't disappoint! After you're done, stick around for a night cap and challenge your date to a game of life size Connect Four.
Trini's
Photos courtesy of Trini's
Located in the passageway of Old Market, Trini's has one of the most beautiful locations in Omaha. Candle-lit tables and low lighting provide a romantic atmosphere, and spectacular Mexican food is served up at an affordable price. Share a side of guacamole and chips, and a pitcher of margarita while you both try to narrow down the many delicious options!
First Date: $$
Dario's Brasserie
Photos courtesy of Dario's Brasserie
Dario's Brasserie was born out of European flair, and a love for French food and Belgian beer. Serving up casual European cuisine in the Dundee neighborhood since 2006, their menu is enticing to both the adventurous and traditional diners alike, with everything from Smoked Salmon Belly Crepes to Dario's Cheeseburger. Their dining room decor and hand-picked beer selection offer great conversation starters, making it a perfect first date spot.
Espana
Photos courtesy of Little Espana
Known by locals for their large selection of mouth-watering tapas and paellas, Espana in Benson makes you feel like you've traveled to Spain without having to leave the comforts of home! Pair any one of their small plate offerings with a traditional Spanish drink like their Tinto De Verano, or share a bottle of their Signature House Sangria. Their second location, Little Espana at Rockbrook Village, offers a smaller menu of tapas and desserts, and an eclectic and intimate dining experience.
Plank Seafood Provisions
Photos courtesy of Plank Seafood Provisions
If you're looking for fresh seafood, look no further than Plank Seafood Provisions! Plank received a Certificate of Excellence from Tripadvisor this year and remains committed to providing thoughtful service, fresh flavors and quality ingredients to its patrons. Though they do offer "Landfood", the majority of their menu is classic seafood with an Omaha twist — like their BBQ Oysters that includes six seasonal oysters that are wood fire grilled and served with citrus, soy, ginger and butter. Or, for the most memorable date night experience, split a plate of alligator!
Nicola's Italian Wine + Fare
Photos courtesy of Nicola's Wine and Fare
Since 2003, Nicola's has been serving upscale Italian food in the heart of Old Market. Their garden patio is a quaint, romantic option for a nice evening with your loved one, and their extensive menu is sure to satisfy every palate. Don't forget to treat yourself to the Italian Lemon Cream Cake for dessert!
Anniversary Dinner: $$$
The Boiler Room
Photos courtesy of The Boiler Room
An Old Market favorite, The Boiler Room was actually a former boiler room, as the name implies, for the 120 year old Bemis Bag Building. Their menu showcases ingredients from local growers  — chosen by the restaurant for their freshness, naturalness and humane conditions  — and is inspired by chef Paul Kulik's French background. All of this combined creates a dining experience that is sure to impress!
The Grey Plume
Photos courtesy of The Grey Plume
The Grey Plume combines traditional culinary style and taste with modern techniques to create a seasonally-driven, contemporary menu. In true farm-to-table style, they offer in-house roasted coffees as well as handmade pastas, butter and artisan breads. Because they buy seasonal produce and livestock, their menu changes often. But no matter the season, you're guaranteed a wonderful meal made with the freshest ingredients in a beautiful, modern setting.
801 Chophouse
Photos courtesy of 801 Chophouse
801 Chophouse is modeled after classic 1920s New York steakhouses and is located inside The Paxton in Old Market. While this is an upscale restaurant, the atmosphere is comfortable and inviting. Awarded the Wine Spectator Award of Excellence in 2015 as well as Open Table's 2016 Diners' Choice, a stop at 801 Chophouse is sure to impress your sweetheart. Whether you're looking for some of the best steak in town or the most creative seafood options, they have it all on their extensive menu.
Sullivan's Steakhouse
Photos courtesy of Sullivan's Steakhouse Omaha
Sullivan's boasts an intimate atmosphere, artfully crafted food and live music. Their classic steakhouse menu offers the highest quality meats and seafood and some of the best dessert in town. (We suggest trying the S'Mores Mousse Cake!) Pair your meal with one of their award winning wines or hand crafted cocktails and raise a glass to romance!
What's your favorite date night restaurant?
If we skipped your go-to date night spot, let us know!