Whether you're looking for a quick break from the office or just out exploring the area, lunch is a great way to experience Omaha's amazing restaurant scene. With daily specials catering to the quick on-the-go work crowd, as well as those looking for a leisurely hangout spot, Omaha has something for everyone.   
If you're craving fresh sushi, a mouth-watering burger, or even German food, we rounded up a list of the best options that are sure to cure your hunger pains. Find the one that sounds the best to you and get ready to eat some of the best food in the country.

Photo courtesy of Block 16
In the past four years, Block 16 has offered more than 1,400 lunch specials with only a few repeats, announced every morning on their Facebook page. They pride themselves in culinary creativity and experimentation which results in some of the most unique and delicious food combinations we've ever tried! The Croque Garcon Burger from their regular menu was called the best burger in the country by USA Today's Alton Brown. So if you're not sure what to order off their long list of menu items, you're probably safe ordering this famous burger topped with cheese, ham, a sunny-side-up egg, mustard and truffle mayo!
Photo courtesy of Culprit Cafe & Bakery
Though their delicious, homemade breads can be found at restaurants throughout the area, the only place to get the real Culprit experience is right where the magic happens. Their cafe serves breakfast and lunch, offering crafted and concise menus. We recommend the Vietnamese inspired Bahn Mi, but you can't go wrong with anything they offer.
Gerda's boasts the best reuben in town, and is piled high with corned beef, sauerkraut and melted cheese. It's hard not to order it every single time (we're creatures of habit!), but the daily German and American specials every day of the week make it a little easier. Friday is our favorite day of the week, but we can never decide on the Salmon Patty Sandwich or the Goulash with Spaetzle!
Photo courtesy of Blue Sushi Sake Grill
Blue has a sushi special for every day of the week, which earns it a spot on our best lunches in Omaha! Crunchy Thursday is for the tempura fan in all of us. On Tuesday you can enjoy College Night specials (Old Market location only) and Sake Tuesday with half off Sake bottles. Every weekday from 11 a.m. – 2 p.m. their lunch special is available with maki, sashimi and nigiri options. You may come for the special, but you'll stay for the award winning sushi and sake!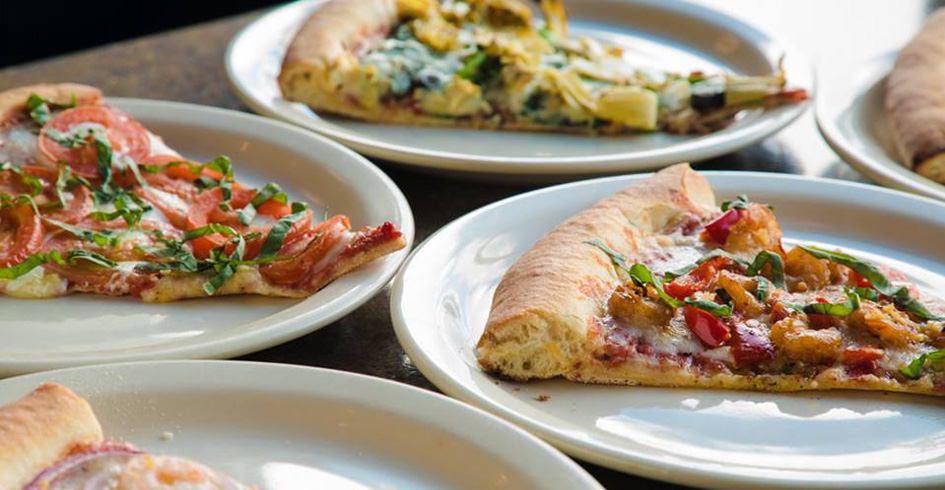 Photo courtesy of Zio's Pizzeria
Zio's serves some of Omaha's best pizza in three different locations: Old Market, Midtown and West Omaha. With 33 awards for Omaha's #1 pizza, they have the credentials to back up their claim. They have lunch specials Monday-Friday, so stop over on your lunch break for a slice of pizza, calzone or pasta dish!
As transplants from Seattle, the owners at Twisted Cork bring a little bit of the Pacific Northwest to Omaha. They marry old favorites from their home region with local produce from Omaha and The Heartland, to build an artfully crafted lunch menu. Enjoy a local beer and or glass of wine from the Pacific Northwest alongside your tasty dish. If you're in the mood for a good burger for lunch, we recommend giving the TC Burger a try. After all, it made the Food Network's list for #1 Burger in Nebraska!
Photo courtesy of Dolce
Dolce has won Best of Omaha, multiple OpenTable Diners' Choice awards, and now it's on our list for the best lunch spots in Omaha. Their lunch menu is small, but that doesn't mean it's easy to choose your meal. Every item sounds better than the last — which is saying something when the list starts with Chorizo Mac and Cheese. We promise you'll leave with plans to visit again so you can get a taste of everything!
Photo courtesy of Bailey's
Bailey's has been family owned and operated in Omaha since 2007. They're famous across town for their breakfast, so it's a good thing they serve it all day. Stop by for brunch and grab a plate of Teri's Crepes (our favorite!), though you wouldn't go wrong with the Bailey's BLT sandwich either. They might just have the best bacon in town!
Big Mama's Kitchen has been featured on Diners, Drive-ins and Dives, the Travel Channel, and Ludo Bites America. If you haven't been in yet, head over for some of the best soul food in town. They have several classic Southern favorites, like Fried Chicken and Catfish. Feeling adventurous? They also have a not-so-familiar option: a pig ear sandwich! While we haven't been bold enough to order that yet, we're up to the challenge!
Photos courtesy of Jams
Jams is a contemporary American grill with locations in Midtown and Old Market. Their menu may be short and concise, but every option is savory and creative, and sure to satisfy every craving. Need tacos this Tuesday? Check. How about a crab cake burger? They have that, too! Or choose one of their various salad options that turn regular greens into a delicious, artful option.
Photo courtesy of Shucks Fish House
Shucks has three locations throughout Omaha and they've been voted the best seafood in town. They have a New England style oyster bar, some of the best Bloody Marys around, and Gumbo that is just to die for. Come by on Crabby Monday, Taco Tuesday and Oyster Wednesday for some seriously delicious lunch specials.
Foodies prides itself on sourcing as many local ingredients as possible for their comprehensive menu, including their house made salad dressings and pizza crusts. They offer everything from tacos and enchiladas to pasta and sandwiches. Foodies is a casual place perfect for hanging out or grabbing a quick bite in between errands. However, they also have a plug-in at every table if you need to get some work or studying done!
Photo courtesy of Louie M's Burger Lust
Burger Lust has become one of the most popular breakfast and lunch spots in Omaha! It's been around since 1980 and offers some of the best diner fare in the area. However, they're most famous for their award winning burgers — and have 22 different varieties, including a Blue Cheese Burger, Chili Burger, Taco Burger and more!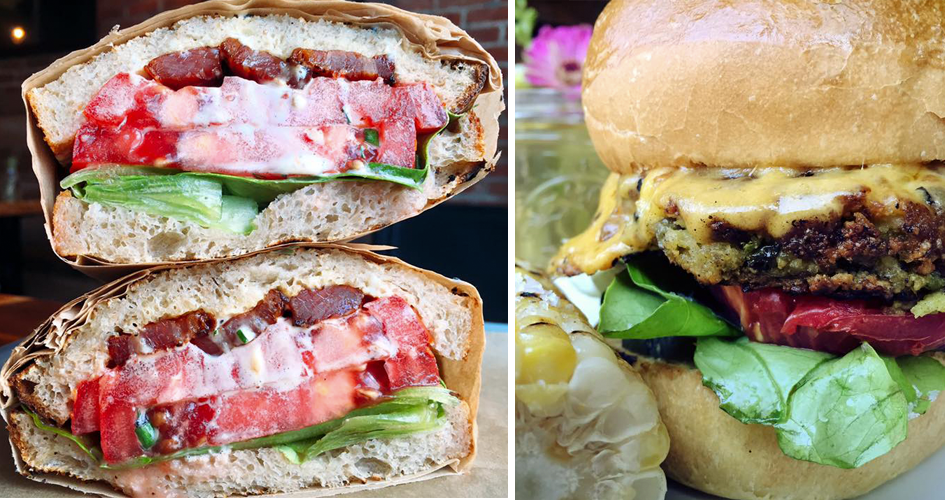 Photos courtesy of Kitchen Table 
Kitchen Table sources locally, made from scratch breads for all their sandwiches and has new specials every day! Updated by the minute, you can check their specials online and make sure there's still some left by the time you get there. Though the daily special often runs out later in the day, their regular menu is packed with seasonally and locally sourced crafted foods. Good luck making a decision — you're going to need it!
Where do you like to go for lunch in Omaha?
Which place did we miss? Share your own thoughts and let us know your favorites!