Every holiday season, communities all over the country come together to celebrate our successes of the past year and the neighborhoods we love. In Omaha, we're no different. We celebrate with some of the most festive events, shows and festivals that remind us just how much we love it here.
While we are lucky for the opportunity to live in such a generous and community-centered area, it's easy to forget sometimes that we're not all equally fortunate. With the harshness of the Omaha winter upon us, we can rally around our needy families and individuals to make this holiday season a success.
We found over fifteen opportunities for you to volunteer, donate or help out in our community from now through New Year's Day. Whether you're looking for a fun run, a place to serve food or an opportunity to spread warmth, there's a little bit of everything in Omaha. Find something you're passionate about and spread the cheer this holiday!
Events
Holiday charity events are a great way to help the community while having fun or getting active with friends and family. We've gathered a few events that support great causes and have a big impact in our community.
The students of Lincoln Southeast High School are hosting a charity 5K this holiday season to benefit Tiny Hands International. Starting at the Commons of the high school at 8:30 a.m., you'll be able to run through the area with friends, family and neighbors in support of an important cause. Register for the event here!
Drumsticks on Wheels | Nov. 19
The week before Thanksgiving, help Open Door Mission deliver 5,000 turkeys and meals to our community's neediest neighbors. All children are welcome, so you can come as a group, an individual, or take the whole family with you.
Thanksgiving Meals | Nov. 24
On Thanksgiving Day, Open Door Mission is hosting two banquet style meals to help the hungry and homeless in our community celebrate the holiday. You and your family can volunteer to help serve food, cook and prepare the meal, or clean the kitchen. Register here!
Project Santa | Dec. 17
Project Santa is one of Open Door Mission's largest charity events of the year. It's a drive-thru Christmas event which helps low-income and struggling families make Christmas a success. You can greet and check in cars, pass out toys and/or direct traffic.
Christmas Meals | Dec. 24 + 25
Each day, Open Door Mission will host two banquet style meals. Similar to the Thanksgiving meals, they need help serving food, preparing meals and cleaning up the kitchen! Register yourself and your group here!
New Year's Eve Meals | Dec. 31 + Jan. 1
With two banquet meals on each day, Open Door Mission needs your help serving, preparing food and cleaning up. Help our hungry and homeless this season by registering here.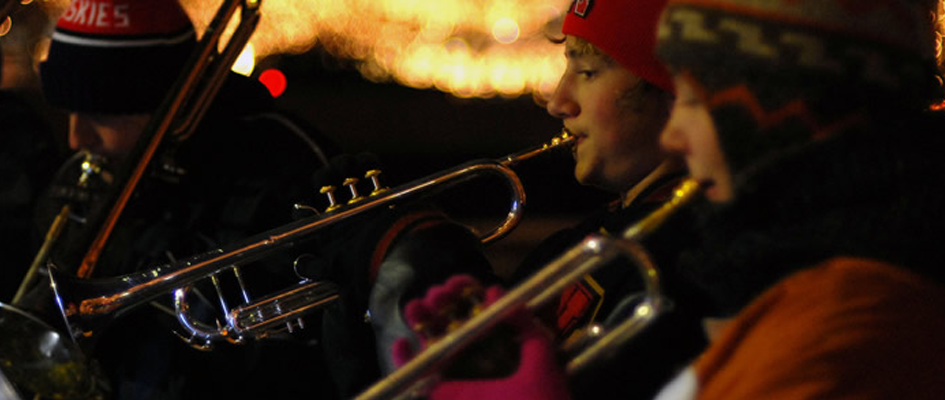 Photo provided by Holiday Lights Festival
The Holiday Lights Festival is an annual community festival lasting the entire holiday season, but there are a few events and attractions you won't want to miss!
The most important part of the festival is the charitable collaboration with Shine the Light on Hunger. Throughout the season, you can drop non-perishable food donations and household items at the ConAgra Foods Ice Skating Rink and various other locations throughout town. Or, donate cash online. All proceeds are donated to Food Bank for the Heartland. ConAgra Foods promises to match donations dollar for dollar up to $100,000. Last year, Omaha came together and raised $448,000 and 144,000 pounds of food. Think we can beat it this season?
The festival starts each year with the Thanksgiving Lighting Ceremony in downtown Omaha. On Thanksgiving at 6 p.m., Mayor Jean Leahy will lead the crowd in a countdown to the lights and welcome everyone to the 2016 festival. At the ceremony and on every Saturday from November 26 – December 24 you can celebrate with Sounds of the Season. A new area chorale group will fill Old Market with festive holiday songs each night.
Read more about the festival and all you can do to participate and help the community here. And don't miss out on the Wells Fargo Family Festival on December 4 and the New Year's' Eve Fireworks Spectacular.
Ongoing Opportunities
Tuesdays – Saturdays in October, November and December you can help Open Door Mission with Toy Bagging and Sorting. Anyone 13 years and older can help, so bring the whole family along! In preparation for Project Santa, you'll sort and bag new toys just like Santa's elves!  
Image provided by The Salvation Army
We've all seen them around town and thrown a few dollars in their red tins, but this year you can volunteer! Be a bell ringer with The Salvation Army and help raise awareness and funds to help our community and its neediest members.
On December 2 this year, NP Dodge is participating in Realtor Ring Day. Our agents and other members of the team will be ringing bells across the Omaha area. Keep an out for us and throw in a dollar or two to help our community!
Volunteer for The Winter Night Watch to spread the word about relief services offered by The Salvation Army and to keep our city's struggling and homeless members warm through the harsh Omaha winters. From the first December 5 – February 25, the mobile unit drives and parks throughout the community. You can help deliver hot meals, blankets and warm clothes. Or, donate money for food, resources and fuel here.
Photo provided by COPE
This Elkhorn organization assists struggling families in the community. So far, with the help of monetary donations, they have provided over 3,978 services to families in need. This holiday season, you can volunteer to sort clothes, help with the food pantry and use your talents and expertise to assist others.
They also invite anyone to host a Neighborhood Drive. They're always looking for more blankets, coats, school supplies, diapers, toiletries and holiday toys. For more information, visit their website.
Millard Pantry
You and your group can help organize and pass out food to struggling families and individuals in our community on the 2nd Saturday of each month. Each day, they need 20 – 30 volunteers. All you need to do is fill out the volunteer form beforehand.
Outside pantry hours, you can still help Heartland Hope Mission sort food, restock and organize the pantry.
Christmas in South O
In December, Heartland Hope Mission hosts a huge Christmas carnival for kids. They distribute toys, wrapping paper, books, stuffed animals, blankets and food to help make the holiday season a success. Starting in November and continuing through December 17, you can help make the event spectacular by assisting in a few different areas.
They need assistance with Toys for Tots registration, sorting toys into age categories, sponsoring toy and turkey drives, collecting homemade or storebought cookies and manning the event on December 17. You can fill out the registration materials online.
Project Linus works to keep children and families warm and to spread care throughout our communities. Even if all you know is tying knots, you can make a blanket this holiday season! They are donated to individual children as well as area homes and organizations — including Boys Town, Offutt Air Force Base and the University Hospital.
Volunteering with Ronald McDonald House is usually a four month weekly commitment for individuals and groups — perfect for helping during the entire holiday and winter season. For three hours each week you can help with everyday operations, prepare for special events and even write thank you notes. Submit your application online!
YES seeks to help and protect Omaha's homeless youth. Often victims of abuse, it can be unsafe for them to return to their families and YES steps in to provide support. You can help this holiday season and any time throughout the year in multiple ways.
They always need assistance packaging meals and organizing drives and fundraisers. Additionally, you can step out of the box and assist with childcare during weekly trainings and workshops so youth parents can fully participate. You may also want to volunteer at Tip Top Thrift Shop. To help, you can donate, volunteer or even shop! Click here for the full list of opportunities.
How will you help?
While the holiday season is traditionally a time for generosity and coming together, all of these organizations offer year-round assistance and always need volunteers. Explore their websites, help out this holiday season and find one you're passionate about so you can help our community reach its fullest potential this year.
Share your experiences with us! If we missed your favorite volunteer opportunity, let us know.