The weather is cooling down and Omaha will be coated in snow before we know it. In between winter recreation adventures, holiday parties and family gatherings, it's important to take time for de-stressing and rejuvenation. Wouldn't it be wonderful to lounge spa style in your very own home?
We put together a list of the most luxurious, decadent and relaxing master baths in the Omaha area. And every home on our list is on the market right now, so you could be in spa luxury before the winter is over!
Italian Inspired Relaxation
This home may be in Omaha, but the design and atmosphere are straight out of Tuscany. And the luxurious master bath has the same feel. No matter what the season, lounging in this windowside tub will immediately transport you to an Italian-inspired paradise.
Pinterest-Worthy Design
This Pinterest-worthy bathroom is straight out of our home design dreams. Natural light streams in through the windows; a door leads to an outdoor balcony; and vintage details — like standing sinks and steam heaters — make this a room to love!
Spa Feel With a View
Surrounded by windows with mature, privacy trees on the other side, this tub is a dream come true. The house sits on five acres, so you'll be able to see for miles right from your at home spa! The simple decor allows for the view and the statement bath to stand out.
A Home with the Whole Package
After a game of indoor basketball or a few laps in the swimming pool, go right upstairs in this home to lounge in the luxury bath. The huge space, white color palette and marble surfaces make this feel like the most luxe spa money can buy — right at home!  
Quaint and Luxe
The quaint master bathroom in this Omaha home fits a lot of decor and luxury into a modest space. The large tub-side window increases the size and floods the room with light. And right next door, you have access to a huge walk-in closet complete with island.
Luxury, Condo Style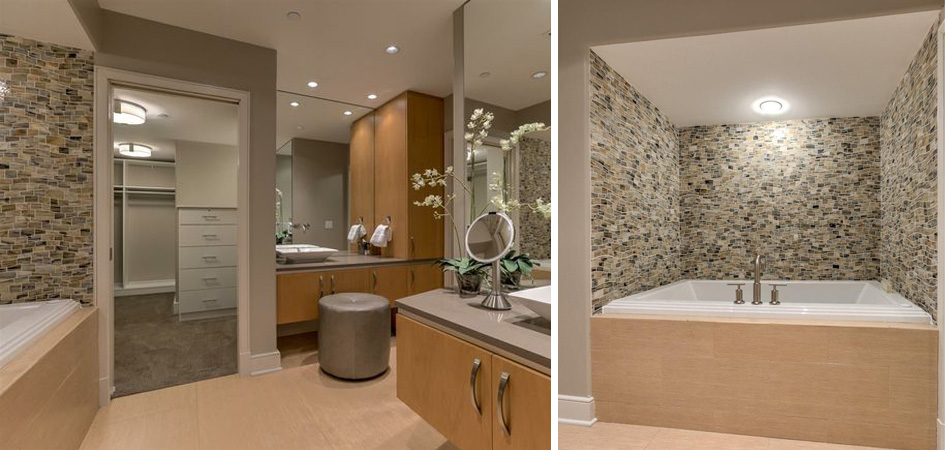 Inside this immaculate condo in the heart of Downtown Omaha, you can relax in style. Soothing modern decor makes the large space chic and calming, while the attached walk-in closet makes getting ready in the morning easy — and luxurious!
A Rustic Bath with Bonuses
This home is filled with rustic decor and the master bath is no different. A dark, neutral color palette, different levels and wood framed windows complete the luxe atmosphere. The huge counter space with seated vanity is an extra bonus!
Organization Plus Style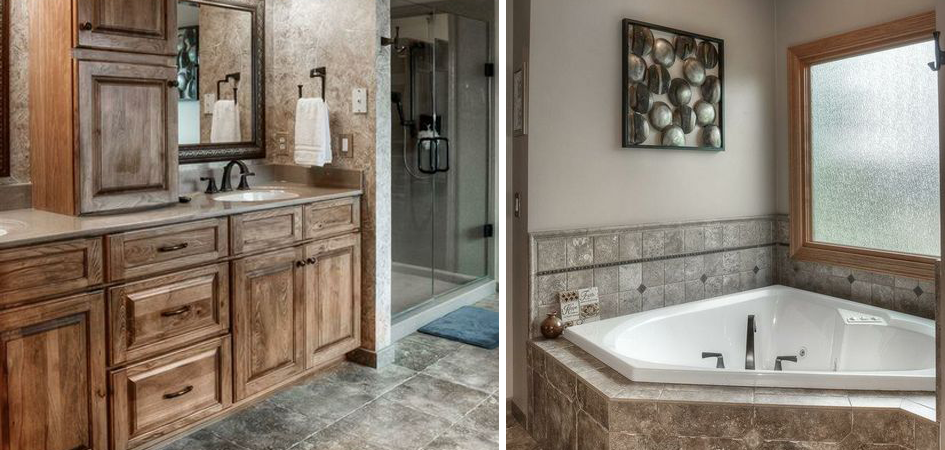 The Knotty Alder cabinetry in this home's master bath adds optimal storage space and gives each sink a sense of privacy. With extra places for storing toiletries and a space of your own, yours and your spouse's things will stay organized and keep the bathroom looking luxurious. And we're certainly not complaining about the spacious walk-in shower!
Marble and Immaculate
This master bath mimics the color palette in the bedroom. Subtle grays and silvers allow the gorgeous dark cabinetry and marble counters to stand out. Getting ready in the morning will be made easier with tons of natural light and an enormous walk-in closet.
Dreaming of Deco
Has anyone else been dreaming of a classic claw-foot tub? This home's master bath is reminiscent of 1920s art deco — complete with dark wood paneling made modern and black and white hexagon tile.
Lounging Windowside and Fireside
For relaxation in this home, we recommend a soak in the tub, surrounded by windows and natural light, or a scrub in the oversized rain shower, complete with dual shower heads. Then to round it off, lounge in front of the master bedroom fireplace.
You're on in Ten, Miss Monroe
This master bath is vintage in all the right ways. Vanity lighting and black and white tile are reminiscent of old Hollywood designs. With all the space, light and luxury, don't be surprised if you start channeling your inner Marilyn Monroe or Audrey Hepburn.
Farmhouse Relaxation
This home pulls its farmhouse inspired decor into the master bath as well. The metal siding along the tub is rustic, unique and makes us want to relax in farmhouse spa style. The European custom tiled shower is so spacious it's nearly an entire room attached to the already large space.
Master Bath Extras
This home's master bath has a seated vanity, enclosed toilet, enclosed shower and a huge jacuzzi tub. As if that weren't enough, it's attached to an enormous walk-in closet!
Simple Elegance
Cathedral columns and simple shapes in this bathroom's design create an atmosphere of elegance. The stark white color palette makes the room brighter and look larger than it already is.
Which one is your favorite?
Which master bath inspires your spa dreams? Share your new home design ideas!