Note: This post has been updated as of March 16, 2018 to reflect current information. Cheers! 
Here in Nebraska, we are known for many things — steaks, a wonderful business scene, friendly people and much more. But our dedication to sports is second to none. Whether you're rooting for the Huskers, the Creighton Bluejays, the Omaha Knights or your preferred regional team, you need a place where you can fully embrace the fun of the game — a spot for cold brews, hot wings and big screen TVs. We rounded up the 18 best sports bars in Omaha, Council Bluffs and Lincoln to ensure you catch every yard, every hoop and every halftime show!
And because March Madness is officially upon us, these sports bars are also the perfect place to cheer on your chosen teams to victory! So come with your brackets filled out and enjoy the games on one of the big screens. Stay up-to-date on the game schedules here.
Omaha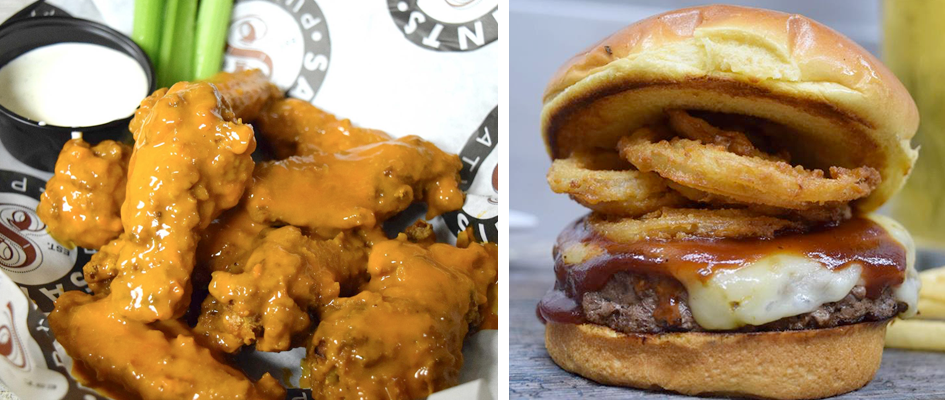 Photo courtesy of Saints Pub + Patio
For an upscale, sports-filled Sunday, grab a table at Saints Pub + Patio. The menu is packed with made from scratch food and the taps are filled with local and national brews. Win or lose, you'll have a fun time enjoying the game. And be sure to try the fried donuts before you head home!
Addy's is one of the most popular Omaha locations for any sports viewing occasion. The bar boasts TVs visible from any table and multiple sports packages to ensure you get the game you want. Choose one of two locations — Millard and Elkhorn — to watch the game with a side of some of Omaha's best wings.
Photo courtesy of Union Pizzeria & Sports Bar
You'll find more than pizza at Union Pizzeria & Sports Bar. Their signature sandwiches, wraps, burgers, soups and long list of drink options pair perfectly with a day filled with basketball, baseball or football. Stop by on game day or order pizza and wings to take home!
The first Varsity Sports location opened in the Ralston neighborhood more than 20 years ago, and today, you can watch all your favorite games in Dundee, Bellevue and Millard as well. Their late night kitchen hours will keep you well fed throughout the celebrations and the huge flat screen TVs will ensure you catch all the action.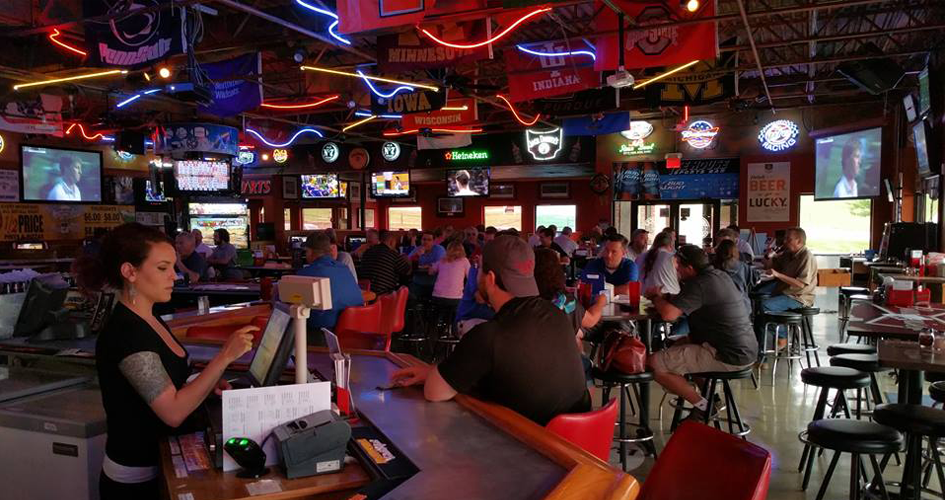 Photo courtesy of IceHouse Sports Bar
The IceHouse has made the Best of Omaha list for the last eight years. Without a doubt, 50+ televisions, delicious pub food and the NFL Sunday Ticket are a few of the reasons it's one of the best sports bars in the city — especially on Super Bowl Sunday!
You'll find a Big Red Restaurant in Omaha, Lincoln, Fremont and Norfolk — which makes it the perfect place to catch the game no matter where you are! Not only can you watch on a 14-foot super screen, you can play live ball draw keno and outdoor volleyball (might want to save this activity for summertime, though!).
Photo courtesy of DJ's Dugout
The first DJ's opened in 1993 in Bellevue and it was such a hit, they now have six locations throughout the Omaha Metro area. A classic sports bar and local favorite, each location has over 50 HD TVs and projection screens. Celebrate game day with a plate of wings in one of 12 different sauces.
We couldn't leave this fun Omaha hotspot off the list. Lefty O'Tooles boasts an extremely fun atmosphere, drink specials, Irish pub fare, and gigantic televisions broadcasting the latest sporting event. It is simply THE place to be on game day!
Council Bluffs
All day happy hour and game day on the same day? Count us in! T'z is one of the most popular spots to catch the game and hang out with loved ones in Council Bluffs. The TVs are always tuned to the most important games and the kitchens serve up some the best pub food in town.
Photos courtesy of Amerisports Bar & Grill 
With more than 35 HD TVs, including a multi-screen video wall and a real-time sports ticker, there's nowhere better than Amerisports Bar to catch every minute of the action. Stop by on game day for Hand Battered Chicken Tenders or Italian Fondue Dippers — pepperoni wrapped pretzel sticks served with creamy cheese.
Photo courtesy of Buck Snort Restaurant and Sports Bar
The Buck Snort is all about families, so bring everyone along to enjoy game day. The exposed brick decor, friendly service and flat-screen TVs will make everyone feel warm and welcome, and will keep you up to date on the score of the game!
The Salty Dog Bar & Grill is owned by friends Jayme and Brian who together have more than 35 years of restaurant experience, so it's not surprising that the food here is a step above the rest. The restaurant specializes in scratch-made comfort food (including the signature CharBuff wings), and there are several high-definition TVs throughout the bar broadcasting the game.
Lincoln
A Lincoln original, Brewsky's now has four locations in the city and two in Omaha. It's one of the best places for craft beer lovers, sports fans and gourmet food aficionados. Since 1990, they bar has been showcasing must-see sporting events with a side of fun and, of course, burgers.
Photo courtesy of Sportscasters Bar & Grill 
Jeff Korbelik of the Journal Star named Sportscasters the best bar in Lincoln. Their tiered seating, dedicated gluten-free menu, classic pub food and family atmosphere will keep everyone entertained through the whole game.
Risky's is one of the best places in Lincoln to enjoy the game. With 25 big screens and a full menu of delicious options, it's perfect for Super Bowl Sunday, March Madness, the World Series and more! Bring the entire group and order from the Party Menu for a table full of wings, nachos, tacos and more.
Photos courtesy of Barry's Bar and Grill and Nolan Wheeler
In the heart of Lincoln, Barry's plays all the games you're looking for and serves some of the best upscale bar food and carefully crafted cocktails. If you've been dying to attend one of the bar's can't-miss events, don't wait another minute! Bonus: Barry's Bar and Grill landed on our guide to the best tailgating spots in Lincoln. 
Any place with homemade mac 'n' cheese as a side dish is worth checking out on game day. Also on Jeff Korbelik's best sports bars list, The Press Box maintains its historic Lincoln roots while mixing in some modern fun. Play a game of pool or shuffleboard during halftime!
Photo courtesy of Dino's Eastside Grill
From brick-oven pizzas to fish and chips, Dino's has something to satisfy every palate. And their atmosphere is the most upscale of the bunch. The mix of bar style and subtle glamor makes it a great place for a quieter Super Bowl Sunday.
Where do you watch football?
If we missed your favorite local sports bar, let us know!