This post was updated on September 26, 2019, to reflect the most current information.
It's the world's favorite beverage. It's what keeps all of us awake and moving. It's coffee — and tea for those of us who need something a little less caffeinated. In the Omaha area, caffeine culture has exploded over the past few years and we couldn't be happier about it. Each coffee shop, tea shop and roaster adds its own character and flavor to the scene. You can find a place to unwind, a place to work or catch up with friends, and even places to bike and read comic books!
We compiled a comprehensive list of the must-try coffee shops, tea shops and roasters in the area. Because trust me, when you Google "Coffee in Omaha" you will be overwhelmed.
Next time you're looking for a pick-me-up, try one of our favorites. Use our interactive map below to find the one closest to you!
Coffee
For small-batch, meticulously crafted coffee at home, try Amateur—local roasters founded by husband and wife, Jasmyn and Jacob Wichert. Inspired by their love and passion for all things coffee, they began roasting in an effort to show off every subtle complexity of their favorite beverage. At Amateur, they understand every step in the coffee making process counts: growing and cultivating, picking and processing, storing and shipping.
Their end product is packaged and decorated with pencil sketch art done by Jasmyn and it can be shipped anywhere in the U.S. For fastidious drinkers, you can get a subscription so you're never without caffeine! They'll roast your coffee to order and send it on its way. If their flavor options leave you overwhelmed, we suggest trying Perfumed Chai Spice. You can try their coffee while you're on the go at their vegan coffee parlor in Midtown! 
Archetype is on the forefront of Omaha coffee culture, making sure we all know how important each step in the production process is. They roast their coffee in house from beans grown by farmers they have personal relationships with. With a focus on the grower, they're able to ensure their partners are successful, treated fairly and are producing top quality beans. As Archetype says, "Without them, there is no us." Stop by for a cup, learn about their farmers, and you'll definitely be back for more!
Crane Coffee has six locations around Omaha and two more inside area hospitals. Chances are, you've driven by a few on your travels through town and if you've been in Omaha long, you've definitely tried a cup. They've been evolving the coffee culture in the area for years. And now, they're making paying and ordering your coffee easier with an app for your phone!
Photos courtesy of Culprit Cafe & Bakery
Alongside their handmade breads, pastries and other foods, Culprit serves coffee from certified organic Broadway Roasting Co. in Kansas City, Missouri. You can get it brewed in five different ways: French Press, Chemex, Clever, Kyoto and Espresso. Or, if you're looking for something less strong, Culprit serves hot tea from The Tea Smith.
Cups Cafe is a program of No More Empty Pots, a not-for-profit coffee shop and café. They strive to provide a welcoming and inclusive community engagement space and serve as an incubator for emerging small-scale food entrepreneurs to sell locally produced products. Long-term, the shop will function as an apprenticeship and internship program to further provide workforce development training for youth and young adults.
You can't jump across the river into Council Bluffs without stopping by drips. The space started as a studio and gallery for owner Tres Johnson and evolved into a place for everyone to work and gather as a community. For a suggested donation between $3 and $5, you can get a steaming mug of pour over coffee from Dark Matter Coffee in Chicago. Or, grab a craft soda or hot tea while you work and peruse the record store selection! Check their Facebook page for updates on guest roasters, operating hours and events.
We didn't know that coffee and cinnamon rolls were the perfect pairing until we tried the combination at Hardy Coffee Co., and now, we wouldn't have it any other way. Step into the shop for your preference of espresso beverage, which are all brewed with beans roasted in house. And before you leave, take a turn past the pastry case, which features gorgeous and colorful cakes, savory baked goods, and of course, the infamous cinnamon rolls. We're sure you'll find something in there that piques your interest!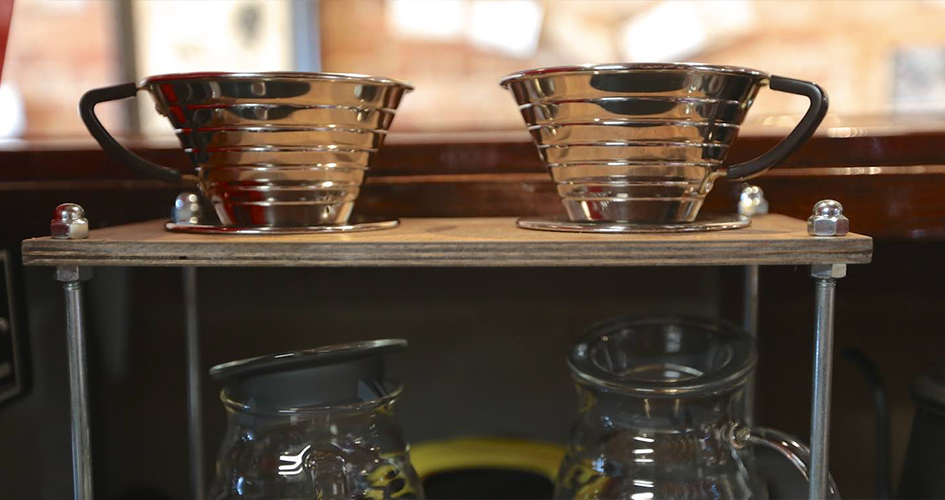 Photo courtesy of Howlin' Hounds Coffee
Formerly Diamond Bar, Howlin' Hounds has space for just about everyone with drink options to fit each taste. Sidle on up to the bar and order your Caramel Sunday Latte or passion fruit Italian Soda. And you may even get to meet Lady and Buddy — the loveable dogs who live upstairs and inspired the coffee house name!
Opened in 2014, Karma Koffee was founded on the ideals of karma and methods owner Jeff Wilke learned to practice Primordial Sound Meditation. Promoting good vibrations (from your crown chakra to your root chakra) Karma offers artful coffees, local treats, homemade soups and teas from The Tea Smith. Stop by for a breath of fresh air and a sip of great coffee.  
A laid-back comic store and an exciting coffee shop rolled into one, Legend is a place for collectors and newbies, connoisseurs and beginners. Their cozy space is perfect for anyone who wants to learn about comic culture while sipping coffee. Check their calendar for writing, reading and gaming events, and join them Wednesday, Thursday and Friday nights for Dungeons & Dragons or Magic!
After Omaha staple, Beansmith Coffee closed their doors in 2018, coffee director Ian Wiese purchased their assets and launched a roasting and retail company of his own: Rally Coffee Co. They opened their doors last year to almost immediate success in the NoDo neighborhood. Their 1,200 square-foot space offers up a modern and pristine aesthetic—perfect for Instagram pics and coffee dates with friends!
Urban Abbey combines a church with high-quality coffee and a strong community work environment. Fairly sourced and locally roasted, they believe coffee is a sacred art. So much so, that even their milk comes from Nebraska cows and is delivered fresh straight from the dairy. They invite everyone to come in, sit, sip, enjoy, work and relax.
And when you do, you'll also be helping the Omaha community, because ten percent of all Urban Abbey profits are donated to local non-profit organizations—like Nebraska Appleseed, Nebraska AIDS Project and over 20 others.
Walking into Village Grinder is like stepping into the warmth and comfort of grandma's house. You'll instantly be surrounded by friends, local foods, treats and, of course, the sweet smell of brewing coffee. While you're sipping and catching up with friends, you can peruse their boutique-style goods and maybe even do some holiday shopping!
With an old school coffee house look and feel we love, 13th Street is nestled in the heart of Old Market. Check their Facebook page for updates on live music events and stop by anytime to see local work from Omaha artists!
Tea
Photo courtesy of The Tea Smith
The Tea Smith opened in 2004 after an inspiring trip to Japan and various quality tea hot spots across the U.S. Motivated by tea's power to bring people together, the owners wanted to provide high quality, properly brewed tea to Omaha as a way to foster a sense of community. Over the years — and after adding an Old Market location — that's just what they've done.
As soon as you walk in, you'll be surrounded by teas in nearly every variation and flavor. But don't feel overwhelmed! Their tea experts will help you find the exact blend to match your taste buds and you can even get some packaged to take home.
Thirst-Tea serves traditional tea along with flavor infused options — we suggest trying the passionfruit Jasmine blend! You can also get any tea topped with Boba, which are tapioca pearls sweetened to perfection. And that's not all! While you sip your tea, we suggest you try one of their Asian-inspired snacks. They have Onigiri rice balls, Egg Rolls, Edamame and so much more!
Where do you sip?
Do you get your crafted coffees delivered to your door, or do you sip espresso at a local spot? Let us know if we missed your favorite! As lovers of caffeine, we can always use more excuses to try something new.