In 2016, Pantone gave us two peaceful colors: Rose Quartz and Serenity. This year, they went in a more lively direction. 2017's Color of the Year, Greenery, is all about energy and new beginnings. Decorating with the zesty yellow-green allows you to incorporate the freshness of spring and add a breath of fresh air to your decor.
According to Pantone, "[Greenery is] illustrative of flourishing foliage and the lushness of the great outdoors, the fortifying attributes of Greenery signals consumers to take a deep breath, oxygenate and reinvigorate."
With the help of a few Omaha area interior designers, we put together a guide to using the color in your own home. Whether you want to go all out and paint a wall or slowly incorporate Greenery using small accents, there is a color palette and a designer to help. Happy decorating!
Incorporate a Bold Wallpaper Pattern
Photos courtesy of Paul Hanson Design
While painting an accent wall this lovely shade of green is a safe option, we suggest taking it up a notch by incorporating a bold pattern on an accent wall like Paul Hanson Design has done. We love the green contrast against the craftsman style of the home, inspiring the fresh feel of spring.
Add Life to Your Space With Plants
Photo courtesy of Elizabeth Monical Interior Design and Shonda Bevill of Shondy Studios 
Because it was originally inspired by the outdoors, the simplest way to incorporate Greenery into your home is with plants! Elizabeth Monical Interior Design used Greenery as a backdrop to her chic, neutral kitchen sink. Combining it with another bright color pulls focus to the area while adding life and character to the entire space.
Photo courtesy of Lee Douglas Interiors
Lee Douglas Interiors went a step further with a colossal tablescape of actual greenery. Using graded shades of green, the arrangement combines both the bright Color of the Year and subtle brown mosses. This allows the piece to blend in with the surrounding neutrals and stand out as an eye-catching statement piece.
Invest in a Statement Piece
Greenery is all about bringing the outdoors to your interior. So naturally, it flourishes in bright natural light. Lee Douglas Interiors fully embraced this by placing a statement rug in an otherwise neutral space.
Photo courtesy of Group One Interiors
We love the contrast of these green chairs from Group One Interiors against the exposed brick and grand window. Incorporate your zesty green furnishings where they can get a little sun! And with so much natural light seeping into this space, the chairs really pop in a dark space!
Add Accent Colors Throughout a Space
Photo courtesy of The Modern Hive
The Modern Hive uses accents to incorporate Greenery in every room of this bright, cozy home. Because they use pillows, chairs, curtains and rugs for their pops of color, the palette can be easily switched depending on your mood — or on the 2018 Color of the Year!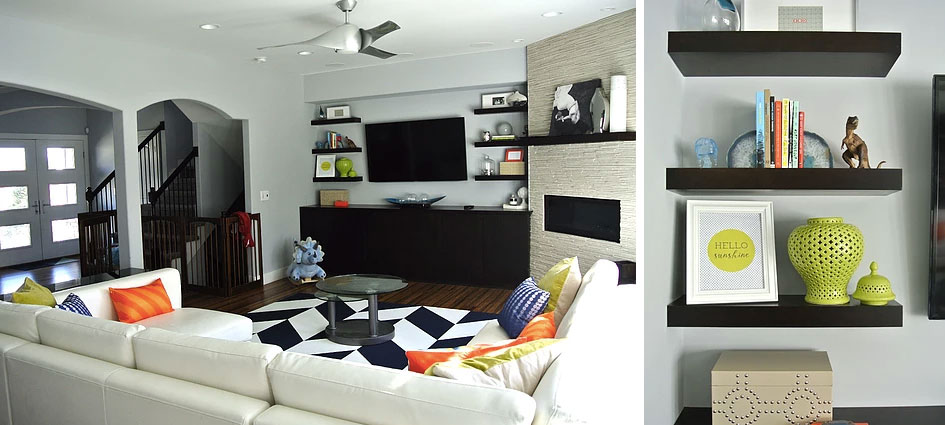 Photo courtesy of The Modern Hive
In another great display of Greenery, The Modern Hive placed simpler items around this bright living room. Pillows, images and a vase all introduce the color in a subtle, unassuming way.
Share Your Decor Ideas
Let us know which room was your favorite! Do you prefer the calm, natural feel of the Greenery shade or the bright and lively eye-catching spaces?