When Jeff Dolezal, Rebecca Harding and J. Christopher Houston began TACKarchitects in the summer of 2011, they did so with a mission to create a service-based studio space — not just your run-of-the-mill architecture firm.
In an interview with The Dodge Voice Jeff explained, "We had worked together over ten years at another firm and we felt we were starting to lose sight of what our passion was: servicing clients and creating the best design we possibly could. We wanted a more studio-style environment — kind of like what you would have in school. And we felt that attitude could yield better design quality and really inspire people. So we left and we started TACK."  
Year after year, that move and that mission have driven their motivation and it's even where the name TACK was born. Defined as "to change course by turning a boat's head into and through the wind," the word tack is all about adaptation and progressing through and moving with obstacles.
"Depending on which way the wind blows, you're adjusting your sails; that was really a metaphor for what the three of us were going through in our careers at the time," Jeff said. "And it was available on GoDaddy. It was a win-win."
In a profile from Omaha Video Solutions, Rebecca said, "We wanted to have a word that had meaning. We didn't want our names because it wasn't really about us."
"Our goal is for TACK to outlive us," said Jeff. "It's kind of silly to think you should have your name on it … TACK is a universal concept that I think could be generational and that's what we wanted."
TACKarchitects from Omaha Video Solutions on Vimeo
But architecture isn't just a name and a mission. TACK needed a project. And before they left their old firm, a blessing came disguised as a private residence. You could call it a blessing or you could simply call it Art[House]. "It was about a 15,000 square foot house in the middle of Regency here in Omaha," Jeff explained. "It was for an art collector and he wanted a museum he could live in. That was the challenge."
Photo courtesy of TACKarchitects
Embarking on the project meant diving in head first. "We went through six months of not really paying ourselves and borrowing from our 401Ks and refinancing our homes and everything else we needed to do. We didn't take a loan out; we've never taken a loan out since we started TACK." But the home was a vision Jeff and the team were passionate about; it represented everything they wanted their firm to be moving forward: it was personal, it was innovative and it was inspired.
Photo courtesy of TACKarchitects
"We did manage to leverage as much as we could on that first project so we were designing everything including fabricating furniture and other nontraditional things like product design … to try to make as much money as we could. In the end, it yielded higher quality and a more cohesive design solution."
Working in part with Omaha interior designer, Angela Larsen, TACK created a breath-taking (and award-winning) home inside and out. And, in just six short months, it led to their first commercial project with Omaha-based Tenaska. "That ended up being our biggest commission at the time; we did all the interiors, the TI for Tenaska as well as the design of the building. And that was how we got our start."
Today, the firm has over 20 projects under their belt from additions and renovations to new construction and even two custom homes — including a new headquarters for Together, Inc.
Photo courtesy of TACKarchitects
"Together is about homeless prevention. They're great clients and we used their mission as an inspiration for the design," Jeff said. When you step inside the Omaha nonprofit, among other stand-out design details, you'll find a wall of doors. "Using a door as a metaphor for opportunity, the concept of this design was to stitch together underutilized materials. This demonstrates how the client pieces together resources to make a positive impact on the homeless community," explains the TACK website.
Jeff said, "That's what we try to bring to every one of our projects. Whether it's a house, it's retail, it's commercial or a corporate facility, the thread through all of our work is to get inspired by the client. How can we customize the space for them?"
Most recently, this took the team on an emotional endeavor with the Jackson Dinsdale Art Center on the Hastings College campus.
Jeff said, "We were working with the school to elevate their art program with all new facilities. It was fun; they're a great client in a great town with a great program. We were working with the donor as well whose son had passed away at the beginning of the project. He was a student at Hastings so there was an emotional connection that resonated with us as a team. We're really proud of that project."
But, Jeff concedes, it's difficult to choose a favorite. "They're all my favorites; they're all like your children. You birth these things and then you send them off into the wild."
Functioning as a design studio with motivation coming from clients as well as the whole team of artists, TACK builds and grows from every undertaking. Inspiration is developed from one project to the next so that no one building can be said to be independent of the others. "They are more like chapters in one novel," Jeff has explained.
And because of that, there's not a heavy dependence on trends. "A long time ago, when I first graduated from school, I had a stack of magazines," Jeff said. "I used to know exactly which projects were in each magazine and I had them all tabbed and categorized. About ten years ago I stopped doing that because it got overwhelming. I don't even really look at magazines anymore, to tell you the truth. Facebook and Instagram are great ways to see inspirational work done by our peers but at the end of the day we try to come at each project with a unique perspective."
That perspective develops inside TACK as each team member gets ahold of it. "It's a design studio so everybody gets a say in the process. We're extremely collaborative and everybody is always walking around looking at what everybody else is working on," Jeff said. "We all make each other better. That's certainly our philosophy."
Photo courtesy of TACKarchitects
But day in and day out, Jeff, Rebecca, Chris and their team are reminded of the motivation the firm was born from. "Architecture and interior design are services and I think a lot of firms forget about that," Jeff said. "We're not some ivory tower architect that comes in and says, 'This is what we gotta do.' We listen and we care and I think our work is better for that. At the end of the day, it's about servicing that client; they're the ones writing the check. We're working from them."
Because of the personal experience TACK brings to the table, private residence projects become the most intimate and hardest to facilitate. Jeff explained, "You get into their kitchen literally and figuratively a little bit more. You ask tough questions like 'What time do you go to bed? What time do you wake up in the morning? How do you shower or bathe? What's your relationship with your wife relative to how you sleep?' You're living in that space and we need to make sure we get it right." That's the biggest difference between commercial and personal projects; it's less about persona and more about how the client actually lives.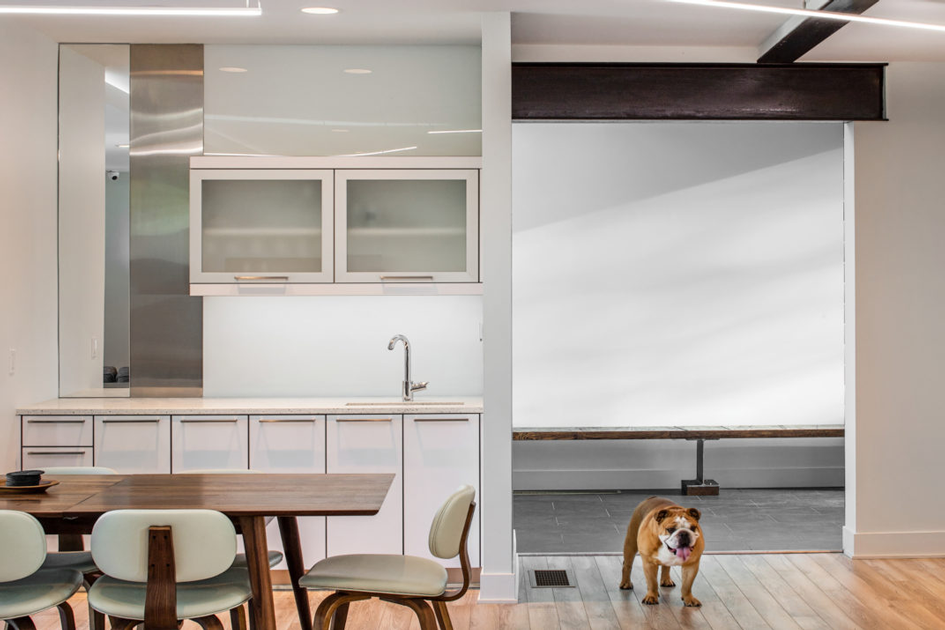 Photo courtesy of TACKarchitects
Jeff went on to say, "Because [private homes are] smaller scale, the site becomes critical. We've had clients say 'Can you design me something and I'll find a site?' But that doesn't work; you have to find the site first and that informs the way the house is designed. You're designing for that place; genius loci is the term. That's really our attitude when it comes to residential. "
And across the board — from private to commercial — the site is going to affect the design, the building and ultimately the atmosphere inside any new construction or renovation. Jeff said, "Each space, depending on how you want it to function is affected by the natural light. That really drives the whole enchilada. If you like to get up early in the morning, maybe you want your bedroom on the east so the sun helps wake you or if you get up at noon you'll look at putting your bedroom in a different space."
The first step in any design, for the designer and the client, is to consider the site: to consider the light, the surroundings, the views, you name it. And from there, with inspiration from all sides, TACK creates a home, a headquarters and a piece of art.
Regarding their future and their progress, Jeff said, "We're building a brand and a portfolio. We don't take every project. It's not because we're pretentious, we just want to give maximum effort on each project we work on. We're growing; we're trying to grow, but we're not trying to explode."
"We're blessed to be in a community right now where everyone is busy. Things are rocking and rolling, but you definitely don't want to take every project. We never want to say no, but we really want to look for those opportunities that fit our culture at TACK."
Want more?
To get daily design inspiration and learn more about TACKarchitects, check out their website or follow them on Facebook and Instagram!