Memorial Day offers one of the most significant long weekends of the season. Not only does it serve as the unofficial start of summer, but we also use this time to honor the people who have died while serving in our country's armed forces. As such, many of us have Monday off of work to remember those who gave the ultimate sacrifice for our freedom.
In Lincoln, we celebrate the holiday with a few of the things we know best — music, markets, recreation and competition. That includes horse shows, family-friendly fun and late-night parties at The Bourbon Theatre.
Gather your families and friends, and attend any one of these local events, attractions and celebrations — where you're sure to find something for every age and interest!
Start at Lincoln Children's Zoo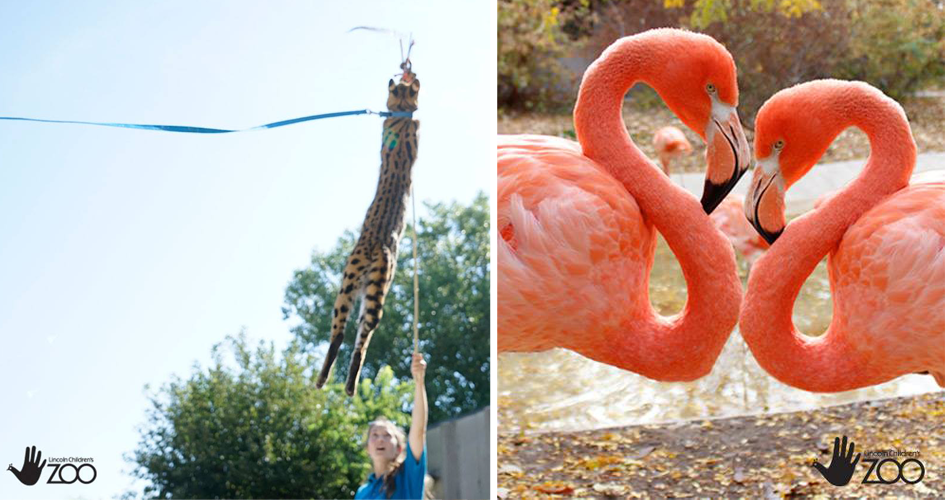 Photos courtesy of Lincoln Children's Zoo
Lincoln Children's Zoo is one of our favorite places to be no matter what time of year it is. And this Memorial Day weekend, they'll be open from 10 a.m. – 5 p.m. Saturday, Sunday and Monday. Bring the whole family along to visit all of your favorite animals and experience the 2017 season opening of Laura's Butterfly Pavilion!
Celebrate Memorial Day Weekend at the Lincoln Children's Zoo and check out over 150 butterflies at one of the Zoo's most popular summer stops.
Attend a Local Event
Photos courtesy of Nebraska Dressage Association and Topline Photography
With the long weekend, comes extra opportunities to cheer on your favorite competitors at The 40th Annual Cornhusker Classic and The Heart of America Series!
The 40th Annual Cornhusker Classic is Nebraska's only USDF-rated Level 3 show weekend, plus a schooling show. And if you're not completely sure what that means, it's a horse dressage competition and show hosted by the Nebraska Dressage Association that should not be missed! The top-of-the-line shows feature international-quality footing, a completely indoor show facility, and breed show classes. Events take place on Friday, Saturday and Sunday of Memorial Weekend.
The Heart of America Series is an on-road racing series for radio control cars. From May to September in Lincoln, you can watch and participate in monthly tournaments with one of five different styles of car. And during Memorial Day weekend, the 2017 series kicks off! Show up to watch, or pay the $30 entry fee to race.
Run and Bike a Duathlon
If you prefer to celebrate Memorial Day with strenuous and challenging exercise, register for the Memorial Lincoln Duathlon 2017. On Sunday, May 28th participants will take off from Pinewood Bowl in Pioneers Park and run two miles, bike 12 miles, then finish up with another two-mile run. The course varies from hard surfaces to trails and travels over the park's rolling hills — so be ready for a workout!
You can register for the duathlon online until May 26th for $75 or register on packet pick-up day for $95, but there will be no race day registration. If you're not participating, come to Pioneers Park on May 28th to watch the fun!
Dance to Live Music
This year, the music community in Lincoln is celebrating with a show every day during the long weekend! With two on Saturday, there's sure to be something to fit your tastes and your schedule.
Saturday night at 8:00 p.m., join The Bourbon Theatre for the Salt Creek Record Release Show. Dance alongside Salt Creek, Bernardus, The Way Out and HAKIM, and get a chance to purchase the brand new record! Choose from a $10 that includes a copy of the album on CD, or spend an extra $5 to get a copy of the album on vinyl.
Or, opt for a 90s throwback and see Vertical Horizon & Fastball at Vega on Saturday evening at 9:00 p.m. Tickets start at just $25.
Then on Sunday, Seven Lions is coming to The Bourbon. This electronic artist will be filling the theater with dance music May 27th. The show starts at 8:00 p.m. — don't miss it!
Wrap up the long weekend back at Vega on Monday with Mr. Elevator. Also known as Mr. Elevator and the Brain Hotel, this nationally touring band is putting on an exciting show to celebrate the release of their newest album, When The Morning Greets You. Ticket prices are $7-$10.
Shop the Farmers' Market
Traditionally, Memorial Day marks the beginning of summer. What better way to celebrate than by shopping a local farmers' market?
Alongside fresh produce at the Saturday Historic Haymarket Farmers' Market, you'll find innovative arts and crafts and mouth-watering prepared foods such as kolaches, croissants, pies, breads, cookies, cakes, baklava, homemade root beer. and more! Come by Memorial Day weekend on Saturday, May 27th.
Then follow it up with Old Cheney Road Farmers' Market on Sunday! Once a week for 28 weeks during the summer, Old Cheney Center is filled with produce and artisan goods — including Sunday, May 28th. Stop by for a bouquet of flowers, a pound of grass-fed beef, or a basket of fresh veggies!
Take a Trip to Omaha + Council Bluffs
Photo courtesy of Loessfest
Our neighbors in the Omaha metro area are about an hour's drive from Lincoln and they're celebrating Memorial Day weekend with various indoor and outdoor events — including one of Council Bluffs' largest annual festivals. Whether you're going for Loessfest, the Big East Baseball Championship or one of the 13 other events on our Memorial Weekend guide, check out Omaha during your long weekend!
Happy Memorial Day!
Let us know how your family is celebrating the long weekend.