As things heat up in the midwest, many of us have one thing on our mind: backyard barbecues. There's just something about gathering with your friends and family under the sun that makes this season perfect. And here in the Omaha area, we get to do all of that poolside, lakeside and fireside on some of the region's most beautiful properties.
Check out a few of the area's standout homes with gorgeous outdoor entertaining spaces. Whether you prefer pool parties, garden parties or fireside soirees, there's a setting on our list that fits the bill.
Entertain Guests in All Kinds of Weather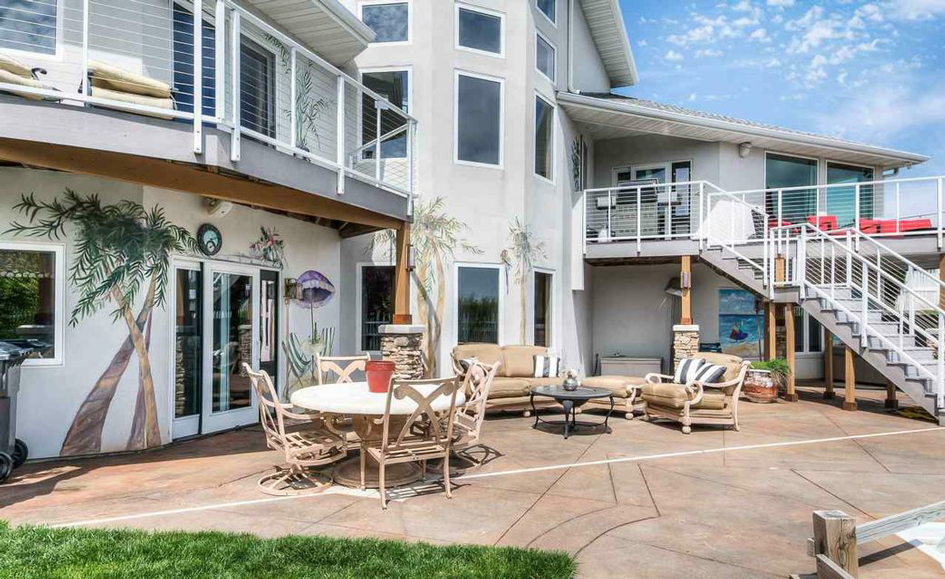 Property located at 1119 Ponderosa Drive Fremont, listed by Amy Lemmers and Michael Bennett
You may have a hard time deciding whether you want to throw an indoor or outdoor party in this Fremont home. When it's raining, head inside to play pool, gather around the wet bar or lounge in the groovy basement space. Then when the sun comes out, hit the pool, patio or hot tub!
If S'mores are on the Menu…
Property located at 12945 N 187 Circle Bennington, listed by The Jansen Team
This home in Bennington will make you crave summer nights year-round, but the patio hearth will ensure warm evenings last longer than the sunny season. Host your dinner party in front of the fire, roast s'mores, then retreat to the spacious upper patio to watch the sunset!
A Home for Every Crowd
Property located at 13710 Burt Street Omaha, listed by Marvin And Fike
This Omaha home boasts a basketball hoop for the kids, a pool for the sunny days, a covered deck perfect for barbecuing, and more! It's hard to imagine a summer gathering that wouldn't fit in this idyllic setting.
Large Entertaining Space with Heated Pool
Property located at 1421 N 143 Street Omaha, listed by Arlene Cohen
It won't matter if it gets a little chilly when you're hosting your friends and family at this custom-built property as the in-ground pool is heated. With plenty of room for guests to mingle, feel free to invite everyone on your list!
Ticket to Paradise
Property located at 1517 N 190 Street Omaha, listed by Mickey Sodoro
Imagine your next cozy gathering on this home's covered patio. Starry string lights set the mood, and you can even turn on your favorite flick for a festive family movie night. We especially love the beachy decor that will transport you directly to paradise!
Party by Sunset
Property located at 25906 Grace Circle Glenwood, listed by Cindy Keil
If dinner by sunset is more your speed, throw your next cocktail party on the deck of this Iowa home. Facing acres of lush greenery, you'll be able to unwind with a gorgeous backdrop and plenty of privacy!
Dream Home Meets Event Venue
Property located at 9709 Ascot Drive Omaha, listed by The Rensch Group
If impressing your guests is on the itinerary, look no further. This Omaha home perfectly merges outdoor entertaining, a modern art museum, and chic, industrial designs. Outside, modern architecture and mature landscaping provide respite from the sun, and the turquoise pool will be irresistible this season!
Fireside Elegance
Property located at 1509 N 190th Street Elkhorn, listed by Jayne Smith and John Kraemer
The huge back deck on this property has space for a dining table, a grill and two separate seating areas — one of which is situated by the cozy, built-in fireplace! Delicate rope lights surround the roof and walls to create the ideal ambiance for an evening soiree.
Home with Lake Views
Property located at 980 County Road W S-108 Fremont, listed by Kori Krause
It wouldn't be summer in the midwest without a day at the lake. Make this Fremont property your home and long days spent on the water can be yours! This home comes with its own private dock, and there is plenty of room for water toys in the five-car garage.
Cozy and Quaint Setting
Property located at 7423 N 170 Street Bennington, listed by Cassidee Reeve
If cozy and quaint are your party priorities, this Bennington home will fit you to a T! Grab a bottle of wine and gather with your friends on the covered patio while your dinner sizzles on the grill.
Garden Parties
and
Pool Parties
Property located at 702 Ridgewood Avenue Omaha, listed by The Rensch Group
No matter what the weather decides to do this season, there's a perfect entertaining space in this luxury home. Enjoy summer nights on the large deck, gather around the fire pit, or jump in the pool. If your guests are into gardening, be sure to take them on a tour of this home's gorgeous greenhouse!
Family-Friendly Gatherings
Property located at 1518 N 190 Street Elkhorn, listed by Jayne Smith and John Kraemer
Feel free to invite families to your gatherings at this Elkhorn home. With a spacious, private backyard and a grassy common area next door, the kids will be able to play in the sun while parents gather at the covered dining table.
What's on your party itinerary?
Do you prefer a pool party over a backyard barbecue? Let us know which Omaha area home you fell in love with!