While there's plenty to do in Lincoln, Nebraska — including summer festivals and mouth-watering dining destinations — sometimes we all need a little vacation. And because our beloved college town is centered so perfectly in the United States, we can reach a few of the country's most-loved tourist destinations quickly and easily.
Whether you're looking for a place to take the whole family, or you're in need of a summer road trip with the girls, our guide has everything you need to know (and everything you need to do once you get there!). So pack up the car, follow our itineraries and get adventuring.
Omaha, Nebraska
Driving time: 1 hour
Who says you have to travel long distances to experience an unforgettable vacation getaway? If you're a homebody, but still want to celebrate the summer, head an hour northeast to Nebraska's largest city. There, you'll find daytime activities ranging from escape rooms to hikes, and nightlife locales filled with character, craft cocktails and one of the top beer bars in the country!
First things first, check out our Visitors' Guide to Omaha for all the details on where to stay, places to eat, and things to do. Or reference our guide to Old Market and explore the historic downtown where you can get a feel for the culture of the city.
Family Activities
Photo courtesy of Omaha Henry Doorly Zoo & Aquarium
Henry Doorly Zoo & Aquarium | One of the country's largest and most impressive zoos, The Omaha Zoo is worth its own trip. After all, it has been named TripAdvisor's number one zoo in the world!
The Escape Omaha | Designed for small groups of 5 – 7 people, this escape room is a thrilling, live action puzzle. See if you can solve the mysteries and escape in time. But be warned, you only have one hour!
Omaha Children's Museum | The perfect destination for children and their parents, this fun museum has interactive exhibits in music, technology and more!
Nightlife Activities
Krug Park | One of Omaha's premier destinations, Krug Park has been on Draft Magazine's list of the 100 best beer bars in the country every year since 2013!
Omaha Funny Bone | At the Funny Bone, you can get tickets to see a nationally famous comedian or see a local tour — either way you'll be laughing all night long.
The Alamo Drafthouse Cinema | This theater combines comfort food, a craft cocktail bar, new movies, and classics all in one exciting experience!
Kansas City, Missouri
Driving time: 3 hours
Known for its barbecue, jazz heritage and gorgeous architecture, Kansas City is a music lover's paradise. And it's just a three-hour drive from Lincoln! Nearly every night of the week, you'll find a free live show and even an internationally touring band! During the day, take a tour of art museums, Missouri history and culture or learn all about beer at a local craft brewery.
Family Activities
Photo courtesy of Nelson-Atkins Museum of Art and Jennifer Ngo
The Kauffman Center | Kansas City Ballet, Kansas City Symphony and Lyric Opera are all residents at this culture and concert venue. Enjoy an upscale meal, a musical or a dance while you're in town!
Nelson-Atkins Museum of Art | Get a feel for Kansas City culture at this historic art museum. They offer free admission every day!
Country Club Plaza | This outdoor community center represents some of the world's top fashion names, delectable restaurants, bars and the best shopping in Kansas City.
Nightlife Activities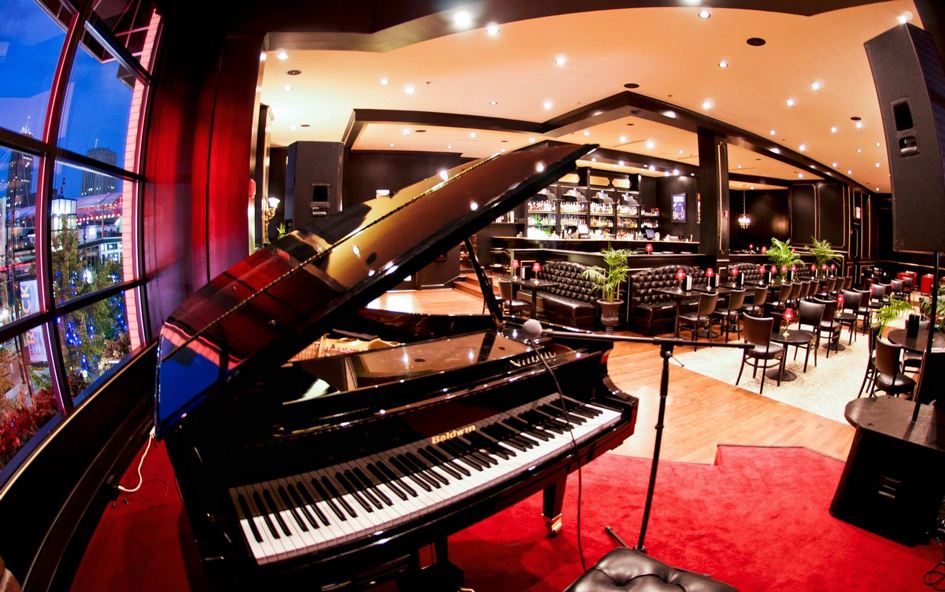 Photo courtesy of The Kill Devil Club
Knuckleheads | This is one of the biggest and most exciting music venues in the city. They have four stages operating all year — from intimate to crowded — and their outdoor stage is open all summer!
The Kill Devil Club | In 2013 and 2014, Food & Wine named this Kansas City hotspot on their list of America's best new bars! They have craft cocktails, shareable food and live music.
Boulevard Brewing Company | Now the largest specialty brewer in the Midwest, Boulevard offers free tours of their facility which end in a beer sampling! Or, reserve a Smokestack Tour & Tasting which includes a food and beer pairing.
Iowa City, Iowa
Driving time: 4.5 hours
If you can push aside the Huskers–Hawkeye rivalry, a trip to Iowa City is a great way to experience the vibe of another college town. Known for both its academic and nightlife scene, you'll easily be able to fill your days with fun-filled adventures!
Family Activities
Photos courtesy of The Java House
The Java House | Start your day with a White Chocolate Mocha or Java Cooler from the most-loved coffee shop by locals and college students alike. Be sure to pair your favorite caffeinated beverage with one of their made-from-scratch baked goods.
Tour the Old Capitol | If you're a history buff, taking a tour of Iowa's first capitol building is the perfect way to spend your afternoon. A prominent landmark in the middle of campus, you can walk the halls of this historic building while exploring its exhibits and galleries — for free!
Grab a Bite to Eat on Campus | If you're wanting to carbo-load, the Airliner should be at the top of your list. A Iowa City hotspot since 1944, the Airliner is famous for their pizzas and sports bar atmosphere. And for a unique sandwich option, look no further than Quinton's (conveniently located next door to The Java House!). Try their C.A.B. sandwich — complete with marinated chicken, avocado, bacon, alfalfa sprouts and homemade Russian mustard.
Nightlife Activities
Photo courtesy of Iowa City Brewlab and Peter Schmidt
Martinis | The perfect destination if you're looking for a — you guessed it — martini. The low-key vibe of this local bar is great for relaxing and listening to music. And if martinis aren't your thing, they have 24 beers on tap.
Iowa City Brewlab | Just east of downtown Iowa City, you'll find this intimate destination for small batch craft beers, local ciders, kombucha and imports.
Englert Theater | The Englert Theatre is a renovated, 104-year-old vaudeville theater and nonprofit performing arts organization presenting music, comedy, literature and more!
Branson, Missouri
Driving time: 6.5 hours
Branson is one of the United States' most popular family vacation spots. Its 76 Country Boulevard is famously lined with theaters, which once hosted country music performers and now offers a variety of genres and acts. Also along the strip, you'll find the Marvel Cave, Dolly Parton's Dixie Stampede Dinner Attraction and Silver Dollar City, an 1800s-themed amusement park with live music.
Family Activities
Silver Dollar City | This 1880s theme park is open throughout the summer. While you're there, ride a roller coaster, watch artisan craftsmen, explore Marvel Cave, and catch a live show!
Dolly Parton's Dixie Stampede Dinner Attraction | The world's most visited dinner attraction, this live show experience will make you and your family a part of the action!
The Butterfly Palace and Rainforest Adventure | This butterfly pavilion is an indoor, educational experience that will put you right in the heart of the rainforest and a swarm of beautiful butterflies!
World's Largest Toy Museum | Planes, trains, Barbies, action figures — step inside this toy museum and everyone will feel like a kid again!
Nightlife Activities
Outback | The Outback is a hotel, restaurant, bar and concert venue all rolled into one — and it's right on the strip!
Denver, Colorado
Driving time: 7 hours
For those who want a taste of mountain air, make the quick trip to Denver. You can explore adorable mountain towns and experience the lively downtown atmosphere all in one day! As one of the nation's fastest growing metros, the city has something for every age and every interest. Check out The Denver Ear while you're planning your trip for events, activities, places to stay and local secrets!
Family Activities
Photo courtesy of Downtown Aquarium
Denver Museum of Nature & Science | Make your trip to the museum an all day event. There's so much to see, do and learn, you won't want to leave!
Casa Bonita | One of the nation's top ten roadside attractions, Casa Bonita is not your typical Mexican restaurant. They have a year-round haunted house, an arcade, theater and diving shows, and the best sopapillas in town!
Downtown Aquarium | Pet a stingray, get mesmerized by a swarm of jellyfish, and learn all about the sea!
Nightlife Activities
Photo courtesy of The Source
ViewHouse | They have lawn games, craft beer, cocktails, weekly events and one of the best views in the city.
Comedy Works | Denver's Comedy Works is a favorite destination for some of the most famous comedians in the country. Find out who's coming this summer and buy your tickets early!
The Source | This artisan food market is an indoor marketplace home to craft beer brewery Crooked Stave, Boxcar Coffee Roasters, Comida (a Mexican street food restaurant) and much more!
Retrograde | This speakeasy-style bar is located behind an ice cream shop in Downtown Denver. Once you climb through the hidden freezer door, you're in for a lively night filled with cozy craft cocktails.
Nashville, Tennessee
Driving time: 11 hours
Nashville is called Music City for a reason. It's home to the world-famous Grand Ole Opry, there is live music every day, and many budding artists, musicians and artisans call it home. During the day, explore the shops, restaurants and cafes along 12 South, the city's cutest marketplace. Then, explore Lower Broadway, the legendary Downtown entertainment district.
Family Activities
Photo courtesy of Grand Ole Opry
Grand Ole Opry | This historic music venue hosts artists from every genre and age group. Feel the history of Nashville and dance along to your favorite song at the same time!
The Country Music Hall of Fame | With new inductees every year, you can experience modern stars and old-time favorites.
Belle Meade Plantation | Tour this historic plantation to get a taste for Nashville culture, then get a real taste of local wine at the Belle Meade Winery on site.
Nightlife Activities
Photo courtesy of Ryman Auditorium
Ryman Auditorium | Bluegrass was born at the Ryman Theater decades ago and today it's one of the must-see, multi-genre music venues and nightlife experiences in the city.
The Patterson House | One of Nashville's most popular spots, this cocktail bar serves some of the most artfully crafted cocktails in an elegant, trendy atmosphere.
Lower Broadway | The place to be whether you're a local or a visitor, Lower Broadway is packed with party-goers every night of the week. Step inside any bar to hear live music, experience Nashville history, and have an unforgettable night.
Moab, Utah
Driving time: 11 hours
Travel 11 hours west for an outdoor adventure you'll never forget. Moab is one of the country's best and most stunning destinations for sightseeing, wildlife and recreation. With two National Parks in its boundaries, and perfect summer weather, you can camp, bike, hike, climb and more. Explore out-of-this-world red rock in Arches National Park and reach the Island in the Sky at Canyonlands. Before you start the drive, check out the local events happening while you're in town and plan for a Half Marathon, movie night or bike race!
Bonus: from Lincoln, you'll pass right through Denver so you get to see two of our road trip locales in one go.
Family Activities
Dinosaur Trails | One of the many educational opportunities in the parks, explore the trails, fossils and traces of ancient dinosaurs using this map and information guide.
Bonus: Check out movie sites and original rock art as well!
Moab Museum of Film and Western Heritage | Learn about Moab's Hollywood history at this free museum. Movies have been filmed here since 1949 — including MacGyver, Thelma and Louise and 127 Hours!
Canyonlands by Night and Day | Explore all that Moab has to offer via land, air and water. This tour company offers guided boat rides, horseback rides, ATV tours, skydiving, Helicopter tours and 14 other thrilling trips.
Nightlife Activities
Photos courtesy of Castle Creek Winery
Spanish Valley Vineyards & Winery | Just minutes from downtown Moab, this winery grows and makes Gewurztraminer, Riesling and Cabernet Sauvignon and also have their own Syrah, cherry and apple wines. Tour the land and process, then taste them for yourself.
Castle Creek Winery | The drive to Castle Creek Winery is as scenic as the gorgeous land and facility. Above 4,000 feet in elevation, they're able to grow grapes and produce for 8,000 combined cases of wine. Relax on the deck overlooking the river and taste some of their best!
Austin, Texas
Driving time: 12 hours
Take a straightforward southern route to Austin, Texas, one of the most popular and lively cities for festivals, nightlife, recreation and culture. In recent years, the city has become famous for hosting South by Southwest (SXSW) and Austin City Limits music fests, but there's so much more to Austin. You can catch intimate live shows every night of the week at more than 250 venues, see nationally touring acts at The Mohawk or ACL Live, explore a museum, take a yoga class in the park, party every night in one of the entertainment districts and much more. First things first, check out Austin's own guide to local nightlife and find more guides on their website.
Family Activities
Photo courtesy of Austin Bouldering Project
Scavenger Hunt | Explore Austin's history and culture using your smartphone! Beginning at the capitol, winding through the heart of the city, and landing you in one of the best parks, this is an adventure for everyone.
Austin Bouldering Project | This rock climbing gym has some of the most fun and challenging climbs and obstacles we've ever seen.
Austin Aquarium | Have you ever wanted to meet an octopus? At Austin Aquarium you can pet one! And explore the sea via its most interesting animals — even birds and lizards.
Nightlife Activities
Photo courtesy of Cedar Street Courtyard
Violet Crown | At this quaint theater, you can get an upscale meal, sip an artisan cocktail and then enjoy a limited release film, a classic or a modern marvel.
Maggie Mae's | Local legend Maggie Mae's has the largest rooftop in Austin's most exciting entertainment district. Dance the night away with a view of it all.
Brew Exchange | Arguably the most interesting beer bar in the city, this spot sells brews stock exchange style. You can watch the prices rise and fall based entirely on demand. Try a low priced craft no one has heard of or the pricey beer everyone's drinking!
Cedar Street Courtyard | With some of the best cocktails in Austin and live music seven nights a week makes for one of the premier nightlife destinations in the city!
New Orleans, Louisiana
Driving time: 16 hours
The French Quarter, Bourbon Street, Frenchmen Street — these are a few of the United States' most exciting and historic entertainment districts — and they're all right in the heart of NOLA. Bars all over the world are designed in New Orleans style because live music, Sazerac, cocktails and dance parties are the perfect combo for any night out! Get your drinks in a to-go cup and explore the city all night. And follow this late night itinerary to vacation like a local.
Family Destinations
Photo courtesy of Paul Broussard and NewOrleansOnline.com
The 1850 House | Fully furnished with goods, arts and decor of the period, this historic French Quarter building depicts middle-class family life during the most prosperous period in New Orleans' history.
Streetcars | Tour the city via its old-world streetcars. Get a pass to ride all week or pay the $1.25 fare each time you hop on.
Irish Cultural Museum of New Orleans | This museum explores the 200-year history of the Irish in NOLA. After your free tour, grab a coffee and a whiskey at St. Patrick's Coffee House!
Nightlife Destinations
Photo courtesy of Frenchman Art Market and Kate Gaar
Frenchman Art Market | This nighttime market is NOLA's original weekly art market offering arts, crafts, music and food until 1 a.m. — and midnight on Sundays!
House of Blues | This world-famous music venue has hosted world class musicians from Fats Domino to Eric Clapton. Get tickets for a show and come back Sunday morning when the place is rocking with a Gospel Brunch.
Lafitte's Blacksmith Shop | The oldest bar in America, this historic spot has been serving cocktails and brews since the 1700s. Combining the French, Spanish, African, Cajun and American cultures that make NOLA great, this is a must-see.
Carousel Bar & Lounge | Located inside Hotel Monteleone, this is NOLA's only spinning bar. Designed just like a circus carousel, you can ride along with a craft cocktail like the classic Sazerac.
Be safe + have fun
Enjoy your summer!