Since its inception more than 5,000 years ago, yoga's popularity has spread to all corners of the world. And it's no wonder the beloved sport has stuck around so long — in addition to its many physical benefits, yoga is proven to aid in stress-relief, boost your immune system, help with restlessness and improve mental clarity.
Whether you're looking to practice yin, hatha, ashtanga or vinyasa, there are a number of yoga studios around Omaha that will cater to your skill level and teach you something new. Read up on some of our favorites below, and then find its location on the interactive map. We will see you on your mat!
The top yoga studios in Omaha include:
Karma Yoga | Sound Method Yoga | Lighthouse Yoga | Omaha Power Yoga | One Tree Yoga | Pranam Yoga Shala | Pure Om Yoga | Yoga Now | The Omaha Yoga Path | Bhadra Yoga
The team at Karma Yoga believes that true change in our community starts with individuals, and therefore encourages students to instill mindfulness into their words, actions and practice. They also understand that everyone practices yoga at a different speed, which is why they host more than 16 types of classes throughout the week (including specialty classes for kids and seniors). Looking to delve a bit deeper? Take the KYO 30-day challenge and immerse yourself in the yoga lifestyle every day for a month (and earn a gift card while you're at it)!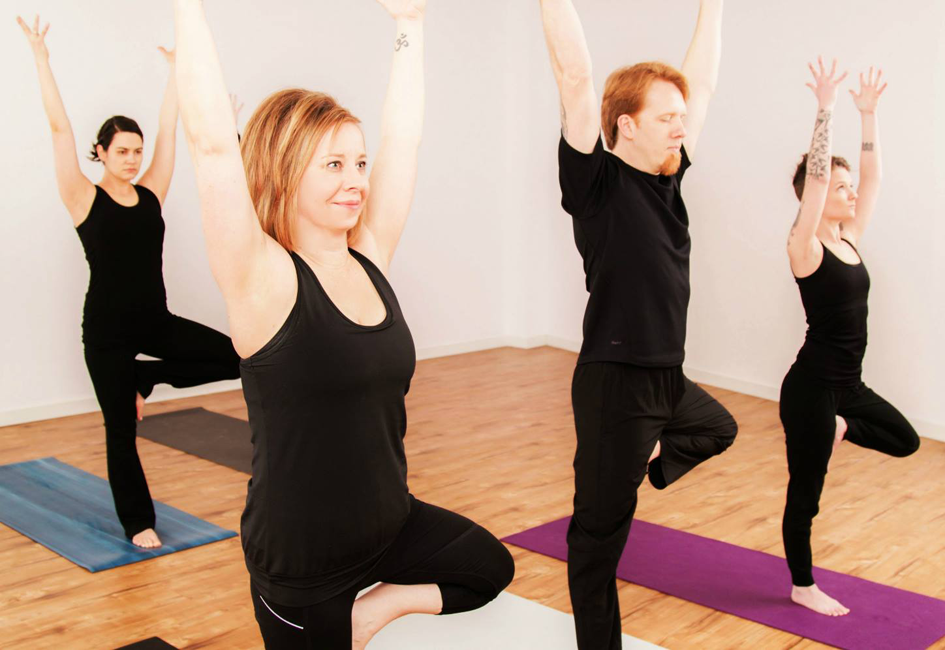 Photo courtesy of Sound Method Yoga
Sound Method Yoga is about community and passion for yoga — no frills, loud music or expensive clothing attached. Beginners and experts alike are welcomed with open arms to challenge themselves in a friendly environment. The studio limits class sizes to 25, so you can count on having an ample amount of space around your mat. New students can try unlimited classes for a month for just $35.
Photo courtesy of Lighthouse Yoga
At Lighthouse Yoga, students are encouraged to find their own light, embrace it, and shine it bright. The staff truly believes that yoga is for everyone and hopes to foster strength, peace and love by bringing people together under a shared interest. To prove it, they offer all new students a free video series to try at home.
Photo courtesy of Maria Watts Photography via Omaha Power Yoga
The mission is simple at Omaha Power Yoga. It isn't about being flexible or a certain size; it's about taking care of yourself, empowering yourself and feeling healthy. The teachers encourage their students to challenge themselves and reach new goals, and do so with a series of invigorating classes that instill peacefulness, strength and grace.
One Tree Yoga started as a Bikram studio back in 2000, but has since expanded to incorporate many different styles of teaching, including restorative yoga, corporate yoga, yoga for athletes, and private yoga instruction alongside a wide variety of classes. With two locations (East and West Omaha) and classes on every day of the week, you're sure to find an option to suit your preference and skill level.
Photo courtesy of Stacie Knebel via Pranam Yoga Shala
This donation-based yoga studio believes that yoga should be available to everyone, which is why the teachers ask you to pay what you can upon entering. The studio offers a variety of classes that are sure to work up a sweat, but also encourages students to practice what they learn (including mindful breath and intention) off the mat.
Pure Om Yoga is perfect for those looking for a more personal yoga experience. The instructors keep classes small, and will even teach one-on-one classes if you prefer. Regardless, they will be sure to take your preferences and skill level into account, and offer adjustments to give you the best practice possible. Classes are by appointment only, so fill out the contact form to find out if Pure Om is right for you.
Photo courtesy of Yoga Now
Yoga Now kicked off the yoga movement in Omaha in 1983 as the first established studio in the area. The studio is steeped in Himalayan tradition, and remains one of the most respected and popular studios in the Midwest. Enjoy a wide range of classes for all skill levels, all led by experts in their craft.
Whether you're looking to challenge yourself physically or mentally, The Omaha Yoga Path hosts a variety of yoga classes for all levels. Learn the art of stillness in a meditation class, practice your handstands in an upper level class, or simply drop in and learn some yoga foundations. Regardless of where you are in your practice, the teachers are friendly, welcoming and eager to help you learn.
Bhadra Yoga was founded by two Omaha natives in 2007. The studio prides itself on inclusiveness and personal instruction in four different styles, including hatha, vinyasa, yin and restorative yoga. The aim is for students to focus on their breath and strength, so there are no mirrors in the studio. But have no fear — an experienced teacher will correct you if your form is off.
Namaste!
Where is your favorite place to hit the mat in Omaha? We'd love to hear about it in the comments!
Save