Whether you're a seasoned runner or just beginning, signing up for a race is the perfect excuse to work on your fitness. And after training for an upcoming event, there's nothing quite as satisfying as crossing the finish line.
Fall is our favorite season to compete in races due to the cooler temperatures, and the red and orange scenery along the routes. Luckily for us, Omaha hosts a number of incredible races during the fall, all of which benefit an incredible local organization or nonprofit. Getting fit for a cause? That's what we call a win-win.
From 2ks to marathons, we rounded up some races that should be on everyone's list. On your mark, get set, go!
Jump Ahead to Races in:
September | October | November
Distance: 10k and 2 Miles
Location: Aksarben Village
Price: $45
2017 marks this race's 37th year, making it one of the oldest running events in Omaha. Gather at the Aksarben Village with friends and family to race for the American Lung Association. The kids can even join in by competing in the 100-yard dash. Every dollar raised will benefit the millions of people nationwide affected by lung disease.
Distance: 5k (or a short run for the kids)
Location: Lake Zorinsky Shelter
Price: $30
Run wild at this charitable race! The route will take you around the scenic Zorinsky Lake, where each step helps benefit a cause greater than yourself. All of the proceeds will go directly toward the missions of Food for the Hungry, which assist poor, orphans, and underprivileged children around the world.
Distance: Distances vary from 1 mile to 26.2 miles
Location: TD Ameritrade Park
Price: $25-$95
This is it. The one we've all been waiting for. Omaha's famed marathon takes place this year on September 17, and is expected to draw crowds from all over the country. Participants can choose to run any distance, from a one-mile friends and family race to the full 26.2-mile event. Races kick off at different times depending on the distance you choose, and all racers will receive a long-sleeved, technical tee to wear during or after the race. Fuel up at the annual pasta dinner, which takes place the night before race day! Participants get in free, and friends and family can join you for just $10.
Distance: 2k-5k
Location: Werner Park
Price: Adults $25, Children $10. Those with CHD run free.
Photo courtesy of Heart Heroes, Inc
Heart Heroes, Inc is thrilled to bring the Superhero Heart Run back to Omaha this year. This charitable race originated in Omaha in 2013, but has since expanded to five locations across the country. Runners will compete in either a 2k or 5k walk/run, donning superhero capes and costumes — but they won't be fighting crime. Instead, they will be fighting Congenital Heart Defects, the most common birth defect worldwide. Proceeds from the race will help provide support, education, research and awareness for CHD, and funds from the local race will directly benefit Omaha families.
Distance: Distances vary from 10k to 26.2 miles
Location: Downtown Omaha
Price: $50-$190
The unique routes of Heartland Marathon will take you across rivers, through historic districts, over hills and past gorgeous lakes, allowing you to see some of the most beautiful sights in Nebraska and Iowa. This event is designed by runners, for runners, and should be a race to remember! Make it a team event by registering for the marathon relay.
Distance: 76 miles
Location: From Omaha to Lincoln
Price: $550 per team
Photo courtesy of the Market to Market Relay 
Get the team together and register for the largest day-long marathon relay in the country! This race will take runners all the way from Omaha to Lincoln, but don't worry — you don't have to do all of that yourself! You and your team will complete the race in increments ranging from three to five miles. The course follows trails, paved streets and gravel roads that will showcase the best of Nebraska. Costumes encouraged!
Distance: 5k
Location: Walnut Creek Lake, Papillion
Price: $27-$45
We're all fun-loving here, which is why we sign up for eccentric races like this one! The annual Alice in Runderland 5k will take runners past enchanted obstacles from this classic childhood story, including giant bugs, colorful walls and more.
Distance: 1 mile to 5k
Location: Baxter Arena and Aksarben Village

Price: Varies
Fight breast cancer at the Susan G. Komen Race for the Cure. This iconic event typically draws survivors, supporters and those racing in honor of loved ones. It is the largest and most successful fundraising event benefiting breast cancer in history, and we are honored to be a part of it right here in Omaha. 100 percent of the proceeds will help the cause, and the race day events (including a parade) are slated to draw more participants than ever this year. Register here!
Distance: 5k, half marathon or marathon
Location: 32nd & Farnam Streets
Price: $45-$110
Our lovely state will welcome more than 1,000 runners from all over the country to participate in one of the biggest races of the year. The Nebraska Marathon showcases the most scenic route that Omaha has to offer from Midtown to Downtown, through the heart of the Old Market, and past many of the landmarks we hold dear. Fall in love with everything Nebraska has to offer — from our historic landmarks and gorgeous scenery, to our incredible hospitality.
Distance: 5k or 10k
Location: The SumTur Amphitheater
Price $15-$35
Beers, bands and bonfires — what more could you want in a race? Compete in your choice of a 5k or 10k race, which will start and finish at the SumTur Amphitheater. After the race, enjoy some well-earned libations and dance along to live music. And don't worry about the chill — that's what the bonfires are for!
Distance: 5k or half marathon
Location: Skutt Catholic High School
Price: $60-$100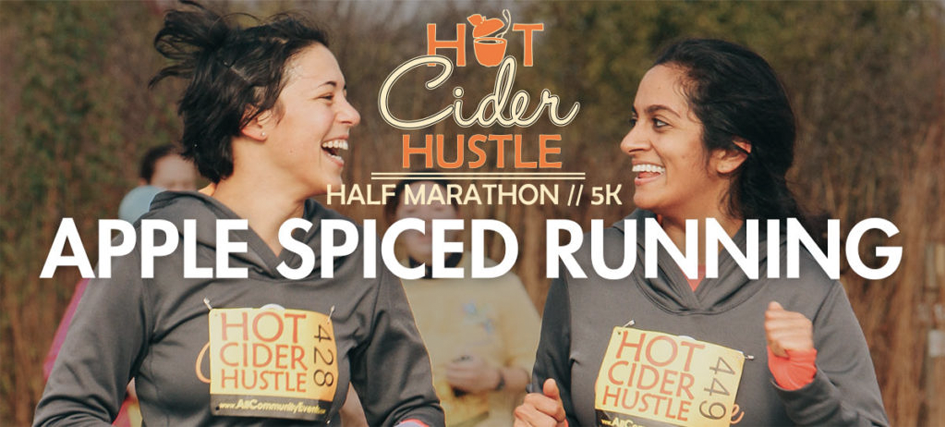 Photo courtesy of NebraskaRuns.com
If you want to finish this race, you will have to hustle! The course takes runners past some gorgeous Omaha sights, and includes routes for a 5k or half marathon. When you finally cross that finish line, you will be rewarded with a fresh cup of apple cider and caramel apples! Talk about a sweet victory.
Distance: 5k, 10k, Half Marathon
Location: Skyline Ranch
Price: $10-$60
If road running isn't really your thing, head to the trail at Skyline Ranch for an off-road running experience! From the Cowpoke Kids Run to the half marathon, there's a race for all levels here. 
Distance: 5k, 10k or half marathon
Location: Lake Cunningham
Price: $30-$75
Photo courtesy of Sarah Rae Photography via Feast & Feathers
You might get to dig into a feast on Thanksgiving Day, but there are many who won't have the opportunity of a warm meal. This race hopes to combat that. Choose to participate in a 5k, 10k or half marathon (or the Lil Gobbler Trot for the kids), which will benefit the Food Bank for the Heartland. Since 2012, Feast and Feathers has donated more than $86,000 and 9,000 pounds of food to those in need! Register here to be a part of it.
Distance: 5k
Location: Lewis & Clark Landing
Early bird price: $30-$50
Before you dig into that feast on Thanksgiving Day, come race in this fun, community event. The pre-turkey workout welcomes hundreds of runners every year (some of whom don turkey costumes for added fun). Proceeds benefit the Make-A-Wish Foundation of Nebraska, and all racers will be rewarded with a hot cinnamon roll at the finish line.
Run Fast!
Which race are you most looking forward to this fall? Let us know in the comments!