It's that time of year again — the leaves are changing, we are starting to feel that familiar chill, and chants of "Husker! Power!" are in full swing. Football season has begun. The Huskers never fail to impress, and their success on the field draws in thousands of fans to celebrate at home and on the road. That means that Lincoln's pre-game tailgating festivities can also be tough to beat!
Whether this is your first time donning a foam finger, or you're a seasoned Huskers fan, we gathered up some tips to carry you through the football season. Go Huskers!
Where to Go
Snagging an invite to your friend's tent is one of the most common ways to celebrate, but if you're not sure where to start, here are some of our favorite venues for tailgating around Lincoln.
400 Pinnacle Arena Drive
Tailgating at the Pinnacle Bank Arena usually begins about four hours before kickoff, and is no doubt the most popular tailgating destination for the Huskers. Fans book their parking spaces months in advance, and the festival area fills with fans socializing with a brat in hand. Learn more about the tailgating festivities at the Pinnacle Bank Arena here.
Near the intersection of 8th and S Streets
Photo courtesy of Blur
A Blur tailgating party is something every Huskers fan must experience at least once. These top-notch events draw in hundreds of fun-loving fans to enjoy cornhole, food, drinks and much more, all while the game plays on TVs around the venue. The private party will take place on the South End of Lot 7 under the I-180 bridge.
1400 R Street
This free pre-game bash begins two hours before kickoff at the Ed Weir Track (on the northeast corner of Memorial Stadium). You will enjoy live music, food, libations, face-painting, performances from the cheerleaders and the UNL Marching Band, as well as plenty of kid-friendly activities. Choose to party here and you won't have far to travel when it's time for the game to start!
728 Q Street
NZone takes the term "underground party" to a different level. Step into this basement bar on game days into a sea of red, black and white. You might knock elbows with fellow fans, but there is no better place to soak in that iconic Huskers energy. If you'd rather stick around for a game of darts instead of meandering to the stadium, you will be able to watch the game here as well.
235 North 9th Street
Photo courtesy of Nolan Wheeler via Barry's Bar & Grill 
Barry's Bar and Grill is the epitome of Nebraska football tradition. If you come from a long line of Huskers fans, you might have heard stories about your family's tailgating days at this infamous Lincoln hangout. Now, it's time to make your own memories! Get there early, grab a drink and head out onto the rooftop patio.
350 Canopy Street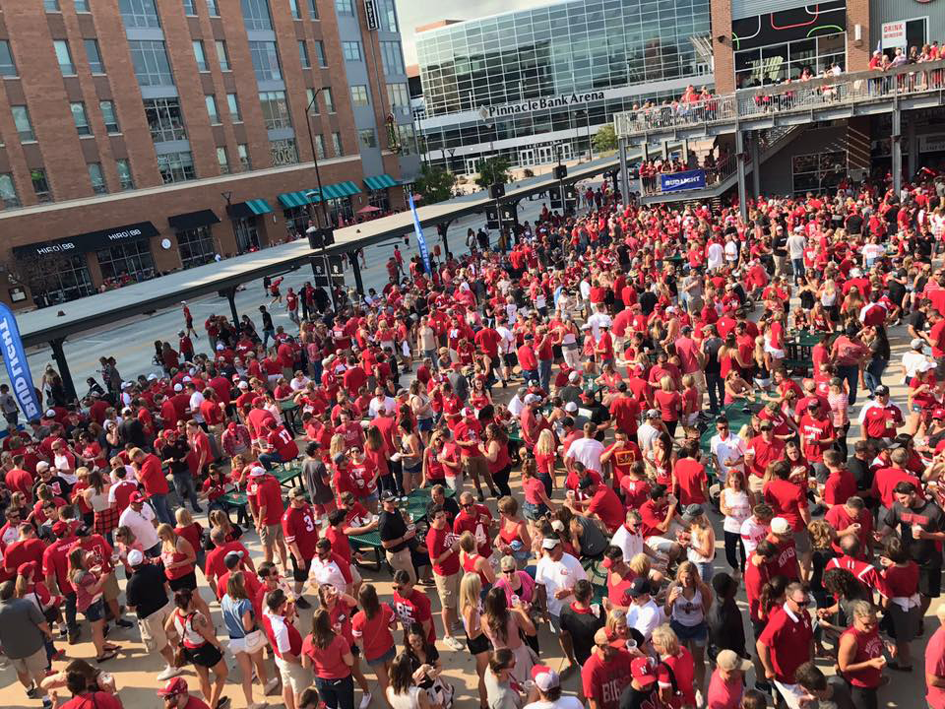 Photo courtesy of the Railyard
If the weather is nice, set course for the Railyard. This district is commonly known as Lincoln's entertainment hub, and hosts events year-round. On game days, gather in front of The Union Bank & Trust Cube (an outdoor mega screen) with a cold brew, and join other fans cheering for the Huskers. In case you needed further incentive to check this place out, the Journal Star recently included the Railyard in its list of the best places to hang out on game day. 
1040 P Street
You might not think of a nice hotel as a prime tailgating location, but it would be a true shame to overlook this party. The outdoor beer garden, more commonly known as "the Dock," packs a large crowd on game day. If you don't have tickets to the game, you can watch it on the big screen in the atrium if you wish!
What to Wear
You would never want to get looped in with supporters from the opposing team, so you best be wearing red and white to the Huskers game — and lots of it. Here are some places to stock up on your game-day apparel.
321 North 8th Street or 6891 A Street
Photo courtesy of Best of Big Red
From beads to koozies, the Best of Big Red is your one-stop shop for everything Huskers related. More than 5,000 Huskers-themed items cover the shelves. Visit either of their convenient locations (in the Clocktower Shopping Center and the Haymarket), or shop online from the comfort of your home.
400 Pinnacle Arena Drive
Sometimes it's best to go straight to the source, which is why we always recommend the official store of the Nebraska Huskers. You might pay a bit more for your shirts, hats, sweaters and other apparel, but you can count on everything being official and authentic. Plus, shopping around the store at Memorial Stadium is an experience in itself!
Where to Stock Up for the Party
It wouldn't be a successful tailgate party without some delicious food and snacks. Whether you're grilling in the backyard or just looking to pick something up on your way to the stadium, here are some nearby places to check out. 
2200 Winthrop Road
Leon's is a favorite for locals as it houses a prime selection of top-quality meats for grilling, as well as freshly baked breads, deli meats, produce and more. There's no better place to round-up a wide variety of snacks for your next shindig!
101 SW 14th Place
Photo courtesy of Phat Jack's
Phat Jack's is a crowd pleaser no matter which way you look at it. Pre-order some barbecue goodies to serve at your next event — the famed Big Red Brisket is our number one draft pick.
1321 O Street
If wings are your style (and why wouldn't they be?), look no further than the Watering Hole. Many claim that this establishment serves up the best grilled wings in town, all accompanied by sauces both sweet and spicy.
Things to Know in Advance
Photo courtesy of the Huskers
Wearing the school colors is important, but to truly please your fellow Huskers fans you will also have to hoot, holler and say the right things at the right time. Here are some important Huskers game-day traditions to keep in mind.
The Unity Walk
Two hours and 45 minutes prior to kickoff, fans have the opportunity to meet their beloved Huskers as they arrive at the stadium by bus. Meet them in the horseshoe in your game-day best to give them a true Lincoln welcome!
The Cornheads
This is optional, but recommended for maximum fun. Influenced by the Green Bay Packer Cheesehead, the Cornhead is a staple when it comes to accessorizing for Huskers games. Throughout the crowd, you will see fans donning a large, plastic ear of corn strapped to their head. They've got spirit, yes they do! They've got spirit, how about you?
When they Say "Husker," You say "Power."
This one is simple. When someone is brave enough to yell "Husker" in the middle of a crowd or in the stadium, you answer at the top of your lungs with "power." Always.
Be Ready for the Slow and Fast Wave

You might have taken part in a fan "wave" or two at a local sporting event, but Huskers fans take the wave seriously — and it's quite a sight to behold in the stadium. You'll know when it starts, and the rules are simple. When the person to your right stands up and throws their hands in the air, be ready to do the same thing. And be sure to copy the tempo as well! Typically the Nebraska wave starts slow, and then goes fast.
More Information
For other important information pertaining to game day, including details on tickets, parking, prohibited items and policies, be sure to visit the Huskers online.
 Go Huskers!
What is your favorite game-day tradition? Let us know in the comments!