Oh the weather outside is frightful, which means it's the perfect time of year to cozy up in a local bar or restaurant and catch up with loved ones. Gone are the days of the iced, citrusy summer cocktails. Instead, local bars are incorporating seasonal fruits, warm spirits, spices, and even hot chocolate to keep their patrons warm.
We rounded up some of our favorite craft cocktails from the best local watering holes in Omaha, so next time Old Man Winter sends a shiver down your spine, refer to this list and have yourself a cup of cheer!
Cocchi Americano Vermouth, Dolin Dry Vermouth, Longshot White Whiskey, orange bitters, Strega, garnished with an orange peel
Photo courtesy of the Cedar Lounge
Both classy and cozy, Cedar is an excellent place to spend a cold winter evening with loved ones. Sit at the bar and warm up with the White Manhattan, a specialty, seasonal bevvie made with two kinds of vermouth, orange bitters, Strega, and Longshot White Whiskey — a handcrafted whiskey from Union Horse out of Kansas City.
Pierre Ferrand Cognac, House Chocolate Bitters, Tarragon, Lazzeroni Dry Marsala, House Orange Bitters
A cocktail even Darth Vader would be proud of, the Dark Side cocktail from The Berry and Rye is not to be missed this winter season! With top-shelf cognac from Pierre Ferrand, chocolate and orange bitters, tarragon and Lazzeroni Dry Marsala, the earthy yet sweet concoction will warm you from head to toe.
Mercury | The Yukon Cornelius or the Threat Level Midnight
House-made hot cocoa with candy cane-infused bourbon and cocoa
OR
Mezcal, passion fruit, lime juice, spiced almond syrup
Photos courtesy of Mercury
Have you ever wished you could just order a hot chocolate at the bar? Mercury has you covered with the Yukon Cornelius — a soul-warming mixture of hot cocoa, candy cane-infused Bourbon and cocoa. It's as approachable as the holiday character himself!
Looking for something a little more fresh? Opt for the Threat Level Midnight. A little smokey, a little tart and a little sweet, this innovative cocktail is a delightful collision of Mezcal, passion fruit and almond syrup.
George Dickel Rye, Snap liqueur, demerara syrup, grapefruit juice, bitters, red wine float  
Nationally renowned Krug Park, nestled in the desirable Benson neighborhood, is one of Omaha's greatest achievements. And with innovative cocktails like the Gingivere 3, it's not tough to see why! This one is made with rye whiskey, Snap liqueur, demerara syrup, grapefruit juice, bitters and a red wine float, achieving a perfect balance of warm, fresh and sweet.
LIV Lounge | And Heaven and Nature Sing
Rittenhouse Rye, lemon juice, simple syrup, Frangelico, pomegranate syrup, allspice dram, blood orange bitters
Photo courtesy of LIV Lounge
Nestled in the heart of Aksarben Village, Omaha's LIV Lounge serves sophisticated craft cocktails (and an impressive lineup of bar bites) in a polished setting! Try the Heaven and Nature Sing, LIV's featured seasonal cocktail. With notes of citrus, pomegranate, spice and warm whiskey, this cocktail is guaranteed to make your evenings merry and bright!
The Tavern | Spiked Warm Apple Cider
House-brewed apple cider, your choice of spirit
Photos courtesy of the Tavern
With a low-key, unpretentious vibe and a delicious menu, this spot in Omaha's Old Market is a go-to hangout year round. After perusing the arts and entertainment district, stop into the Tavern and warm up with a cup of spiked warm apple cider. Brewed in-house and spiked however you like, this sipper is the definition of soul-warming.
Butter washed bourbon, allspice dram, Cardamaro, corn syrup, cardamom tincture, aquafaba
Photo courtesy of Herbe Sainte
The Leola was named for the grandmother of bartender and general manager, Austin Elsberry. Austin remembers the delicious German cookies his grandmother used to make for special occasions, and harnessed the spices and flavors from his memories into a cocktail. With butter washed bourbon and notes of allspice, cardamom and star anise, the drink will make you feel like a kid on Christmas morning.
Maker's Mark whiskey, fresh-squeezed lemon juice, honey simple, ginger beer, lemon twist
Photo courtesy of Blatt Beer & Table
With three locations around the Omaha area, there's no reason not to stop by Blatt Beer & Table this season! If the fun, low-key atmosphere and delicious food aren't enough to draw you in, perhaps you'll be lured by the Twist and Shout, a delicious concoction of whiskey, lemon, honey and ginger.
Market Basket | The Winter Stag or the New York Sour
Crater Lake Rye, cinnamon smoke, West Indian nutmeg, garnished with a black frosting stag
OR
Knob Creek Bourbon, fresh lime and lemon juice, Jones of Washington Cabernet float from Platinum
Photos courtesy of the Market Basket
As beautiful as it is delicious, the Winter Stag is a must-try this season. The unique blend of rye whiskey, cinnamon smoke and nutmeg tastes just like the feeling you get cuddled by the fireplace on a cold and snowy day.
For something a little more fruity, but no less delicious, opt for the New York Sour. The result of bourbon, wine and citrus flavors is easy to drink and absolutely delightful.
Railcar | Black Manhattan
Amaro, 40 Creek Rye, pear bitters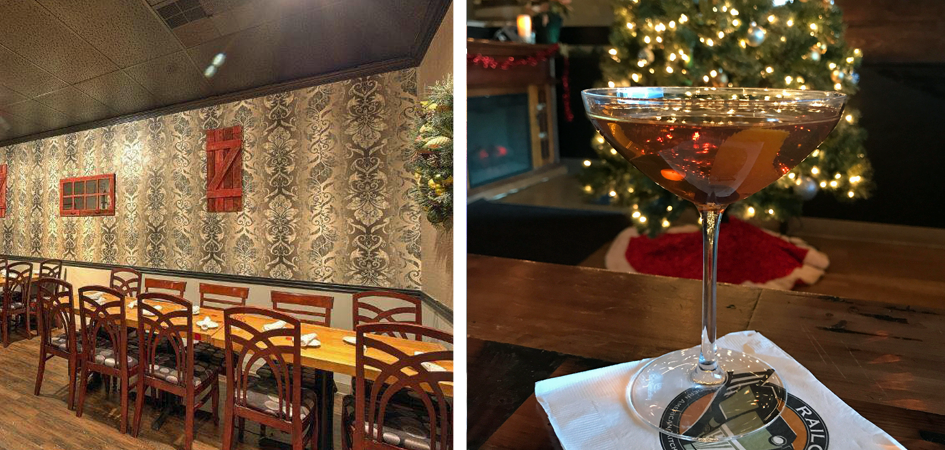 Photo courtesy of Railcar 
Pear is one of our favorite seasonal fruits, but unfortunately, is a bit rare in the local cocktail scene! The exception is the Black Manhattan from Railcar. With amaro, rye and pear bitters, the cocktail packs a flavorful punch.
Inkwell | Applejack Cider
Lairds Applejack, Becherovka Liqueur, unfiltered apple juice, cranberry juice, orange peel
Photo courtesy of Inkwell
Friendly service, a no-frills atmosphere and delicious, handcrafted cocktails await you at Inkwell. Our pick this season is the Applejack Cider, which is brewed in-house by the talented bartenders! Expect a warm and soothing blend of apple, cranberry and spice.
Toki Japanese Whiskey, pear cinnamon ginger syrup, apple brandy, lemon juice, allspice dram, garnished with a cinnamon stick and star anise. 
Burdock and Bitters might be new to the scene in Omaha, but the whiskey bar is already a fan favorite among locals! Stop in for the Major Strafer, a spicy, sweet and well-rounded creation with hints of stone fruits, citrus and holiday spices.
Rumple Minze, Rumchata, Frangelico, white chocolate liqueur, Andes Mint
Photo courtesy of Nosh Wine Lounge
Nosh Wine Lounge is recognized for its extensive wine list, featuring more than 100 varieties, but it would be a shame to overlook the creative craft cocktails! Take for instance the White Andes Martini. Nosh has brought Andes Mints to like in the form of this delicious and refreshing bevvie, featuring Rumple Minze, Rumchata, Frangelico and white chocolate liqueur.
Cheers!
We hope that these recommendations will help keep your spirits high. If you find yourself enjoying one of these seasonal sippers, make sure to tag us in your Instagram photo at @npdodge for the chance to be featured!