Another year has come and gone, and we can hardly believe how quickly it went! But before the clock strikes midnight and we kiss 2017 goodbye for good, we are determined to squeeze in one last celebration. New Year's Eve is the time to gather with friends and family, reflect on the past twelve months, and kick-off the beginning of a new era.
From spectacular fireworks shows and kid-friendly events, to rock concerts and elegant soirées, there are a variety of New Year's Eve events this year in Omaha — all guaranteed to help you send the new year off with a bang. Regardless of how you choose to celebrate, there is sure to be an event on this list to match your taste. Have fun out there, and have a happy New Year!
Family-Friendly Events
When: December 31, 7 pm
Where: Gene Leahy Mall
Price: Free
Photo courtesy of the Holiday Lights Festival
Omaha's annual Holiday Lights Festival will conclude with a dazzling fireworks show. As one of the largest New Year's Eve fireworks displays in the midwest, the event draws tens of thousands of people each year, so be sure to arrive early! Spectators are encouraged to tune into STAR 104.5 to listen to a festive musical score designed to perfectly complement the show.
When: Saturday, December 30, 10 am-2 pm
Where: The Durham Museum
Price: Free
Children of all ages will enjoy this thrilling day-time New Year's Eve party! Come enjoy live music from Dino O'Dell and the T-Rex All Stars, special holiday crafts, and fun games and activities. When the clock strikes twelve, grab your party hat and celebrate with a bubble wrap stomp and a balloon drop.
When: Saturday, December 30, 10:30 am-12:30 pm
Where: The Saddlebrook Branch of the Omaha Public Library
Price: Free
On New Year's weekend, the Omaha Public Library will be anything but quiet! Stop by the Saddlebrook Branch for a dance party, games, bounce and play, and a countdown ending with a thousand-balloon drop.
When: Sunday, December 31, 11 am-1 pm
Where: Omaha's Henry Doorly Zoo
Price: Included with Zoo Admission
Have a wild time at the zoo this New Year's Eve — without the late night! The Zoo will host a festive daytime celebration featuring family-friendly activities, a beach ball drop at noon, and more. After the party is over, spend the rest of the day enjoying all the zoo has to offer!
When: Sunday, December 31, 6-8 pm
Where: The Omaha Children's Museum
Price: $15 for members and $25 for non members.
Celebrate the last night of 2017 with a fun-filled party at the Omaha Children's Museum! You and the family will have the chance to play in the museum after hours, and celebrate with face painting, balloons, crafting and a countdown! There will even be a parade at the end of the night, and your child can make their own cardboard float to participate. Buy tickets here.
Live Performances
When: December 31, 9 pm-2 am
Where: The Slowdown
Price: $20 in advance, $25 on the day of the show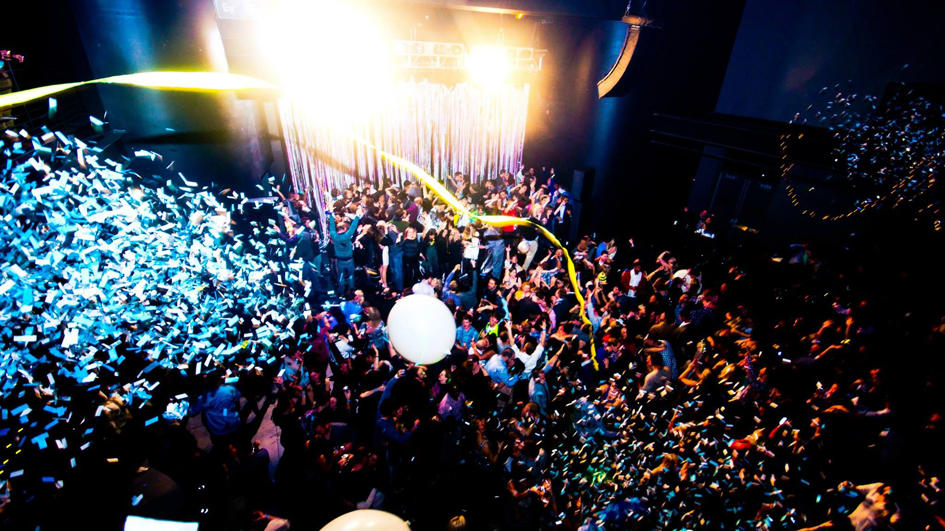 Photo courtesy of the Slowdown
The annual New Year's Eve bash at Slowdown has become a community tradition! For the 11th year, get ready to dress to the nines, and dance along to a performance from local DJs Todd Fink and Kethro of Goo and a live set from High Up. VIP tickets include a private bar with one-cent drinks all night long, balcony access and an appetizer buffet from 8-10 pm. Find more information here.
When: Sunday, December 31, 9 pm
Where: The Waiting Room Lounge
Price: $10
The Waiting Room, located in the heart of the Benson neighborhood, will host a live show featuring Secret Weapon. For just $10, you can enjoy a night of dancing with one of our town's most renowned 80s cover bands!
When: December 31, doors at 8 pm
Where: Reverb Lounge
Price: $7
Known for their experimental (and highly danceable) electronic music, musical masterminds Matt Trapp and Pat O'Grady of String Theory will put on a dazzling performance at Reverb Lounge. Why not spend the final hours of 2017 in Benson dancing the night away? Make a day of it by exploring the neighborhood beforehand — there are so many fun things to see and do in the area.
When: December 31, 9 pm-1:30 am
Where: The Chrome Lounge
Price: No cover
Come to the Chrome Lounge for a rock-n-roll New Year's Eve bash worth remembering. Sinners and Saints, a talented local rock band will perform live, and all you have to worry about is dancing your way into 2018!
Parties and Special Events
When: December 31 from noon-2 am
Where: Blue Sushi Sake Grill
Price: $5 cover starting at 9 pm
Photo courtesy of Blue Sushi Sake Grill
Hosted by Omaha's Blue Sushi Sake Grill, the Old Market NYE party is guaranteed to be a good time! Enjoy happy hour specials from noon-4 pm followed by a special dinner menu in the dining room. Afterward (starting at 8 pm), dance the night away on the second and third floors and in the Sake Bombers Lounge. There will be a DJ, and of course, a champagne toast at midnight!
When: Sunday, December 31, 6 pm-3 am
Where: Sparta Games Omaha
Price: Free
Sparta Games is Omaha's prime gaming destination, boasting custom gaming tables, comfortable seating, and ample space for fun! On New Year's Eve, they will celebrate in style, offering open gaming all night and a potluck. Guests bring the food, and Sparta will provide the drinks!
When: December 31, 9 pm-1:30 am
Where: il Palazzo
Price: $25
Calling all wizards, witches and muggles alike! The Omaha Sexy Nerd Society (OSNS) will bring the magical world of Harry Potter to life at a Yule Ball, although instead of ringing in the Triwizard Tournament, attendees will welcome a new year. Dance along to live music and a DJ, compete in mini tournaments for prizes, get sorted into your Hogwarts house, grab a snack from the sweets trolley, sip on themed drinks and butter beer, and commemorate it all with a few snaps in the photo booth! Formal wear or costumes are highly encouraged.
When: December 31, Doors at 7:30 pm, Band at 9 pm 
Where: The DoubleTree by Hilton Omaha Downtown 
Price: Room packages start at $239 per couple 
Come party with Z-92 at the DoubleTree Hotel! There will be live performances from Down to Here and Wicked Fun, a champagne toast at midnight, and plenty of dancing! Room packages start at $239 per couple ($309 with dinner), and include the room, two tickets to the party, breakfast on New Year's Day and a special gift at checkout. If you'd rather just attend the party and have dinner, you can do so for $94.95. Seating is first come, first serve, so get there early!
When: December 31, 9 pm-1 am
Where: Firewater Grill
Price: $199 per couple
Make your reservations for an overnight getaway at Firewater Grill! The brag-worthy package includes deluxe hotel accommodations, early check-in, party favors, an island-style feast for dinner, a bottle of champagne, live music and a hot breakfast on New Year's Day.
When: December 31, 9 pm-2 am
Where: Bar 415
Price: No cover
No, this isn't a party for reading more books or hitting the gym — you can start on your real resolutions the following day. Rather, this is a resolution to have one last hoorah before the new year rolls around! Join Bar 415 for a full night of dancing, music from local DJs, drink specials and more.
When: December 31, 9 pm-2 am
Where: The Omaha Design Center
Price: $130 per person (VIP tables available)
Enjoy a luxe, all-inclusive experience this New Year's Eve at the Omaha Design Center. The first annual To The NYnes event will feature red carpet photos, extravagant catered food, an open bar, entertainment from Las Vegas performing DJ, DJ KOR, a champagne toast at midnight, and an overall good time. Step it up a notch by renting a private cabana for yourself and nine guests!
When: December 31, 9 pm-2 am
Where: The Tavern
Price: $5, $10 after 10 pm
Graphic courtesy of the Tavern
Located in the heart of Omaha's Old Market, the Tavern is a vibrant neighborhood bar with a downtown vibe. There is no better spot to celebrate the start of a new year! Enjoy a complimentary glass of champagne upon arrival, a local DJ, a professional photographer and a photo booth — all for just $5.
Happy New Year!
How do you plan on ringing in the new year? Let us know in the comments!