From street tacos to handmade pasta, there is more on the menu than ever before in Omaha. 2017 has been an incredible year for restaurant openings, and even though we have said goodbye to a few old favorites, we are more excited than ever to see the progress in our city's dining scene!
Before the clock strikes midnight and the new year rolls around, we decided to look back on some of the best 2017 restaurant openings in Omaha. Without further ado, here are our top picks.
735 N 14th Street, Omaha
Opened: January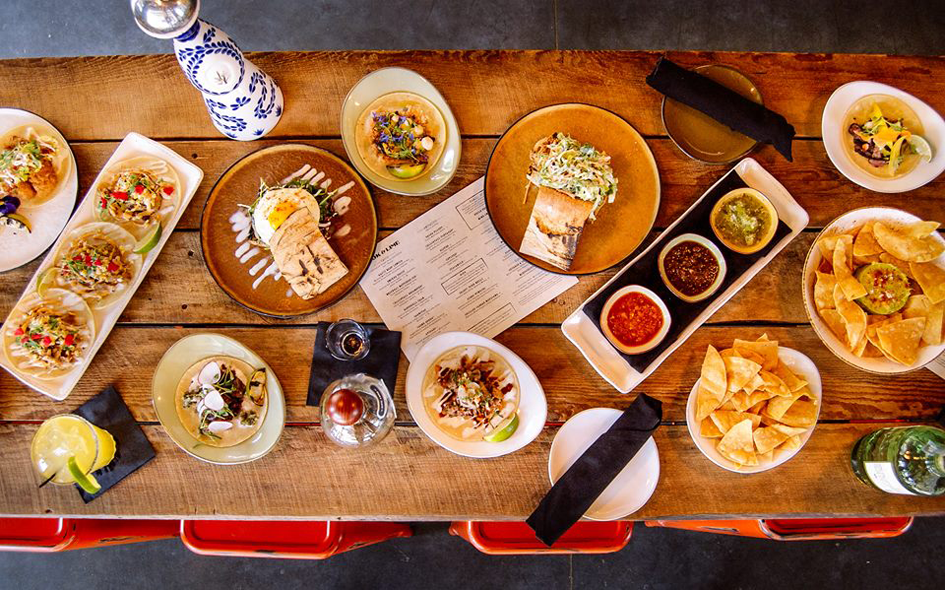 Photo courtesy of Ryan Tantillo via Hook & Lime
Tucked inside a modern and airy locale, Hook & Lime serves up seafood-centric, Mexican-inspired cuisine alongside an impressive lineup of tequila and mezcal cocktails. Brandon Kalfut, executive chef and mastermind behind all the excellent food, whips out innovative shareables and small plates that are guaranteed to wow, and owner Robbie Malm ensures your experience is memorable!
6056 North Maple Street, Omaha
Opened: May
Nestled in the Benson neighborhood, Virtuoso Pizzeria slings pizzas that are light, airy, crispy and immensely satisfying all at once. Owner David Losole happens to come from a very successful restaurant family (his parents own Lo Sole Mio in South Omaha), so we have high expectations for his first venture. Everything prepared in the pizzeria is made from scratch, and Losole uses his own signature recipes to create spicy Italian sausage, spicy giardiniera and more.
200 South 32nd Avenue, Omaha
Opened: May
Photo courtesy of Ryan Tantillo via Della Costa 
Specializing in coastal Italian cuisine, Della Costa is the Mediterranean escape we all need in our day-to-day lives. The space itself is cozy yet modern, offering ample patio seating as well as a retail section for take-home cheeses, salamis and more. Stop in for happy hour, dinner and weekend brunch to enjoy a range of seafood crudo, hearty pastas and fresh salads.
222 North 10th Street, Omaha
Opened: August
Society 1854 opened within the Capitol District's new Marriott hotel earlier this year and offers a true taste of Nebraska. Chef Jon Seymour executes heritage dishes thoughtfully, but incorporates his own signature contemporary twist. All menu items are prepared with local and seasonal ingredients, and are complemented by a carefully curated wine and cocktail list.
After dinner, enjoy a nightcap at swanky whiskey bar Burdock + Bitters, located right next door.
3501 Center Street, Omaha
Opened: August
Photo courtesy of Ryan Sorenson via Vis Major Brewing Co. 
Vis Major, which opened its doors to immediate success this August, serves more than just craft brews. The food menu was carefully designed to complement the extensive beer list, and includes sausage sourced locally from Frank Stoysich meats, along with pretzel bites and flavored popcorn. Of course, these are just the kinds of items you'd feel like eating after a few sips of beer — so while the menu isn't extensive, we are satisfied nonetheless.
5002 Underwood Avenue, Omaha
Opened: September
Tacos and craft beer — does life get any better? The Hoppy Taco serves up authentic street tacos, signature spicy dips and the like, all crafted with the freshest and finest local ingredients available.
3623 N 129th Street
Opened: September
Photo courtesy of Bruno's Pasta Company
Bruno's Pasta Company opened its doors this September in the old Salt 88 spot, and has since been met with glowing reviews. The main reason for the high praise is likely the handmade pasta, which truly takes the menu up a notch. Expect traditional Italian favorites with contemporary influences — all crafted with love and served in modern, upscale digs.
6009 Maple Street, Omaha
Opened: October
Benson is now home to the best sushi in Omaha. Diners are swept in off the street into a casual yet warm space that emits a downtown Tokyo vibe. The menu is both approachable and high-end, featuring an impressive lineup of fresh fish and specials flown in from Japan daily. Choose the "omakase" dining option to be surprised with the top choices from chef David Utterback — you won't be disappointed.
316 South 15th Street
Opened: October
Photo courtesy of Joshua Foo via Monarch Prime & Bar
In Omaha, we are famous for our steaks, and Monarch Prime & Bar truly lives up to our reputation. This modern steakhouse features a dry-aging program, inventive craft cocktails and an extensive wine list — everything you need for an upscale night out on the town.
422 South 11th Street
Reopened: November
M's Pub was an Omaha favorite for years until a terrible fire two years ago caused the restaurant to close — but the mourning period is finally over! M's opened its doors again on November 1, and we couldn't be happier. Chef Bobby Mekiney will take this opportunity to try out some new menu items (think: a tartine with toasted bread topped with dill cream cheese, tomato, cucumber, cured salmon and more), but don't worry — all of the old favorites will still be available.
Happy New Year (and Happy Eating)!
Which new Omaha restaurant is your favorite, or which are you most excited to try? Let us know in the comments!