When the weather heats up in the midwest, nothing is quite as refreshing as a dip (or a full on cannonball) into the water. In Omaha, we are not strangers to the summertime heat wave, which is why we have an abundance of public pools, swimming holes and water parks around town. But imagine being able to don your swimsuit and enjoy a private, waterside oasis in the comfort of your backyard!
We rounded up eight homes in Omaha for sale that come equipped with spectacular swimming pools, private beaches, docks and more — so dive right in! Your dream home might be on the list.
4 Bedrooms | 4 Bathrooms | 3,303 Square Feet
This home is for sale at 1323 South 78 Avenue, Omaha | Listed by Ryan Gibson & Jo Flairty
Situated in the heart of Loveland, this spectacular home features today's modern luxuries alongside yesterday's charm. The meticulous landscaping, dream kitchen and wine cellar (among other fun additions) put this home over the top — and we haven't even ventured to the backyard yet. Step outside into a warm weather paradise with a sparkling in-ground pool, a playground and several trees for shade cover.
5 Bedrooms | 7 Bathrooms | 9,056 Square Feet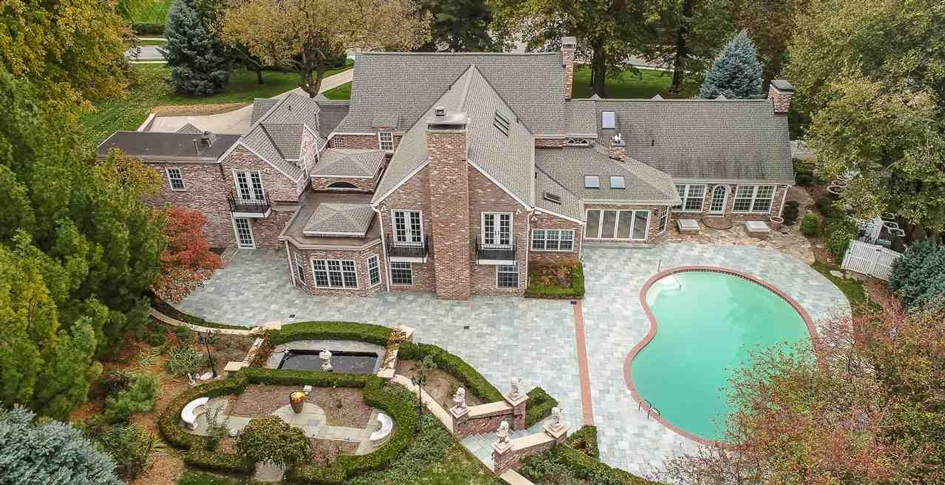 This home is for sale at 614 Underwood Avenue, Omaha | Listed by The Rensch Group
The epitome of luxurious comfort, this estate in Fairacres has everything you need in a home and so much more. The practical and liveable floor plan features fabulous discoveries around every corner (think: sparkling chandeliers, opulent fireplaces, a home movie theater and a kitchen to make every home chef swoon). Nestled on more than an acre of land, the property features an enviable outdoor living space complete with a deck, a pool and hedges for privacy.
12 Bedrooms | 12 Bathrooms | 10,205 Square Feet
This home is for sale at 12472 South 36 Street, Bellevue | Listed by Melissa Jarecke
This spectacular and conveniently located ranch spans nearly seven acres and includes more than 10,000 square feet of indoor living space. The sparkling saltwater pool sits adjacent to a huge patio and shade structure — the perfect space for outdoor entertaining. There are five homes and 12 garages on the property, so it would be ideal for multi-family housing!
5 Bedrooms | 7 Bathrooms | 6,874 Square Feet
This home is for sale at 8615 North 180 Street, Bennington | Listed by Greg Kraemer and John Kraemer
Welcome to paradise! This stunning Colonial-style home sits on a majestic tree-lined drive on more than 10 acres. Enjoy views of the spectacular lot from nearly every room or settle down on the front porch with a refreshment to enjoy the Nebraska sunset. The backyard provides an oasis for hot summer days with a sparkling pool and lush greenery, and the raised back deck is an ideal spot to dry off or enjoy a meal al fresco!
3 Bedrooms | 2 Bathrooms | 2,232 Square Feet
This home is for sale at 980 County Road W S-1079, Fremont | Listed by Kori Krause
This custom, remodeled lake house has it all — radiant floor heat, top-of-the-line appliances, a heated garage, a new kitchen and so much more. But it's the outdoor entertaining space that really steals the show. Located in a quiet cove, the home provides ample opportunities for swimming and paddle boarding. Feel like you're on vacation year-round!
4 Bedrooms | 7 Bathrooms | 6,847 Square Feet
This home is for sale at 1724 S 105 Street, Omaha | Listed by the Marvin and Fike Team
The attention to detail in this stunning Omaha home is untouched! The interior is filled with artisan craftsmanship, top-of-the-line appliances and fun custom details that will make you feel at home immediately. In the backyard, explore the lush surroundings, paver patio and spectacular pool — your own little slice of paradise.
3 Bedrooms | 4 Bathrooms | 3,266 Square Feet
This home is for sale at 5430 North 279 Street, Valley | Listed by Robin Philips
The lake is your pool in Valley, Nebraska — and this home has a front-row seat. Enjoy your own private beach, spectacular views of the water, a fire pit and an outdoor shower — everything you need for summer adventuring. If you're already in love with the outdoor living space, just wait until you see the inside, which is filled with contemporary details, spacious bedrooms and lots of storage!
5 Bedrooms | 4 Bathrooms | 3,130 Square Feet
This home is for sale at 66 Shaker Place, Valley | Listed by Walt Slobotski
The perfect blend of contemporary dream home and summertime retreat, this lakeside property in Ginger Cove is idea for those looking to bring a little bit of adventure into their lives. The private beach and dock offer endless opportunities for swimming, boating, paddle boarding, kayaking and more, and when the sun sets, the home offers modern comforts and five spacious bedrooms.
Did any of these homes make a splash?
If you're in the market for a home with a pool, please don't hesitate to contact us! One of our knowledgeable agents can help you find the home of your dreams. Or continue your home search using our advanced search and map search tools.