This post was updated on February 7, 2019 to include up-to-date information and recommendations.
Omaha, the Gateway to the West, is unlike any place on earth. Our city's blend of Midwestern charm, big-city attractions and small-town vibes make it an incredibly attractive place to live, but also a fun vacation destination!
When you're looking for ways to entertain yourself, it's easy to find a great restaurant patio or brewery to enjoy, but there are a few more off-the-beaten-path activities that make our town unique — and we don't think you can truly call yourself an Omahan until you've tried them all. How many can you check off of your list?
Designed to look like a monastery, Brother Sebastian's Steakhouse is a far cry from a "traditional" steakhouse. Nevertheless, the steaks here are top notch! Choice cuts of authentic, raised-in-Nebraska steak are delivered to the table by staff dressed as monks. As you dig in to your entree of choice, you can enjoy the sight of bookshelves and a cozy fireplace crackling in the corner. It's unlike any other restaurant in the area.
Visit Midtown Crossing during the summer for an energetic blend of outdoor yoga, live music, community artists and performers. Yoga Rocks the Park is free and open to yoga enthusiasts of all levels. Plus, dogs and children are welcome!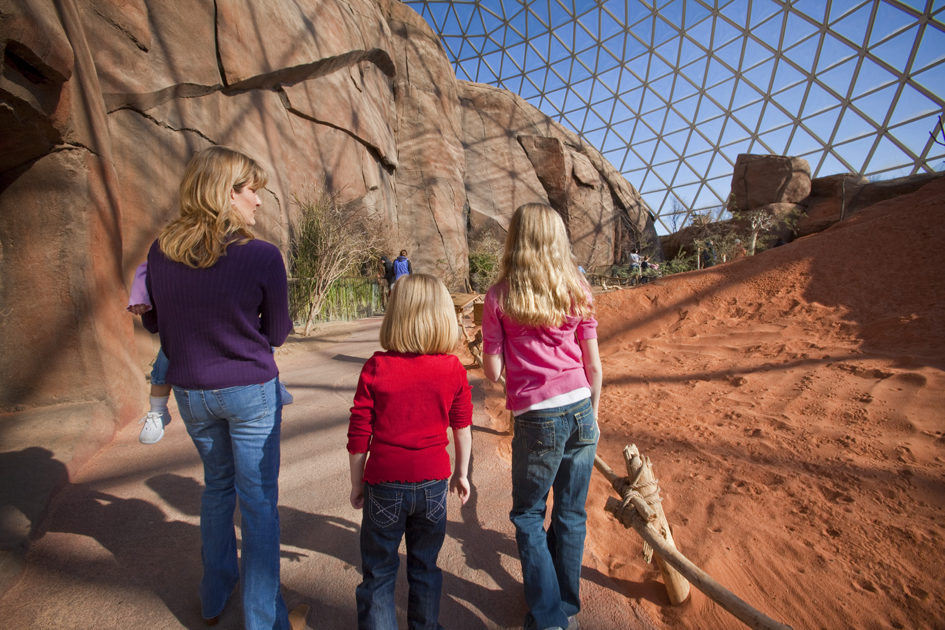 Photo courtesy of the Henry Doorly Zoo & Aquarium
Omaha's Henry Doorly Zoo & Aquarium is consistently ranked as one of the best in America, and once you visit, you'll see why! The exhibits go a step above the traditional zoo. Wander through the world's largest indoor desert, the Desert Dome, which spans 84,000 square feet on two levels and features a unique mix of desert plants and animals from all over the globe. The zoo is also home to the world's largest indoor rainforest (the Lied Jungle) and an interactive gorilla valley!
For a more relaxing experience, head over to Spielbound where you can grab a cup of coffee and spend the day playing one of their 2,400 board games! At this eclectic cafe, you can play anything from the Monopoly to the new classic Ticket to Ride. You can get a membership to their game library or pay $5 for a one-day pass — with the proceeds going towards acquiring unique games from all around the world.
Photo courtesy of the Durham Museum
The Durham Museum is actually housed in Omaha's former Union Station, but now serves as a popular event venue and local landmark. The beautiful architecture harkens back to days gone by, but you can dig further into history by exploring the traveling and permanent exhibits — like the collection of historic train cars. Stroll through cars from the 1940s and 50s, including a Pullman car, lounge car and caboose, get up close to a steam engine, and experience the grand history of railroad travel up close.
The museum has ties with the Smithsonian Institution, the Library of Congress, the National Archives and the Field Museum in Chicago, so whether the exhibit is cultural or historic, you can bet that it will be interesting!
Tour Old Market in A Horse-Drawn Carriage
Situated in the heart of downtown Omaha, the historic Old Market neighborhood spans several blocks and is filled with gorgeous architecture, quirky shops, colorful art galleries, top-notch restaurants and more. The cobblestone streets give the impression that you've stepped into another era, and exploring the area from the vantage point of a horse-drawn carriage makes the experience even more magical. The journey will likely take you past street performers, artists and musicians — and will allow you to pick out the perfect patio to enjoy a refreshment afterward!
Grab your friends and get ready for the ride of a lifetime! Ride from pub to pub in the historic Old Market, exploring the best drink spots in the area. Hop on the bike on Fridays and Saturdays or, if you would like a more private tour — you can rent the Peddle Pub for your own special event.
Photo courtesy of the Lee G. Simmons Conservation Park and Wildlife Safari
Situated just 30 minutes outside of Omaha, the Lee G. Simmons Conservation Park and Wildlife Safari is home to more than 350 animals and 53 species from all over the world. The park is a partner of the Henry Doorly Zoo and allows animals to thrive in a more natural habitat while researchers study their behavior. The park is unlike normal zoos in the respect that it offers the fabulous opportunity to take a drive-through tour of the park and witness animal demonstrations — our own little Nebraska safari! Learn more about the park here.
You might have created stamp balls or rubber band balls at recess when you were a little kid, but we are willing to bet that you never claimed a world record for your efforts! Come marvel at what might have been if you had continued your hobby — the world's largest ball of stamps lies within easy reach in Boys Town.
Stand in Two Places at Once
The Bob Kerrey Pedestrian Bridge (more fondly known as "Bob the Bridge") is one of Omaha's most cherished landmarks. The 3,000-foot steel structure spans the Missouri River, connecting Omaha to Council Bluffs via a pedestrian pathway. The bridge also crosses the state line that separates Nebraska from Iowa, so if you'd like to get a little bit cheeky, you can stand in the middle of the bridge and claim to be standing in two places at once! Bonus: The views of the Omaha skyline from this vantage point can't be beat.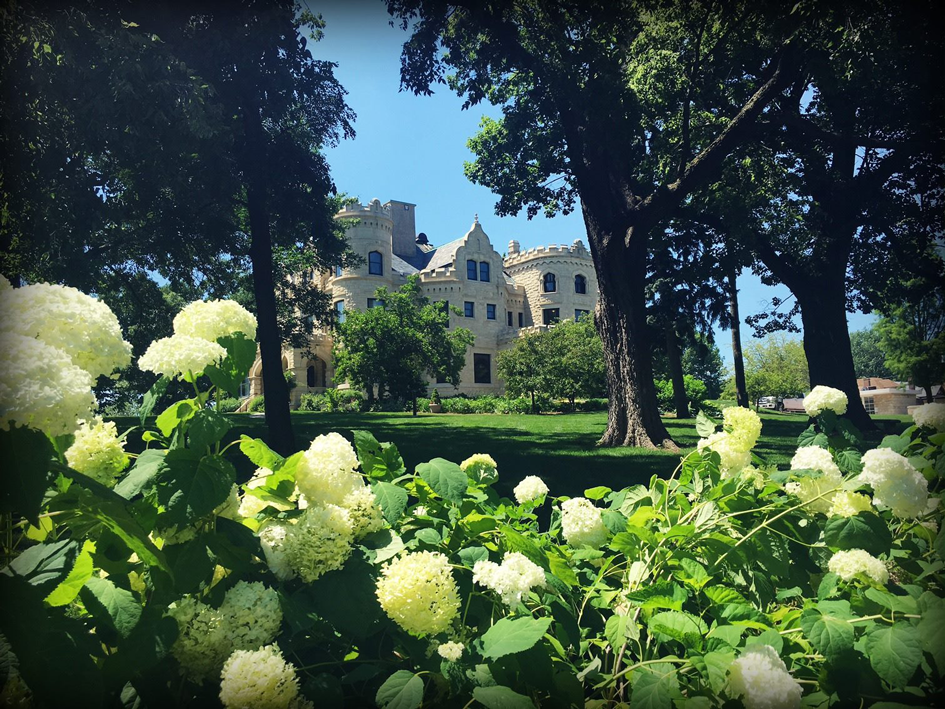 Photo courtesy of the Joslyn Castle
This distinct Omaha landmark is not officially a castle, but it might as well be! The 1903 mansion was built by Sarah and George Joslyn — Omaha's first millionaires and philanthropists — and includes two grand turrets, stained glass windows, chiseled stone detailing, mosaic tiles and wrought iron. You can get a feel for what it must have been like to live here by taking a guided tour of the home and the grounds.
There's something for everyone at Brickway Brewery & Distillery — a lively atmosphere, an impressive beer selection and flavorful spirits that are distilled on site. Order yourself a brew or a cocktail and embark on the free tour of the facility, which will take you through the distilling and brewing process from grain to glass. Tour times can be found on their website.
Spend the Night at the Zoo
Experience the zoo like never before! At the Henry Doorly Zoo and Aquarium, your family can participate in a Family Sleeping Bag Safari. This overnight program allows you to spend the night at the zoo and see exhibits after hours. For $45 per person, you'll get to enjoy educational programs, an evening hike, games, an evening snack, a movie, breakfast, a morning hike and so much more.
Photo courtesy of Fort Atkinson
Established in 1820 on the recommendation of the Lewis and Clark Expedition, Fort Atkinson was the first U.S. military post west of the Missouri River. Today, much of the historic outpost has been reconstructed and is open for visitors looking to get a little taste of American history. Bring the whole family to enjoy one of the living history demonstrations, which takes place throughout the summer and fall and typically includes actors playing fur traders, coopers, blacksmiths, carpenters and more. You may even witness a cannon blast.
Harken back to the good old days at the Beercade! Located in the heart of the artsy Benson neighborhood, this eclectic bar offers 30 rotating craft beers on tap, a full bar, classic arcade games, pinball machines and skee-ball.
Located in Omaha's Old Market, the Bemis Center for Contemporary Arts is filled with intriguing pieces and conversation-starting oddities. It is a place for artists from all over the world to showcase their talent and it's a wonderful space to get inspired in!
Photo courtesy of First National Bank
If you're an Omaha native (or if you're familiar with the city), you might have noticed the larger-than-life bronze sculptures near downtown. The Pioneer Courage Park pays homage to the brave individuals who settled in Nebraska with magnificent pieces of metalwork illustrating the American experience! Visitors are meant to interact with the sculptures, posing for photos and imagining what life must have been like for our ancestors. It is one of the largest bronze sculpture parks in the world and is certainly a sight to behold.
Not only is this historic inn home to some of the best fried chicken in the country, but they also play host to some of the cutest guests around. Over 50 raccoons come around every day for food scraps. Don't be afraid of them — these creatures are adorable and friendly. If you can't stop by for a visit, follow them on Facebook for charming videos of these furry creatures.
The mysterious atmospheres and high-end cocktails make speakeasies an awesome destination for date night or an evening out with friends. Of course, part of what makes the experience so fun is figuring out how exactly to get in, so we won't divulge too much here — but we highly recommend checking out the Wicked Rabbit.
Have an idea of something unique to do in Omaha?
Share your recommendations in the comments below!