We love exploring Omaha's craft beer scene and wineries as much as any other local, but sometimes the evening just calls for a flavorful, intriguing and inventive craft cocktail in a swanky atmosphere. Maybe you're out celebrating a special occasion, on date night or simply enjoying a night out with a few friends — and for those days, there are a few local establishments we turn to time and time again.
So, without further ado, let's raise our glasses to Omaha's 13 swankiest, classiest and most respected cocktail bars! Have you gotten a chance to try them all?
Facebook | Instagram | 1105 Howard Street, Omaha
The Berry and Rye finds its inspiration in pre-prohibition era drinks but manages to inspire its customers with modern touches and contemporary flavors. Every cocktail on the menu is something special, and the mixologists behind the bar are so dedicated to providing their patrons with something enjoyable, that they will happily make you something else if you aren't satisfied. Of course, it's tough to not fall in love with the inspired selections. The bar is busy on Friday and Saturday nights, so we recommend making a reservation for a table by calling 402-613-1331.
Facebook | Instagram | 222 North 10th Street, Omaha

Photo courtesy of Sarah Herting via Burdock and Bitters
Whiskey is the name of the game at this upscale cocktail bar in the Capitol District! Sample from a carefully curated whiskey flight, sip a perfect Old Fashioned, or try something new on a recommendation from the bartender. Of course, if you're not a fan of whiskey, there is plenty on the menu to satisfy — craft beer, fine wines and a collection of other high-quality spirits. Stop in for a sipper before exploring the entertainment options that the Capitol District has to offer!
Facebook | Instagram | 8726 Countryside Plaza, Omaha
Photo courtesy of Cedar Lounge
Both classy and cozy, Cedar is an excellent place to spend an evening out with loved ones! The space is decorated with hip, vintage touches, including a record player, eclectic art, retro seating and more. Settle down at the bar or one of the tables and order a drink from the menu, which boasts classic cocktails made well and an excellent selection of beer and wine.
Tip: Come in on Monday through Thursday from 3-5:30 pm for half-priced bottles of wine!
Facebook | Instagram | 1934 South 67th Street, Omaha
Located in the heart of the Aksarben neighborhood, Herbe Sainte is a local treasure with Cajun influences and a well-stocked bar. The bartenders have designed the cocktail menu to be delightful and exciting, but are experienced enough to be able to create something custom on the fly for their patrons! They are always coming up with new fun recipes to add to the menu. After ordering your craft cocktail of choice, dive into a plate of freshly shucked oysters or indulge in a Creole-inspired meal.
The team behind longtime Omaha establishment, Moe & Curly's, is taking their service up a few notches with the opening of a new speakeasy-style bar in the Capitol District. The long-awaited addition to Omaha's entertainment district has yet to open, but when it does, you can expect upscale craft cocktails and fine hors d'oeuvres!
Facebook | Instagram | 8716 Pacific Street, Omaha
Friendly service, a classy yet approachable atmosphere and delicious, handcrafted cocktails await you at Inkwell! The bar has literary inspiration, and some of your favorite classic authors are the inspiration behind the craft cocktails on the menu. And though the menu offerings are enticing enough, the bartenders are experienced enough to make anything you'd like. Stop in sometime, you might just discover that this is your new favorite hangout.
Facebook | Instagram | 6205 Maple Street, Omaha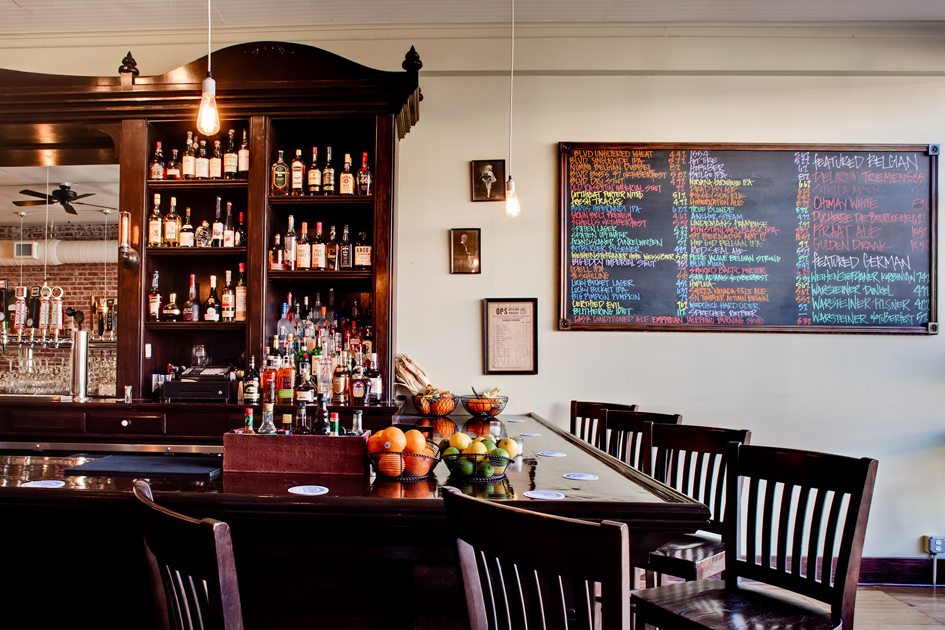 Photo courtesy of Krug Park
Nationally renowned Krug Park, nestled in the desirable Benson neighborhood, is one of Omaha's greatest achievements. The bar has earned the title of one of Draft Magazine's 100  best bars in America three years in a row, and is known for its impressive draft beer selection, out-of-this-world Bloody Marys, and inventive cocktails. Seasonal specials rotate often, so stop in to see what the clever mixologists have thought up lately!
Facebook | Instagram | 2285 South 67th Street, Omaha
Photos courtesy of LIV Lounge
Nestled in the heart of Aksarben Village, Omaha's LIV Lounge serves sophisticated craft cocktails (and an impressive lineup of bar bites) in a polished setting! The drink menu features an exciting array of fruity martinis, bold cocktails, beer and wine. In fact, LIV has a whopping 54 classic cocktails and 54 craft cocktails on the menu, so you'll definitely find something to enjoy. It's an excellent option if you're looking for a fun night out!
Facebook | Instagram | 329 South 16th Street, Omaha
Mercury is known for its swanky atmosphere, friendly staff, innovative bites and quirky cocktails! Everything on the menu (food and drinks included) is done well, and patrons can order anything until 2 am. As for the drinks, you can choose from more than 350 labels behind the bar, a carefully curated selection of wine and flavorful cocktails that match the season! Bonus: stop in on Wednesday for half-priced pours of whiskey.
Facebook | Instagram | 3902 Farnam Street, Omaha
Photo courtesy of Joshua Foo Photography via Nite Owl
Nite Owl is one of the most unique cocktail bars in Omaha, offering a festive and friendly atmosphere, elevated food and drink, and quirky decor that is unlike anything else in town! The cocktail menu features seasonal options and rotates frequently. Whether you're stopping in to try the sangria on tap, the rotating boozy slushie, a beer on tap or a bold cocktail, you'll find something new and exciting every time. Plus, if you get hungry, the food menu includes delicious, globally inspired cuisine ranging from crab rangoons and corndogs to wings and half-pound burgers!
Facebook | Instagram | 120 South 31st Avenue, #5105, Omaha
Bourbon from Kentucky, single malt from Islay, rum from Barbados, vodka from Iceland, tequila from Mexico, wine from California and beer from Colorado — it's all waiting for you at Proof! This upscale bar stirs classics and inventive craft cocktails in swanky, cozy digs. There isn't any food on the menu, but you're welcome to order your favorite dish from a nearby restaurant and bring it in with you!
Facebook | Instagram | 1150 Sterling Ridge Drive, Suite 100, Omaha
Trio is a bar dedicated to great cocktails and great company! You won't find these offerings on any other menu in Omaha, and that's just how the bartenders intended it. Every cocktail on the menu is thoughtfully designed to intrigue and delight, and the contemporary space is perfect for an elegant evening out with friends.
Facebook | Instagram | 1508 Harney Street, Omaha
Step through the hidden bookshelf entryway into one of the classiest, most mysterious cocktail bars in the Midwest! Wicked Rabbit boasts a dimly lit, swanky atmosphere with leather seating and a cocktail menu that goes a step above your traditional bar experience. Use the candle to peruse the offerings, or simply ask the bartender for his or her recommendation — we are sure you'll be impressed either way!
Cheers!
Where is your favorite local haunt in Omaha? Share your recommendations with us in the comments!