The weather is slowly getting warmer, Spring Break is right around the corner and basketball is the only thing on anyone's mind — it must be March! With all of this excitement, the Omaha area has plenty of reasons to celebrate this month.
From hockey games and Leprechaun races to vintage markets and wine tastings — we've rounded up our most-anticipated events in the region this month. So peruse our top picks and get ready for an unforgettable March!

Where: Old Market
When: March 1, 6-9 p.m.
Spend your Friday night celebrating creativity in one of Omaha's most popular neighborhoods: Old Market. Take a ride on Ollie the Trolley down this historic part of town and explore participating art galleries. Get a chance to meet with local artists and take home a one-of-a-kind piece.
Where: Downtown Benson
When: March 1, 7 p.m.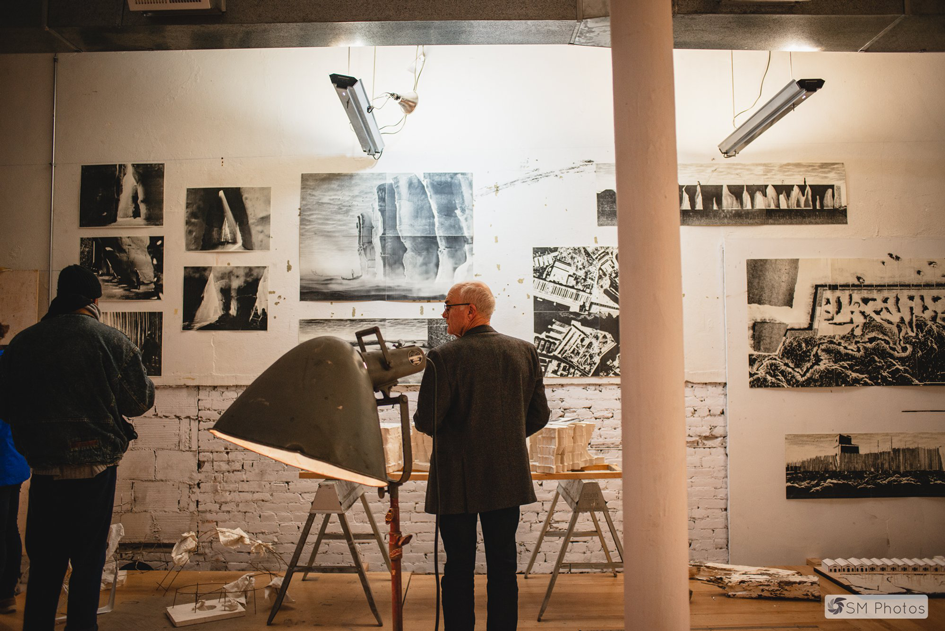 Photo courtesy of Sarah Miller via Benson First Friday | Space: Maple St. Construct | Exhibit: Pairings by Peter Goché + Mitchell Squire, and featuring works by students from the College of Design at Iowa State University
Head over to Benson and explore everything this unique neighborhood has to offer. On the first Friday of every month, peruse art from local artists, step into boutiques and shops that will be open late, or grab a drink while listening to live music throughout the area. Check out this month's map of events and start planning your evening's itinerary.
Where: Baxter Arena
When: March 1-2, 7 p.m.
You don't want to miss this highly anticipated match between the University of Nebraska-Omaha Mavericks and the Denver University Pioneers! Catch the action this weekend at Baxter Arena, you can get your tickets here.
Where: Strategic Air Command & Aerospace Museum
When: March 2, 4-5 p.m.
This 10K has a bit of a twist! The Leprechaun Chase is a race where the "lads chase the lasses." The first person to cross the finish line wins a free drink at the Green Beer After Party. This festive race will take you through the planes and rockets at the Strategic Air Command and Aerospace Museum along with Mahoney State Park.
Where: Omaha Design Center
When: March 2, 6-10 p.m.
Experience a little fashion magic at this special showcase during Omaha Fashion Week! The goal of this showcase is to bring the word "Gilded" to life through gold, silver, bronze and iridescent shimmer details. Come check out some designs from the best designers in the country and make your own fashion statement on the red carpet. The best looks could be featured in Omaha FASHION magazine!
Where: Old Market
When: March 9, 10 a.m.
Come out to Old Market and experience this joyful day with a morning parade! The parade will march through the Old Market area of downtown, starting at 15th and Harney Street. Enjoy Irish music, food and celebration — and don't forget to wear green!
Where: German-American Society Ratskeller & Biergarten
When: March 9, 1-7 p.m.
Join in on this German celebration with beer poking in the Biergarten and enjoy delicious food like brats, burgers and pretzels. The Bolzen Beer Band will also be there to provide some live music and a whole lot of fun.
Where: The Village Pointe Shopping Center
When: March 5-10, Schedule TBD
Graphic courtesy of the Omaha Film Festival
Since it was established in 2005, the Omaha Film Festival has been giving independent film artists the opportunity to share their work in front of a local audience. At this incredible event, you'll have the chance to witness films from local and national artists and the opportunity to attend several parties throughout the week!
Where: Orpheum Theater
When: March 16, 2 p.m.
This modern spectacle will have you gasping in wonder as you watch flying umbrellas, larger-than-life balloons, giant kites and more floating over the audience at the Orpheum Theater. You can get your tickets here!
Where: Joslyn Castle
When: March 21, 7-9 p.m.
Raise a glass at this wine tasting set in the historic Joslyn Castle Music Room. Featured guests include local wine expert Alex Nelson and Chef Paul Kulik of Le Bouillon who will curate mouthwatering food pairings. The evening will begin with a drink and tour of George Joslyn's rarely-seen mancave basement, so you definitely don't want to miss it!
Where: Southroads Mall
When: March 22-23, Friday 5-9 p.m., Saturday 9 a.m.-5 p.m. and Sunday 10 a.m.-4 p.m.
Shop junk, collectibles, furniture, antiques, gifts, crafts and so much more at this vintage and artisan craft market held at the old Southroads Mall in Bellevue! Plus, don't miss the delicious food, goodies and DIY classes that will be available.
Where: Mid-America Center
When: March 30-31, Saturday 10 a.m.-6 p.m. and Sunday 10 a.m.-5 p.m.
Head on over to the Mid-America Center in Council Bluffs for a LEGO event that's fun for the whole family! LEGO fans will be able to browse through spectacular builds, created just for the event. You'll also have the chance to enter into building contests including a mini-fig speed building challenge and a LEGO derby race.
Happy March!
What did we miss? Share your most anticipated March 2019 events with us in the comments!