Omaha is a great place to live, but don't take our word for it! Our beloved city has been named one of the best places in the country to live by U.S. News, one of the best cities to raise a family in America by Movoto, and one of the best cities for millennials by The Penny Hoarder. And those are just some of the reasons you should consider moving here.
When you do decide to move, it can be hard to decide where to settle down. That's why we rounded up some of the hottest neighborhoods in the Omaha area, all of which are fantastic places to live. No matter who you are or what you're looking for, there's a home waiting for you. Happy exploring!  
Arksarben Village is a self-contained community in the Omaha area, located on the western part of town. This unique area offers nearly everything you could want in one convenient and exciting location. Plus, the home prices average $120,000 — with some of the larger brick and stucco homes reaching the low $200,000's — making this the perfect spot for first-time home buyers.
You'll find everything you need in this tight-knit community from an abundance of retail shops and incredible restaurants to a picturesque park that hosts a variety of events throughout the year!
Neighborhood Highlights: Stinson Park, Jones Bros. Cupcakes, Voodoo Taco,  Aksarben Cinema and Baxter Arena
For the Outdoor Enthusiast —
Dundee
Dundee is nestled near the heart of Omaha and features beautiful homes, a spirited retail center and a fantastic school district. The area has even been named one of American Planning Association's Great Places in America due to the unique shopping and dining experiences and the strong sense of community that flows through the neighborhood.
Outdoor enthusiasts will love strolling along the tree-lined streets and through both Memorial Park and Elmwood Park. You'll also have a blast planting your own vegetables in the community vegetable garden.
Neighborhood Highlights: Pitch Pizzeria, Baela Rose, Blue Line Coffee, Legend Comics and Coffee, Hello Holiday and Dundee Theater
For the Creative —
Benson
This constantly evolving neighborhood is ideal for creatives who are looking for it all. Whether you are an art lover or a musicophile, you'll love this vibrant area that loves mixing the old and the new. Most of the businesses here have settled in old theaters and dealerships, revamping the community and causing Buzzfeed to name Benson the most "hipster" neighborhood in the state.
Benson is not only home to a plethora of delectable restaurants and amazing shops, but they also host programs like Benson First Friday and The 402 Arts Collective. These nonprofits promote the arts around the area by raising money, providing classes and planning events to celebrate art in Omaha.
Neighborhood Highlights: Aromas Bliss, Hardy Coffee Co., Au Courant, Benson Brewery, The Waiting Room and The Omaha Bicycle Company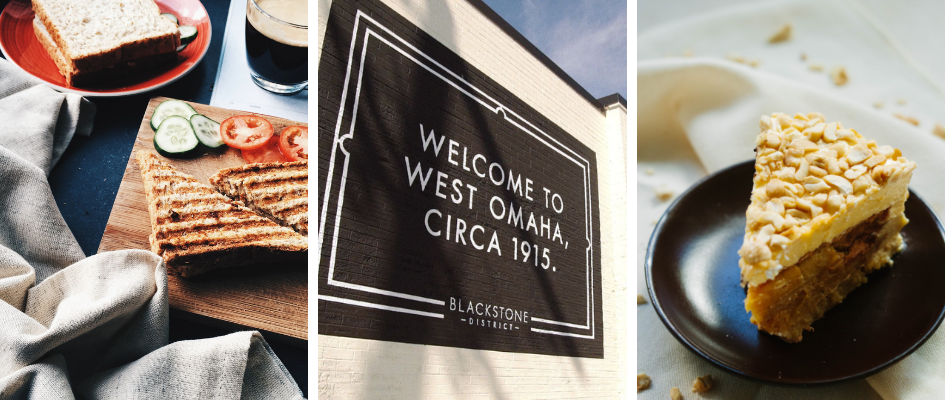 Named after the still-standing Blackstone Hotel (where the Reuben sandwich was invented!), this neighborhood is one of the hottest areas in Omaha right now. Located within the recently revitalized Midtown Crossing Area, this district offers plenty of restaurants, shops and community events to keep you busy all year long.
If you love all things food-related, The Blackstone District is the perfect spot for you. From upscale, celebrated eateries like The Grey Plume to casual, neighborhood spots like 5168 Brewing Tap Room, you won't be disappointed.
Neighborhood Highlights: Turner Park, Hutch, Modern Love, Scriptown Brewing Company, Coneflower Creamery and Archetype Coffee Shop & Roastery
Papillion is full of lush areas, animated shopping centers, fantastic restaurants and breweries. With a population of just over 19,000, this beautiful community is nationally recognized as the #2 best small city in America for its desirable homes and family-friendly environment.
The healthy economic state, amazing school system and fantastic home options make this neighborhood perfect for families of any shape and size.
Neighborhood Highlights: Werner Park, Nebraska Brewing Company, Eagle and Tara Golf Courses, Shadow Lake Towne Center, SPIN! Pizza, and Ollie & Hobbes Craft Kitchen
This vibrant community was named for the gorgeous home built for George and Sarah Joslyn at the beginning of the 20th century and offers easy access to downtown and Old Market. The castle itself remains a public treasure as does the respected Joslyn Art Museum.
From perusing the mix of old mansions, bungalows, apartments and other various historical landmarks to exploring the area's more modern features like celebrated restaurants and shops, there is a ton to do and see within this historic neighborhood.
Neighborhood Highlights: St. Cecilia Cathedral and The Cornerstone Mansion
Old Market is Omaha's most popular neighborhood due to its historic charm. The area has retained many of its older buildings, which have been restored and are now home to galleries, restaurants, boutiques and more!
Be entertained at the Blue Barn Theatre, grab a bite at the fine dining establishment, V. Mertz, peruse an art gallery or three — we promise you'll never run out of things to do in this vibrant and historic neighborhood.
Neighborhood Highlights: Boiler Room Restaurant, Upstream Brewing, McLovin and Black Market Furniture & Antique Hardware
For the Homebody —
Ralston
For those of us who love the small town vibe, getting to know your neighbors and becoming a "regular" at a local business — the tight-knit community of Ralston is the place to be. While it's close to larger hubs in the area, it hasn't lost that classic suburban feel. Plus, the trendy downtown area is home to some spectacular restaurants, boutiques and so much more.
Throughout this area, you'll find well-maintained homes along tree-lined streets that will appeal to all ages and demographics. Ralston is the perfect place for those who don't like to venture very far from home since you have everything you'll ever need in one convenient, and incredible, location.
Neighborhood Highlights: Ralston Park, Ralston Arena, Maria's Mexican Restaurant, The Great Ral-Stein Festival of Beer, and the Independence Day Parade
Which one is right for you?
Did you fall in love with one of these incredible neighborhoods? We don't blame you! Give us a call or check out our advanced search tool — we'd be happy to help you find your dream home!