There are plenty of reasons to love living in Omaha. We have amazing steaks, deep agricultural roots and, of course, an incredible sense of community. Not only is Omaha one of the best places to live in the country, Omaha keeps sustainability in mind. In fact, WalletHub named us one of the greenest cities in America in 2018.
To celebrate our eco-friendly city, we rounded up some of our favorite local businesses that are passionate about the environment. Whether you're just passing through or are a full-time Omahan, check out some of the most sustainable places to stay, eat and shop in the city!
Stay
It's no secret that we love Midtown Crossing, and one of our favorite parts of the neighborhood is the state-of-the-art, environmentally-friendly hotel: Element Omaha Midtown Crossing. This stunning hotel offers the perfect blend of modern decor, nature-inspired design and a comfortable environment — all while using and promoting sustainable practices! Recycled products from carpets to organic paints are used whenever possible. They conserve water and energy using low-flow faucets and fixtures, compact fluorescent light bulbs, and energy-efficient appliances. Even the kitchen is eco-friendly, using silverware and glassware instead of plastic utensils and paper cups. Their innovative, sustainable practices won them a LEED (Leadership in Energy and Environmental Design) Award in 2011. If you're interested in seeing this hotel for yourself, make a reservation here!
Eat
Photo courtesy of The Grey Plume
If you haven't visited the Grey Plume yet, you're definitely in for a treat. This ultra-popular Omaha spot features a seasonally driven, contemporary American menu that changes daily based on the available supply from local farmers. Not only do they recycle, compost and reduce as much waste as possible, they've incorporated reclaimed materials into their building. They're so environmentally friendly, that the Green Restaurant Association has named them the Greenest Restaurant in America two times since the restaurant opened in 2010 — and if that's not a ringing endorsement, we don't know what is!
This cozy, European café in Benson offers innovative fare made using regional ingredients. The restaurant is dedicated to sourcing the best sustainable and seasonal ingredients, and for that reason, the menu changes on a weekly basis. Although you'll probably never taste the same thing twice, nothing you try at Au Courant will be forgettable! You can't go wrong with their famed Chef's Pick Tasting Menu, where you can sit back and relax and let the professionals do what they do best.
Colin and Jessica Duggan are the masterminds behind one of Omaha's most popular restaurants, Kitchen Table. This rustic eatery works with local farmers and producers to source the best of what is in season and turns those ingredients into fresh bread, flavorful sandwiches and other innovative dishes. Want to learn more about Kitchen Table? Here's an inside look!
There's nothing guilt-inducing about Greenbelly. Not only do they offer healthy, delicious food for all different diets, but they also serve those tasty dishes in 100% compostable containers. Stop in for a salad, a fresh salad wrap, a grilled panini sandwich, or a mouthwatering pizza (only $9.99 on Mondays and Tuesdays!).   
The Boiler Room is located in a trendy, industrial-style space that pays tribute to its previous identity as the boiler room providing heat for the historic Bemis Bag Building. But, while the restaurant might have some of the best ambiances around, it's their inventive, flavorful dishes that will have you coming back again and again. While their menu changes frequently to reflect the fresh, seasonal bounty, you'll always find a great mix of meats, fish, charcuterie and more!
Urban Abbey combines a church with high-quality coffee and a focus on the Omaha community. All of their coffee is fairly sourced and locally roasted. Plus, their milk comes from Nebraska cows in an effort to reduce a carbon footprint and support local farmers. When you visit Urban Abbey, you'll also be helping the Omaha community because 10 percent of all profits are donated to local non-profit organizations — like Nebraska Appleseed, Nebraska AIDS Project and so many others.
Shop
Photos courtesy of Dana Damewood via Artifact
Artifact has been crafting briefcases, bags, totes, backpacks and aprons since 2010 right here in Omaha. In 2018, Artifact found a physical home in an old stove retail shop built in 1887 and continues to make each product using domestically sourced materials whenever possible. Visit them in their vintage shop Monday-Saturday or peruse their products online!
The team behind Benson Soap Mill, Ryan Cook and Tim Maides, are just two guys who love soap and the Omaha community. To create their all-natural soaps and beauty products, they source and recycle from local restaurants and other local organizations. No matter what type of soap you're looking for, they've got you covered. From their traditional bars and hand soaps to bubbling bath bombs, there's something for everyone! You can purchase their products on their website or at one of these local Omaha shops.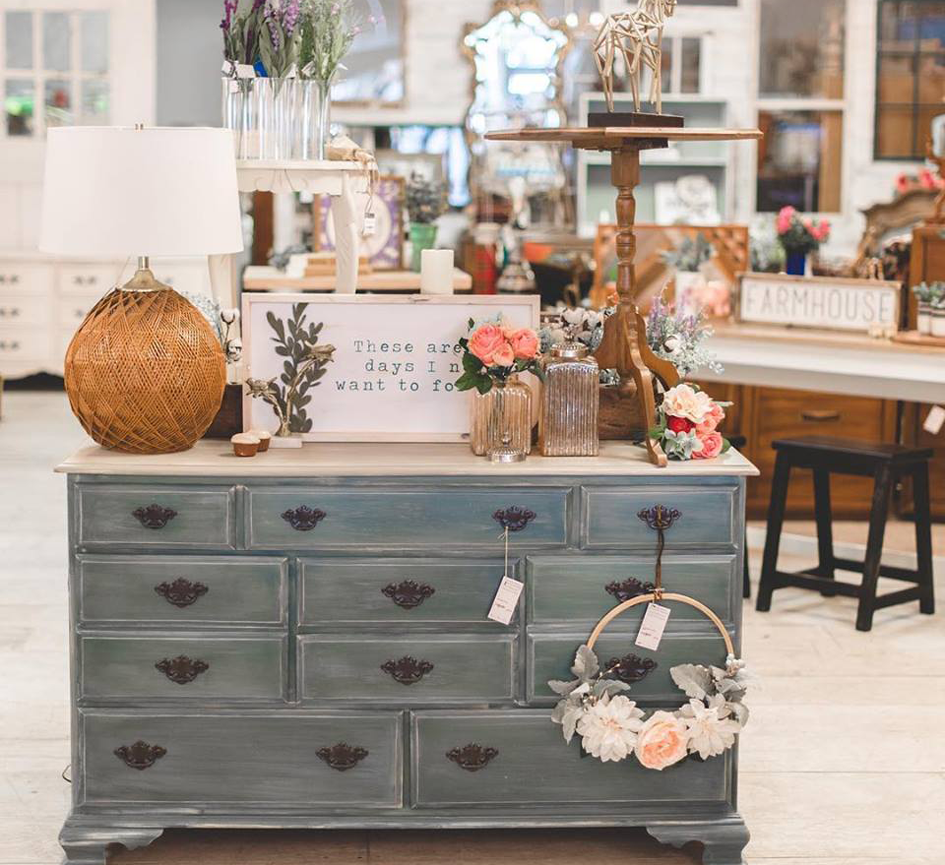 Photo courtesy of Found: Vintage Market
What better way to "reuse" than to shop for beautiful, reclaimed and repurposed home accents? Found: Vintage Market is the perfect place to fulfill all of your home decor dreams — plus, it's so much fun to hunt for hidden treasures! Make sure to follow them on Facebook for some home inspiration and to see what's currently in stock.
Your pet deserves the best — and that's why you should shop at the Green Spot, a local pet store that only sells the healthiest, natural and organic pet foods. This local pet store offers a wide selection of eco-friendly toys, treats and supplies. Visit for an afternoon of relaxation with your best friend and enjoy a cup of coffee in their café lounge, or schedule an appointment at their full-service grooming center for a little pampering!
Photo courtesy of Scout Dry Goods & Trade
Named after the feisty protagonist in Harper Lee's "To Kill a Mockingbird", Scout Dry Goods & Trade buys their products directly from you. Then, they take your old items and resell or repurpose them — saving them from the landfill. Even the interior of the eclectic store was created using repurposed items, including the "mis-tinted" paint they used to add color to the walls. So grab all of your shabby clothes, furniture and accessories and drop them off at Scout. Not only will you receive a little cash or store credit in the process, but you'll also get to see your trash turned into treasure!
There's just something about the smell, warmth and soft glow of a good candle that can make your home feel 10 times cozier. Wax Buffalo creates high-quality, "beautifully imperfect" candles from American-made pure soy wax, high-quality essential oils and unbleached cotton wicks. Each of the candles are hand-poured in Lincoln, Nebraska and are so adorable, they're the perfect addition to any decor. You can pick up a Wax Buffalo at one of the many markets they participate in throughout the year.
Happy Earth Day!
Did we miss your favorite environmentally conscious store? Tell us all about it in the comments!