Mother's Day is right around the corner! While we definitely think moms deserve to be celebrated year-round, we're not going to pass up an opportunity to spend an entire day showering them with a little extra love!
The big day is coming up on May 12th this year, which means you only have a few days left to plan the perfect outing. But don't fret — we've got a list of the best ways to celebrate your mom in the Omaha area! No matter what your mom loves to do, we have plenty of ideas to make this Mother's Day one she'll remember for years to come!
Get Her Some Flowers
The best way to start out Mother's Day is by gifting your favorite lady a beautiful bouquet! If you ask us, nothing says "I love you" quite like a stunning batch of blooming flowers. There are several florists around the area that are stocked with wonderful arrangements at perfect prices. Our favorites include Beyond the Vine Flowers & Home Decor, Janousek Florist and Voila! Blooms and Decor.
If you're looking to add a more "personal" touch to the bouquet, head over to Lauritzen Gardens on May 11th and learn how to make your own! You can register for the event here.
Go on a Shopping Spree
Your mom deserves everything, so why not take her on a shopping spree around town? Not only will you be able to get her the perfect gift (because she'll pick it out herself!) but you'll also have a blast exploring small businesses all around the city. Our area boasts some of the best fashion boutiques, antique shops and bookstores around, so no matter what your mom is passionate about, there's a perfect spot just for her!
Before hitting the town, we suggest grabbing a coffee or tea at one of our favorite Omaha cafés!
Enjoy a Mother's Day Brunch
Photos courtesy of Baela Rose
It's no secret that we love brunch, which is why we are so glad that we get to celebrate Mother's Day on Sunday. There are some incredible restaurants in and around Omaha that serve brunch year-round, and even some that offer special menus on Mother's Day.
We recommend the popular farm-to-fork spot, Baela Rose, for delicious, locally curated cuisine. Plus, their gorgeous dining room is the perfect place to celebrate a special occasion or a special person! If you're looking for a more casual brunch spot, pay a visit to Early Bird Brunch, a restaurant that is no stranger to creating perfect breakfast dishes. You can visit between 6:30 a.m. and 2 p.m. for mouthwatering omelets, gooey grilled cheese sandwiches and a Bloody Mary on the side!
While the ultra-popular Mother's Day brunch event at Lauritzen Gardens is sold out for this year, you can still get on the waitlist, and visit the gardens in between 9 a.m. and 5 p.m. — which we recommend doing regardless of where you eat!
Take Her to Get Pampered
Sometimes, your mom just wants to relax. Head over to Downtown Omaha Massage and set her up with the massage, facial or wrap of her dreams! And with their "Two Relaxing" spa package, you can get some relaxation in together! Enjoy the sauna before enjoying your choice of wrap and massage. Afterward, feel free to settle in their calming sanctuary with some delicious tea and organic chocolate.
If you plan on making it a full day of pampering, visit Victor Victoria Salon & Spa just a block away, where you can continue your spa day with a manicure or pedicure (or both!).
Take a Class Together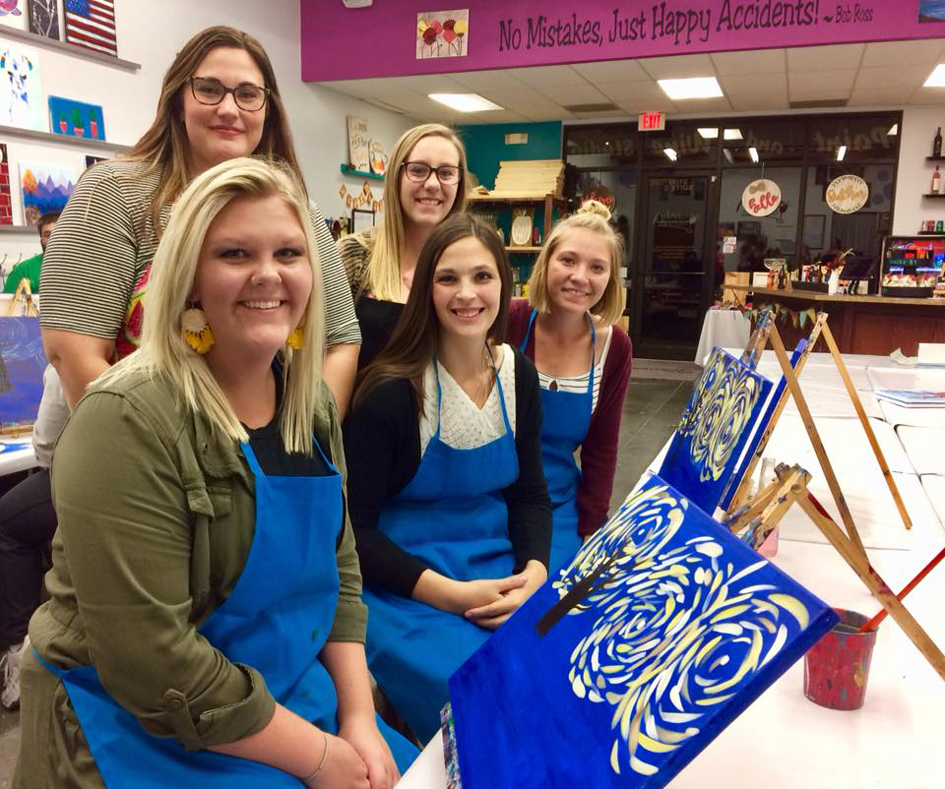 Photo courtesy of the Corky Canvas
Omaha is full of opportunities to learn new life skills or grow an appreciation for a new craft or hobby, so why not learn something new with your mom this Mother's Day? We have an entire list of classes in the Omaha area, but here are a couple of our favorites.
The Corky Canvas allows you to paint a masterpiece with a paintbrush in one hand and a glass of wine in the other. Not only will you have a great time hanging out with your mother, but you'll also get to take home a piece of art that will serve as a fantastic memory of this special day!
If your mom is looking to expand her culinary skills, check out the class schedule at The Grey Plume, where you can learn how to prepare almost anything. Learn how to pair food and wine, how to make sausage, and even learn some basic knife skills — and afterward, stop in the restaurant for one of the best meals in the city!
Visit a Farmers' Market
Spring will be in full bloom during Mothers' Day, so take a moment to enjoy the season at a local farmers' market! Farmers' markets are one of the most fun ways to support the community, specifically farmers, artisans and small business owners. It's also a great place to get some fresh produce, handmade items and freshly baked goods. So after your delicious Mother's Day brunch, spend the early afternoon strolling through the market in the sunshine!
There will be several markets open during the holiday weekend, including the Village Pointe Farmers' Market, the Omaha Farmers' Market at Aksarben Village and the Omaha Farmers' Market at the Old Market (which just happens to be considered the best market in Nebraska).
Enjoy the Great Outdoors
Because Omaha offers over 85 miles of paved trails around the city, you can enjoy the beautiful day by walking, jogging, or cycling! We recommend the Field Club Walking and Biking Trail, a 1.5-mile trail through Omaha's Historic District. If you're looking for something more scenic, try the Heron Haven trail. This pretty wetland sanctuary is located in the heart of the city but feels away from it all with the abundance of lush greenery and a picturesque boardwalk over the pond.
For a special Mother's Day treat, pack a picnic lunch and head over to Zorinsky Lake, a public park that offers more than 255 acres, two modern playgrounds, baseball diamonds, hiking and bicycle trails and so much more!
See a Show
Treat your mom by taking her to see her most anticipated film of the year. For a classic movie-going experience, pay a visit to the Dundee Theater. This historic theater in Dundee is Omaha's longest-surviving neighborhood cinema, and even though they only have two screens, you can still see some of the most popular movies out today along with some smaller independent films.
Looking for a more modern take on a movie theater? Head over to the Alamo Drafthouse, at one of their two locations in La Vista and Midtown, a unique theater that offers everything from sing-alongs to food and drinks delivered right to your seat during the film!
Omaha also happens to be home to an amazing performing arts scene. We're home to the largest community theater in the country, the Omaha Community Playhouse, along with the John Beasley Theater, the Blue Barn Theater, the Holland Center for Performing Arts and the Orpheum Theatre, just to name a few.
Happy Mother's Day!
Why are you thankful for your mom? Share some love in the comments!