Our beloved Huskers will be playing the Colorado Buffalos in Boulder, Colorado on September 7th this year! If you, like many Nebraska fans, are planning on making the trek to Boulder to see the game in person—you're in luck!
To help you plan your trip we rounded up some of our favorite stops along the way and plenty of things to do once you get to the beautiful city of Boulder. GBR!
Jump Ahead
The Road Trip | What to Do in Boulder | Where to Eat | Scenic Drives | Must-Do Hikes
The Road Trip
Who doesn't love a road trip? If you decided to make the hike by car rather than plane, we commend you. While many people think that there isn't a lot to see during the drive from Omaha to Boulder, we disagree—there are plenty of sites to see if you know where to find them!
So just pop on one of our favorite local Omaha podcasts or a playlist of our favorite Omaha-based artists and hit the road!
1249 North Homestead Road, North Platte, NE 
Photo courtesy of the Golden Spike Tower
About four hours into your drive, you'll get a chance to get out and stretch your legs at the Golden Spike Tower in North Platte. This tall tower offers a bird's eye view of the World's Largest Classification yard. Just take an elevator up to the 7th-floor observation deck to experience the sights and sounds of the rail yard—and don't forget to stop by the gift shop on your way out!
Right after you've experienced the massive railroad yard, head to Lake McConaughy, Nebraska's biggest lake, where you can walk along the beach before getting back in the car. We recommend bringing a picnic lunch and enjoying it by the water, or you can stop by one of the fantastic restaurants open nearby.
On the State Border on I-80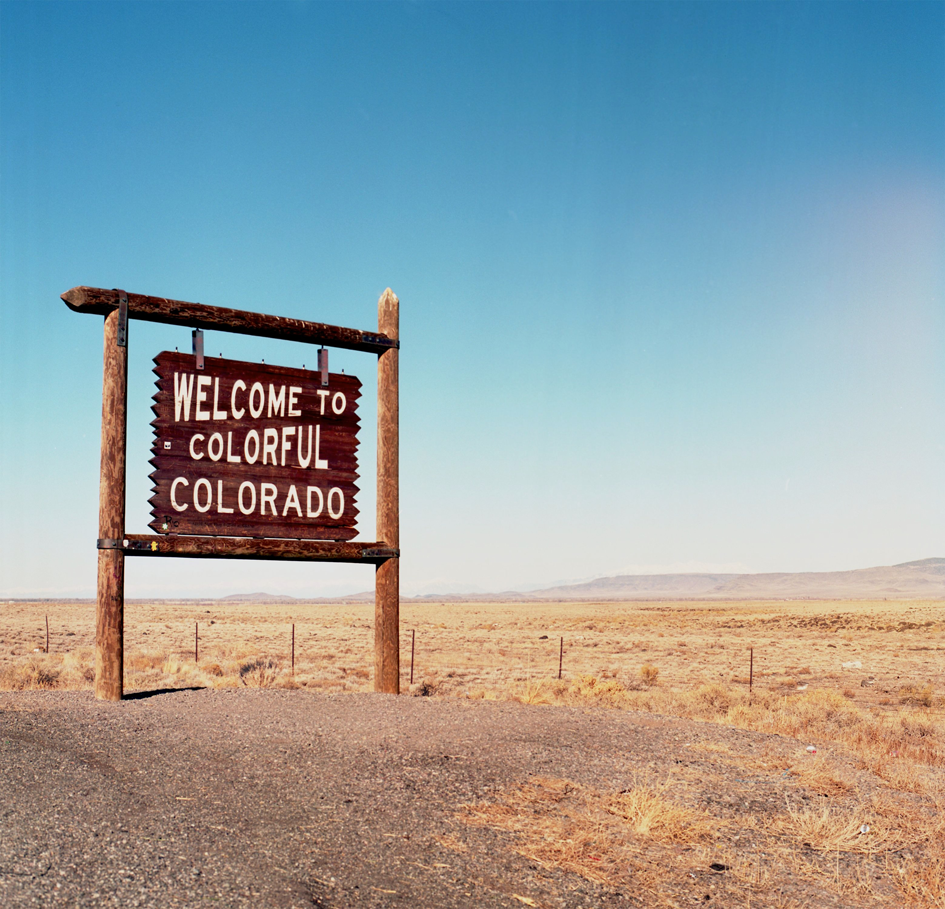 As you pass over the state border, don't miss the iconic Colorful Colorado Sign, where you can take an obligatory Instagram photo!
110 Overland Trail, Sterling, CO
After you've crossed into Colorado, stop and learn a little bit of history about the area at the Overland Trail Museum. This museum commemorates the historic westward migration of gold seekers and pioneers during which the Overland Trail in Nebraska became the heaviest-traveled road in America between 1862 and 1868.
What to Do When You're There
Located at the foothills of the Rocky Mountains, Boulder is a stunning city full of things to do, see and eat. To help you get started on your itinerary, we collected some of our favorite must-visit spots in and around the city—from award-winning restaurants to magnificent hikes.
Ranging from local stores to those that are widely known, Pearl Street has everything to offer. The shopping and dining destination is a four-block pedestrian mall that stretches from 11th Street to 15th Street and is home to a number of fabulous businesses and restaurants that are all worth a visit. Do yourself a favor and take a few hours to peruse the mall. Often you'll find a wide array of musical performers lining the street along with fun activities, gorgeous landscaping, and a few hidden treasures here and there.
A few shops that demand a visit include The Boulder Arts and Crafts Cooperative, Into the Wind Kites, the Boulder Bookstore and Common Era.
Celebrate with Other Husker Fans at a Local Sports Bar
The Cornhuskers have had a lot of rivals over the years—from Oklahoma to Iowa to Wisconsin—but our history with Colorado goes way back, as far as 1898 in fact. So it's no surprise to us that there aren't many sports bars in the Boulder area willing to plaster Husker gear all over the walls. That being said, you may be able to find solace with a few of your fellow Nebraskans at Lazy Dog, a sports tavern nestled in the heart of downtown, or Ralphies Bar & Grill, a TV-filled bar located right off of Pearl Street.
Photo courtesy of the Boulder Theater
If you have time during your visit, you won't want to miss a show at the Boulder Theater. This historic theater opened in 1906 as an opera house. Today, you can see some spectacular live musical performances along with all genres of film, comedy, and spoken word shows in their Art Deco space.
Every year, 1.6 billion cups of Celestial Seasonings Tea are served, so you've no doubt tasted it at least once in your life. In Boulder, you can experience the making of that ultra-popular tea first-hand. Celestial Seasonings offers a free 45-minute tour of their manufacturing facility, which will take you through the blending, packaging and shipping process. The tour ends at the tea shop where you can find both popular and unique flavors of tea on sale for as low as $1.
Grab a Bite to Eat
Photo courtesy of Jax Fish House & Oyster Bar
This Colorado staple is based in Boulder and offers mouth-watering seafood dishes like crab cakes, lobster rolls, oysters and gumbo—which landed it on Travel & Leisure Magazine's list of the 25 Best Seafood Restaurants in the country. Plus, they partner with Monterey Bay Aquarium's Seafood Watch and the Blue Ocean Institute, among other organizations, to make their dishes as sustainable as possible.
If you're looking to celebrate a win or just want to enjoy an upscale evening in the mountains, pay a visit to Flagstaff House Restaurant before you leave. This classy restaurant was originally built as a summer cabin in 1929 by a Chicago school teacher. Today, the rustic cabin has been expanded and now includes several outdoor terraces where you can enjoy the stunning Colorado view and a glass of wine.
Settle into the romantic, contemporary setting of this Pacific Rim-inspired restaurant. Light and open, Chimera features a menu full of chic Asian-American dishes and cocktails like crab xiao long bao, lobster ramen and barbecue beef bulgogi.
Insider tip: If you're looking for a more "casual" spot to grab lunch, visit Zoe Ma Ma right next door, which is owned by the same mastermind behind Chimera. They feature cool noodles, vegan dumplings, stir fry and more in a counter-service style restaurant. 
In the morning, you'll definitely want to have a coffee shop mapped out so you can make a beeline for some caffeine before the big game. For that, we recommend Boxcar Coffee Roasters. This quaint shop offers a wide selection of their own delicious coffee, buttery pastries and plenty of seating in their cozy space for you to gather with friends and family. We promise after one sip, you'll be purchasing a few ounces of recently roasted goodness to bring back home with you.
Early September is the perfect time to eat al fresco in Boulder—so why not do it on one of the most popular patios in the city? The Mediterranean, or The Med, is a Greek-inspired eatery that offers incredible small plates, pizza, sandwiches and probably the best sangria in Colorado.
Located in The Hill, a hotspot for CU students, The Sink offers the best pizzas and burgers in town. They have been feeding the region since 1923 and are known for their iconic art and funky vibe. Their burger has been perfected over the course of almost 100 years, featuring 100% local grass-fed beef or Certified Angus and over 10 options to choose from. Their food is so good, in fact, that celebrities like Guy Fieri, Anthony Bourdain, Eric Ripert and even President Obama have stopped in for a taste.
Take a Scenic Drive
Scenic drives aren't hard to come by in the Boulder area. Just hop in the car, start driving and you'll find yourself in a magical outdoor oasis in a matter of minutes. But to help you out a little bit, we detailed a couple of the most incredible drives in the area, so you can make the most out of your short trip.
A trip to Red Rocks is practically mandatory when you're in the area. The famous outdoor amphitheater is surrounded by, you guessed it, giant red rocks that have made this one of the most iconic music venues in the world. Red Rocks is located in Morrison, which is only a 45-minute, gorgeous drive from Boulder. On the way, stop in Golden, another Colorado city with plenty to offer—including Coors Brewery, which you can take a free tour of. We also recommend stopping by Lookout Mountain Park if you can, which offers a breathtaking view of Colorado's landscape along with Buffalo Bill's burial site and museum.
From Boulder, follow the Peak to Peak Scenic Byway to Nederland, a small and quirky mountain town about 25 minutes from North Boulder. The drive showcases the best of the landscape with awe-inspiring monoliths of rock, creek views and twisting turns. After spending some time in Nederland, head through Allenspark, passing Lily Mountain and the Twin Sisters on your way to Estes Park. Once you reach your destination, don't miss lunch at the infamous Stanley Hotel, where The Shining was filmed, or shopping in their adorable downtown shopping district.
Go on a Hike
No matter what you plan to do in Boulder this weekend, make sure hiking is #1 on the list. The Boulder area offers some of the most spectacular hikes around, each with their own incredible views and unique features. Here are a few must-try hikes in the area:
Difficulty: Easy
The Chautauqua Trail is one of the most popular trails in the Boulder area, featuring wildflowers and stunning, up-close views of the Flatirons. The trail is primarily used for walking, trail running and nature trips—and your dog is welcome to join you!
Difficulty: Easy 
Wonderland Lake is an adorable little lake nestled among neighborhoods and parklands in the foothills of North Boulder. The hike is fairly flat and pleasant, offering great views of the distant Flatirons and paragliders who use the top of Wonderland Hill as a launch point.
Difficulty: Easy
While the most iconic views of the Flatirons are from the Chautauqua Trailhead, this trail south of Boulder stands at a distance from the formations, giving you breathtaking, unparalleled views of the whole mountain range. The trail itself is great for trail runners, families and lesser-experienced hikers. Plus, if you're looking for a longer trek, there are plenty of connecting trails where you can extend your hike.
Difficulty: Intermediate
For those looking for a slightly more difficult trek, we recommend the Sunshine Lions Lair Loop which is located right in town. This route takes you up to the Mount Sanitas viewpoint, crossing a small ravine, and ends with a stunning of Boulder.
GO BIG RED!
We hope you have a blast at the game!