Throughout the past few years, we've seen hundreds of women-owned businesses popping up all over Omaha and we couldn't be more excited! Female entrepreneurs are opening up a variety of businesses, from catering companies to fashion boutiques, and everything in between.
Today, we're taking a moment to celebrate these women and the incredible companies they have created—as well as giving you a few more stops to put on your Omaha bucket list! Read on to find 18 incredible women-owned businesses in the city that you should visit ASAP.
We know there are so many more successful female entrepreneurs that aren't included on our list. Let us know what Omaha area women-owned businesses inspire you in the comments below!
Melissa Stephens
Photos courtesy of The Cordial Cherry
Omaha staple, The Cordial Cherry was born out of owner Melissa Stephens' love of family, art and chocolate. As a scientist-turned-teacher, Stephens wanted to go for her doctorate degree but didn't have any money to pay for it. With permission, Stephens started using her grandmother's famous cordial cherry recipe and selling them at local boutique shows. Almost a decade later, The Cordial Cherry has been featured on national media outlets from Oprah Magazine and ABC News—but Stephens' mission remains the same: to craft delicious and unique chocolate gifts that will make you smile!
Misses Yai
Beautiful bags, stunning clothing, charming accessories and statement-making shoes—what more could you want from a local boutique? The staff, along with fashionista owner Yai, go out of their way to make sure that every woman who visits finds exactly what they are looking for, be it a top-notch pair of designer jeans or simply a great conversation. Want to see what's in stock before you visit? You can find their fashionable catalog on their website.
Valery Varner Linden 
Instead of filling her boutique with cookie-cutter styles, Valerie Varner Linden, owner of Bliss Boutique, staffs her business with helpful stylists that will help you find the perfect outfit for your body type, comfort level, and budget. But that's not the only thing amazing about this business—Linden herself is a bit of a wonder. After graduating from Iowa State University in 2017, she became the proud owner of Bliss Boutique at just 22 years old—showing girls everywhere that it's never too early or late to fulfill your dreams!
Brigitte McQueen Shew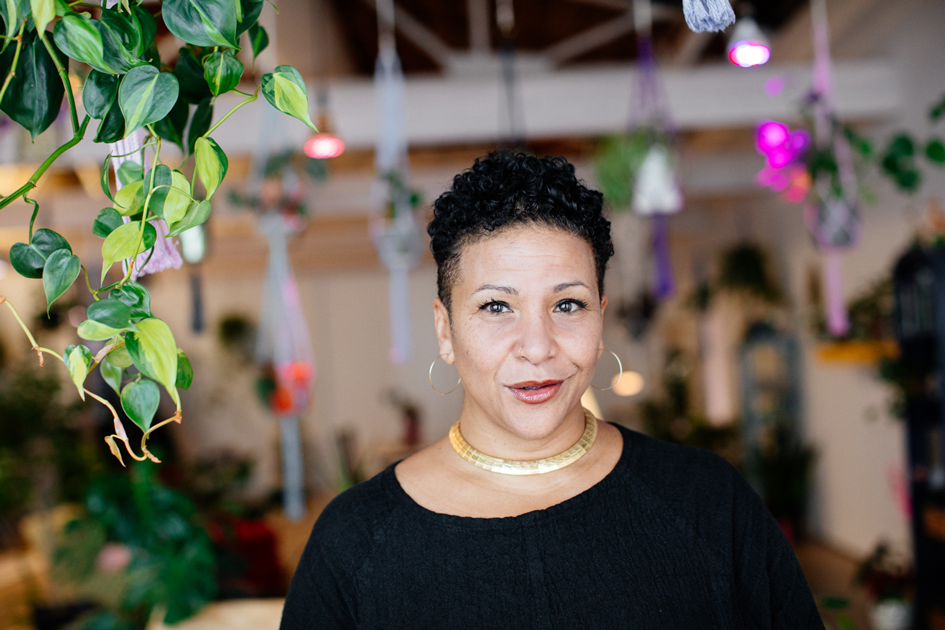 Photo courtesy of  Dana Damewood Photography via the Union for Contemporary Art
Brigitte McQueen Shew started the Union for Contemporary Art in 2011 with just one employee: herself. She opened her nonprofit with the dream to build an arts organization in the heart of North Omaha and play a part in its resuscitation. More than eight years later, Shew's dream is still going strong in a new, larger location in the Blue Lion Center, where she and her staff continuously work to use the arts to incite positive change in the community. You can follow along with her journey and get more information on supporting the Union for Contemporary Art here.
Rhonda Richardson
Headed up by Rhonda Richardson, A & K Marketing is a marketing agency headquartered in Omaha. The company works with businesses in just about every industry, creating solutions to effectively brand and market themselves. They've worked with small start-ups all the way to impressive big-name projects, giving them a local feel with the skillset of a national agency.
Chrissie Matthews & Caryl Fisher
Owned by a spectacular mother-daughter duo, The Ethnic Sandwich Shop has been an Omaha staple since 1977. With a mouthwatering menu featuring home-cooked dishes like pasta, salads, and subs, it's safe to say that this will be your new favorite restaurant in the city.
Bre Phelan
Photo courtesy of Stephanie Frenz Photography via Bre Phelan and Felius
Have you ever wanted to be surrounded by cats while sipping a delicious latte? Well, you're in luck! Felius, Omaha's first nonprofit cat café, opened downtown last year. Bre Phelan, owner and president of Felius, grew up on a farm in Nebraska and took many feral cats to animal shelters hoping they would find good families and instead watched them get put into small cages. She became obsessed with the idea that there was a better way for her feline friends to find homes. Phelan hopes by opening the café she can help revolutionize the cat adoption experience in Omaha. For more information and an inside look into Felius, click here.
Angi Coleman
Opened in 2014 and owned by Omahan fashion lover Angi Coleman, Daisy Jones' Locker is a small women's clothing boutique nestled in Benson. Inspired by eclectic vintage and 1950s fashion, the clothing you'll find at Daisy's usually has bright colors, bold patterns, edgy prints—or all of the above!
Michele Minnick
If you're a lover of all things plant-related, then you should head to the Garden Gallery in Elkhorn! This unique boutique is practically bursting with local art, unusual annuals, perennials, tropicals, vegetables and so much more. As a fan of the natural world herself, owner Michele Minnick even planted two "little-free-gardens" outside of her shop last year where locals can grow anything they like and share the produce with anyone who needs it!
Kelly Newell
Photo courtesy of Scout: Dry Goods & Trade
Owned by Omaha local Kelly Newell and named after the feisty protagonist in Harper Lee's "To Kill a Mockingbird", Scout Dry Goods & Trade buys their products directly from you. Then, they take your old items and resell or repurpose them—saving them from the landfill. So grab all of your shabby clothes, furniture and accessories and drop them off at Scout in Dundee. Not only will you receive a little cash or store credit in the process, but you'll also get to see your trash turned into treasure!
Jeana Goosmann
When Jeana Goosmann founded Goosmann Law Firm, she knew she was taking a big risk. While she was comfortable, she wanted more and decided to go for it—opening up a Sioux City law firm. Today, she runs three different offices in Sioux City, Sioux Falls and Omaha and helps other women-owned businesses succeed.
Michelle Kaiser
Formerly Alotta Brownies, the Omaha Bakery is a one-stop-shop for mouthwatering baked goods, wedding cakes, artisanal breads, and more! Owner Michelle Kaiser will greet you with a smile and is happy to provide recommendations if you need one. Try the peanut butter cinnamon rolls and specialty lemon bars (which are made with four times the lemon filling found in normal bars!).
Jessica Ellis & Whitney Kamish
Photo courtesy of The Green Spot
The Green Spot knows your pet deserves the best; that's why they only sell the healthiest, natural and organic pet foods. Locally owned and operated by sisters Jessica Ellis and Whitney Kamish, the shop offers a wide selection of eco-friendly toys, treats and supplies. Stop in for an afternoon out with your best friend and enjoy a nice cup of coffee in their café lounge, or book an appointment for some pampering at their stress-free, full-service grooming center!
Wendy & Margi Fletcher
It's All About Bees has a rich history dating back to the 1930s when co-owner Margi Fletcher's grandfather started keeping bees in Homer, Nebraska. In 2000, the Fletcher family started to make and sell products made from honey and beeswax, developing their own recipes using all-natural ingredients. Today the store is lead by Margi and her daughter, Wendy, and you can find them at their shop in Ralston, where they're still making their food and body care products by hand, along with a wide variety of bee-themed merchandise.
Laci M.
Found: Vintage Market is the perfect place to fulfill all of your home decor dreams—plus, it's so much fun to hunt for hidden treasures! The seed for this eclectic marketplace began when owner Laci started picking up yard sale furniture and flipping it for a small profit before opening a tiny shop to sell her goods. Today, you can find her reclaimed work among hundreds of other new and vintage items on her 6,000-square-foot sales floor in North Omaha! Interested in seeing what's in stock before you go? Follow the store on Facebook to see pictures of any new and interesting items that come in.
Orlanda Whitfield
Photos courtesy of dotinktv via Still Poppin Gormet Popcorn
Orlanda Whitfield, Ed.D is a very busy woman. Not only does she work full-time as a communications technician at CenturyLink–but she also owns her own gourmet popcorn business: Still Poppin Gourmet Popcorn. While we don't know how she does it, we're glad she does! Offering up several different kinds of delicious popcorn varieties—including the locally famous "Omaha mix"—Still Poppin is on their way to becoming Omaha's favorite snack shop.
Isa Chandra Moskowitz
Modern Love describes their menu as "swanky vegan comfort food" and we could not agree more. As a vegan-focused restaurant, they add an extra level of attention and creativity to their dishes. This vegan-destination has quickly become a local sensation along with owner Isa Chandra Moskowitz! Not only did she recently debut another location in Brooklyn, New York, but she's also the best selling author of several cookbooks including Vegan with a Vengeance, Vegan Cupcakes Take Over the World, Veganomicon and Vegan Brunch.
Mallory Pole
This fitness studio in Rockbrook Village is completely focused on the physical and emotional health of mothers and children. They offer a wide range of classes from yoga and barre to seasonal stroller classes. This mother-centric studio is owned by Mallory Pole, who wanted to give mothers an opportunity to get out of the house and connect with their children. "I hope to ignite these passions for motherhood, fitness, community, and wellness within each and every mama I meet at Well Mama" — Mallory Pole on the Well Mama website.
These Ladies Are On Fire!
What women-owned businesses in Omaha do you love? Tell us about them in the comments below.