New year, new you—right? But it's definitely not that simple. Getting into a fitness routine can be difficult especially when busy schedules, lack of motivation and sleepiness come into play. But one sure-fire way to enjoy your workout more is to do it with other people! Workout classes are a great way to stay accountable, get motivated and make some new friends.
That's why we rounded up some of our favorite fitness classes going on in the Omaha area right now! Whether you're interested in taking a barre class or want to learn how to box—there's a class just for you on this list. Happy healthy 2020!
Photo courtesy of iThinkFit Gym
Develop muscles you didn't even know you had at an Olympius class at iThinkFit Gym in West Omaha! This coed camp uses body-builder style training methods to help you learn correct lifting techniques, develop new muscles and build lean mass. Each class, you'll work two different muscle groups and focus on each muscle once per week, giving you a full seven days to let your muscles recover and grow. iThinkFit Gym also offers more advanced weight training classes along with a beginner's fit camp to help you get started. Click here to see their class schedule and to sign up for your first session!
With two locations in the Omaha area and one in Lincoln, Pure Barre makes learning barre incredibly accessible. They offer four different classes including a beginner's course, a classic class, a total-body workout, and a reform course that utilizes resistance bands to help target major muscle groups. But no matter which class type you decide to sign up for, you'll be taught by highly trained instructors. Click here to choose a location and see their schedule.
Photo courtesy of Elevate Fit Studios
Indoor cycling is one of the hottest trends in fitness right now, and it's not difficult to see why. Not only is it tremendously effective (some classes burn up to 1,200 calories in an hour), but it's also fun. Elevate is Omaha's most popular cycling gym, boasting highly qualified instructors, an upbeat and motivating atmosphere, and a tight-knit community. Try it out for yourself this year and see what the cycling craze is all about—your first class is just $7!
West O Fitness is a locally owned and operated fitness center. The welcoming community environment is perfect for everyone, whether you're a beginner or a seasoned pro. They offer a wide range of classes—from circuit training to yoga—for every skill level. Click here for their schedule and give one of their two locations a call for a full description of each class.
Photo courtesy of the Pilates Center of Omaha
The Pilates Center of Omaha is dedicated to raising the standard of Pilates training in Omaha and the Midwest. Owners Ashlee and Wendy have a long list of certifications. Wendy also has a Masters in Exercise Science from UNO and a Bachelor of Science in Education from Concordia University. And Ashlee has a Doctorate of Physical Therapy from the University of Nebraska Medical Center. The combined experience will get you on your way to physical and mental fitness while also ensuring your overall health lasts your entire life! Get started by taking a look at their packed class schedule—which you can find here.
Pole and aerial fitness classes are incredibly popular right now—and for a good reason! They both offer a full-body workout while also giving you a boost in confidence and a sense of community. Classes at Aerial Bombshell are open to anyone at any fitness level and body type. Click here to see their schedule and to sign up for your first class. If the rave reviews are anything to go by, you're practically guaranteed to enjoy yourself!
After growing up in Dublin in a family of fighters, Mick Doyle moved to the United States and quickly became known as one of the best active fighters in the world. He has coached the U.S. Muay Thai Team, won multiple world titles and achieved much more. Since retiring, he has coached 37 National Champions and cornered 6 World Champions and now you can learn from him, too! His highly rated gym offers both beginner and intermediate boxing classes where you can also be trained for competition if that's what you're looking for. Click here to learn more.
This incredibly popular martial arts fitness class combines moves from karate, tae kwon do, boxing and tai chi to improve your coordination and develop muscles and self-esteem. Blue Moon Fitness offers this class and plenty of others at their North and South Omaha locations. Click here for a full list of their locations around the area and to see their monthly class schedule.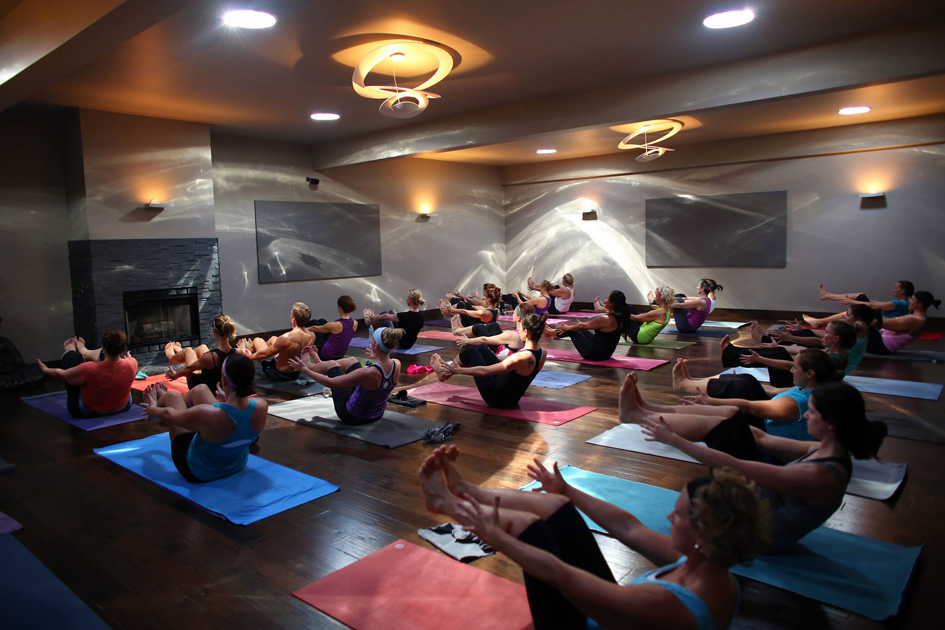 Photo courtesy of Omaha Power Yoga
Power yoga isn't about what you look like; it's about understanding and learning about your own body so you can challenge and take care of yourself. New students can try unlimited classes for just $37. Take a look at the schedule and get started today!
Each of the coaches at CrossFit Omaha had their own life-changing experience with CrossFit and now hope to spread that enlightenment and passion to the community. The first to branch into the state of Nebraska, their box is filled with the experience and knowledge necessary to start your fitness journey. Their CrossFit Omaha program combines the best practices from gymnastics, weightlifting, and endurance training into a fun 60-minute group class. Free trials and free consultations are available upon request—so what are you waiting for?
What about you?
What fitness classes in Omaha do you love? Let us know in the comments!