When it comes to home furnishings, Omaha has a rich history dating back to the opening of America's largest home furnishing store—Nebraska Furniture Mart in 1937. That same tradition lives on today in countless small boutiques scattered across the city.
Next time you're shopping for furniture, wall hangings, lighting and accessories, make sure these small businesses are on your shopping list. From a one-of-a-kind mid-century modern couch to a unique light fixture for your dining room—you'll have everything you need (and more!) before you know it.
Looking for more vintage/antique furnishings to add to your decor? Check out The 17 Best Antique Stores in Omaha, Council Bluffs + Lincoln!
Founded in 2017 by Monica and Andrew Freeborn, Amethyst Home is a quaint home decor destination packed full of accessible and high-end furnishings you'll love having in your home! Want to get a sneak peek of their offerings before you head to Countryside Village? You can browse their entire catalog online! And because of their popularity over the past couple of years, Amethyst Home has recently expanded to include a full range of design services—including interior design and new construction design consulting. You can find out more by visiting them here. 
3220 Farnam Street #2101, Omaha
Located in a 4,300-square-foot, beautifully decorated space in Midtown Crossing, Hutch is a unique home decor shop that mixes modern, local and vintage furnishings to encourage self-expression. Their main goal is to help you create a space you'll never want to leave—all while helping support local vendors! In fact, they love the Omaha community so much that they also host the annual Hutchfest, a maker fair/brunch event that mixes over 300 artisans with street style brunch fare (aka, the perfect morning). 
Photo courtesy of Fluff Interior Design
Fluff Interior Design loves creating magical spaces for their clients. In fact, they love it so much that they brought their design ingredients to the public—by opening up their very own home decor shop stocked with all of their favorite pieces! Offering affordable prices along with an incredibly friendly staff, Fluff is the perfect place to visit when you have a specific item in mind or when you're just looking for some more decor inspiration. 
825 West Broadway, Council Bluffs
Just over the river in Council Bluffs, you'll find Kelly's Carpet & Furniture, your local destination for all types of flooring—from carpet to tile, wood and much more. But it isn't just their abundance of flooring options that landed them on this list, they also happen to feature a huge selection of home decor and furnishings for you to browse! 
5170 Leavenworth Street, Omaha
Photo courtesy of Mod Lines Vintage Mid Century & Retro
Mid-century modern decor has been all the rage for several years now, and one of the best places to get your mid-mod fix is, of course, Mod Lines Vintage Mid Century & Retro! Their shop in Dundee features a wide range of furniture, home decor and accessories from the 1950s-70s. Because every item at Mod Lines is authenticly vintage with the majority being restored, reupholstered & refinished—they tend to sell quickly. To stay on top of all of their current stock and to be notified about brand new pieces, make sure to follow them on Instagram! 
After the success of their first business in Wayne, Nebraska, Mark Kanitz and Lukus Rix brought their passion for home decor to Omaha with Prairie in Bloom! Opened in 2019, this home decor boutique is located in the historic Bloom building in the upcoming North Downtown Innovation District. Inside you'll find a beautiful amalgamation of farmhouse and industrial decor. Not sure where to start when decorating your space? Their in-store interior designers will be able to offer personal assistance and share their expertise while you shop! 
5022 Leavenworth Street, Omaha
Situated in the quaint Dundee-Memorial neighborhood, Spruce is a boutique home furnishings store offering unique wall decor, knick knacks and gifts. But Three Chairs Co. is more than just a home decor store; they give you the ingredients to make your perfect space. No idea how to create that space? Don't worry—Spruce owner Amy offers design consultations to help you add the perfect finishing touch to any room in your home.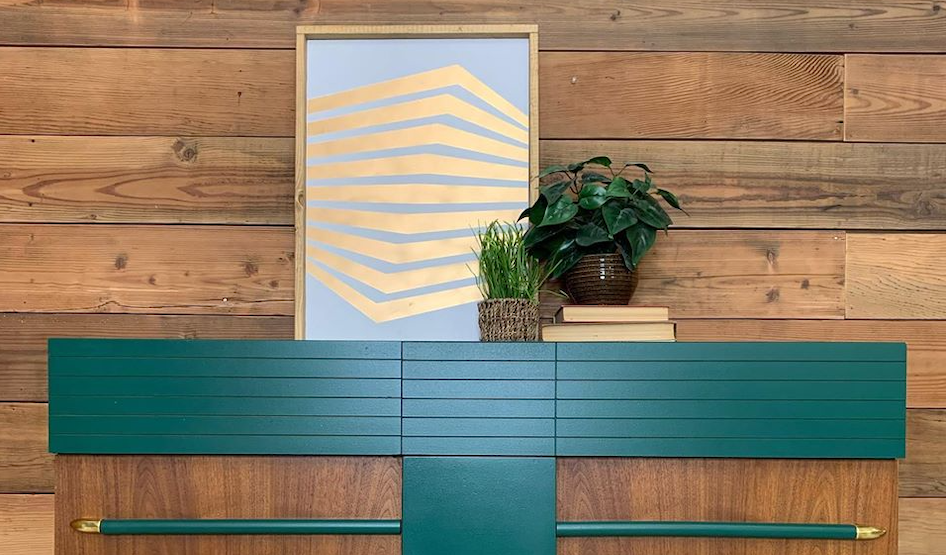 Photo courtesy of Laci Mulick via Found Vintage Market
For those who love a good treasure hunt for home decor, Found Vintage Market is for you! The store is jam-packed with a unique selection of vintage furnishings and art. Plus, finding a gem here means you'll likely be the only person with the one-of-a-kind piece in your home!
When you first walk past Niche in the historic Old Market district, you may think you've stumbled past an art gallery! But in actuality, Niche is a home decor shop offering high-quality home accessories, cool furniture pieces, interesting art, funky light fixtures and so much more. Stop by their shop when you have a few hours to browse—they just recently reopened after the Old Market fire and would love to help you find the perfect eclectic piece to tie your home decor together! 
Do you have a go-to place for decor?
If you have a favorite Omaha home decor store, give them a shoutout in the comments below!