Yelp is an online community of locals, business reviewers and food lovers. It's a great place to go when you're visiting an unexplored city or you're just looking for a new place to try at home. Their algorithm looks at the number of reviews for each location and the star rating from every review. This means their lists frequently change to incorporate menu changes, new spots and fresh innovations.
We rounded up the Omaha restaurants that are consistently ranked as the best in the city, according to Yelp. On this list, there are casual eateries, upscale restaurants and even a few hole-in-the-wall joints—so no matter the occasion, there's something here to match it!
Photo courtesy of Au Courant
There are several very popular dining destinations in the Benson neighborhood, but we have to say that Au Courant is one of our absolute favorites—and we aren't alone! Just look at David T's Yelp review that reads, "My goodness. If this isn't the best meal we've had in Omaha it's hard to imagine what is or could be."
Everything on the menu is crafted with the absolute best, local and sustainable products available and the quality definitely shines through in the finished dish. We recommend the six-course tasting menu for the full experience, which is $55 per person with wine pairings available at an additional cost.
5423 Leavenworth Street, Omaha
Located in Midtown, Tasty Pizza is a casual, counter-service pizza joint that is pretty unassuming from the outside. Before you enter the former house on 56th and Leavenworth, you may be feeling a little skeptical—but keep going. Inside, you'll find the amazing smells of fresh tomatoes and baking dough, an incredibly friendly staff and deliciously cheap pizza for just $5.
The most recommended dish on Yelp is the Bacon Gouda Pizza. One Yelp reviewer said, "[Their] most popular (with great reason) pizza is the bacon gouda. Mmm yummmm! This is coming from a gal who typically orders a pepperoni pizza and is highly satisfied."
This farm-to-table eatery offers unique takes on classic comfort foods. They'll take a traditional burger and throw on creative ingredients such as goat cheese and beets or maybe even Doritos to make it more delicious. And, because their family hails from Canada, they offer an array of Northern-inspired meals such as poutine, which is fries covered in cheese curds and gravy.
But don't take our word for it, this is what Yelper Jeremy W. had to say: "I can't begin to thank the owners for such a fine establishment they have created with Block 16. This place is mind-blowing good. Be prepared for a line 90+% of the time….but 100% worth every second of the wait." And if that isn't a glowing review, we don't know what is!
1540 N Saddle Creek Road, Omaha
Opened in the fall of 2017, Saddle Creek Breakfast Club has quickly become one of Omaha's favorite breakfast restaurants. Their menu offers an abundance of fresh choices, all created with locally sourced ingredients to support Nebraskan farmers. Full of Instagram-worthy decor and a menu packed with unique takes on traditional items—including a Kimchee Omelet, Eggs and Benny, and Chicken Fried Pork—this spot is completely worth the long wait you'll probably have to sit through. Yelpers like to note the fresh coffee that is freely available as you wait for a table and the incredibly fluffy French Toast covered in fresh fruit preserves.
Orsi's Italian Bakery and Pizzeria has served fresh and savory Italian fare to the community of Omaha since 1919—that's over 100 years! Choose from their wide variety of offerings, including fresh-baked bread, handcrafted pizzas, and imported oils and vinegar. And don't skip dessert either. Yelpers rave about the hand-filled cannolis, ricotta cookies, and other freshly baked goods.
Fat Shack began as a year-round food truck and just recently opened their brick and mortar location near the Millard Airport in 2018. But don't worry, the truck is still where the magic happens and you'll be greeted by it the moment you approach their new building. Just like any good barbeque joint, it's a no-muss no-fuss affair. You won't find trendy decor on the walls or atmospheric lighting. Instead, the inside features seating for about 40 people, a counter where you can order, and folding chairs and wooden tables topped with paper towels where you can dig in.
When you go, definitely don't skip the brisket! Yelp reviewer Todd C. said; "This is simply the best BBQ I've ever tasted. Wayne, the owner, has perfected bbq. The brisket is tender, juicy, smoky and just so good."
Photo courtesy of Bobby G. Noosh via Oasis Falafel
Hummus is where the heart is—at least that's what the minds behind Oasis Falafel believe, one of Omaha's hottest restaurants right now. Here you'll find falafel, kebabs and even Mediterranean-inspired salads. Don't forget to try their amazing baklava and Turkish coffee for dessert.
And we aren't the only ones obsessed with this spot! Reviewer Britt C. says, "5 stars is not enough for Oasis Falafel. My husband and I both work downtown, and I kid you not, a few months ago, he went here for a work lunch. I was so bummed that I was unable [to] join, but I decided to treat myself and grabbed lunch there the following week…. and so began the endless jealousy of 'wait you went there for lunch?!'"
Inspired by their love and passion for all things coffee, husband and wife team, Jasmyn and Jacob Wichert, began roasting in an effort to show off every subtle complexity of their favorite beverage. At Amateur, they understand every step in the coffee-making process counts: growing and cultivating, picking and processing, storing and shipping. Their end product is packaged and decorated with pencil sketch art done by Jasmyn and it can be shipped anywhere in the U.S. For fastidious drinkers, you can get a subscription so you're never without caffeine! Or, stop into their artsy vegan coffee parlor and relax with a latte and one of their bright pink Vanilla Homer donuts—we promise you won't be disappointed.
725 North 114th Street, Omaha | 5018 Underwood Avenue, Omaha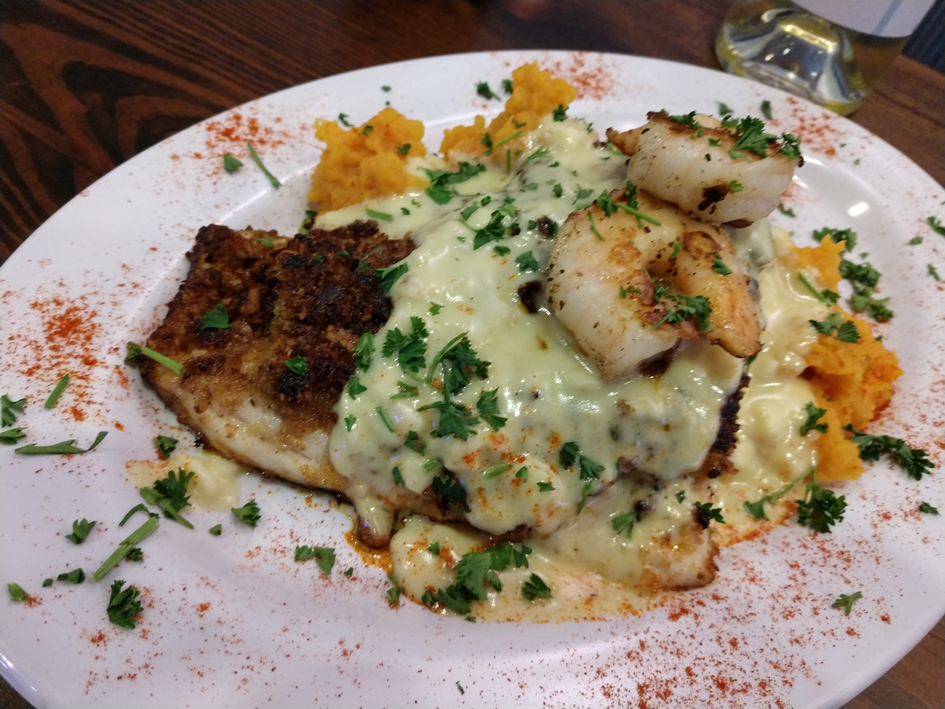 Photo courtesy of Acadian Grille Scratch Kitchen
When lunchtime rolls around, there's no better place to be than Acadian Grille. This local shop is one of the best rated Omaha restaurants on Yelp for its delicious and innovative dishes—and with selections like Gouda Mac, Catfish, Gater Bites and Gumbo, we are not the least bit surprised. The menu has something to satisfy every craving, but Yelpers are particularly enamored with the Crab Cakes appetizer, which features two generous crab cakes on a bed of shaved Brussels sprouts, greens and tasty dressing—mmm mmm good.
6909 South 157th Street, Omaha
If you're looking for tasty Asian food (Vietnamese, Thai, and Chinese) in Omaha, then look no further! This classy bistro serves everything from Phở to Bun Bo Hue and more—all available to order online for carryout or to dine in.
Yelpers gush about the great prices and amazing service, just look at this glowing review from Marisa F.: "This restaurant is my favorite now! It was my first time there and I had asked for an item that was from a previous menu and ownership. Yet they were so nice they checked to see if they had the ingredients and made it for me. It was absolutely delicious! I don't normally write reviews often, but was motivated by them going above and beyond for a customer."
What did Yelp miss?
Is there a restaurant in Omaha that you think should be on this list? Tell us about it in the comments!