Here in Omaha, we are famous for many things—our delicious steaks, our thriving business scene, friendly locals, an intense love of sports, and so much more. But there are a few things about our city that aren't so well known.
In fact, there are a ton of interesting (and somewhat weird) facts that you may not have heard before. That's why we rounded up a few of our favorites—from the Reuben sandwich origin location to a hidden garden of bronze heads in Old Market. Read on to learn some new things about the Big O and to arm yourself with valuable information for your next trivia night!
A bomb exploded over Dundee during WWII
It wasn't just Pearl Harbor that was hit during WWII. On April 18, 1945, a Japanese balloon bomb exploded in the sky over Dundee. Fortunately, it didn't do much damage, and the attempt was kept hush-hush until after the war was over. Today, a plaque commemorates where the bomb exploded and sits surrounded by the neighborhood's trendy restaurants, bars and shops.
We love corn so much that we made it an actual ice cream flavor
Photo courtesy of Jeanne Ohira via Ted and Wally's
While Nebraska may not be the nation's top corn-producing state—that honor goes to Iowa—but the stuff is everywhere. As the "Cornhusker State", we passionately embrace that moniker anyway we can. Dishes such as corn fritters, corn chowder and corn pudding are a staple on many Omaha menus, and our local ice cream shop, Ted and Wally's, takes corniness to a whole new level with flavors including sweet corn, honey cornbread and caramel popcorn.
Omaha is part of the "Silicon Prairie"
Over the past few years, Omaha has gone from a "fly-over" city to a major technological hub for huge corporations like Microsoft, Google, Paypal and more. This is partially due to the fact that we're in the middle of the country, but also because it's so darn affordable to live here! Because corporations can make their dollars stretch further in Omaha than they can in bigger cities like Los Angeles or New York City, they can afford to own more space and hire more employees. All of this, plus Nebraska's Angels (a group of approximately 60 investors that help fund local startups) and our state's focus on innovation, has garnered us the nickname "Silicon Prairie."
Omaha is home to the Largest Indoor Desert & the Largest Indoor Rainforest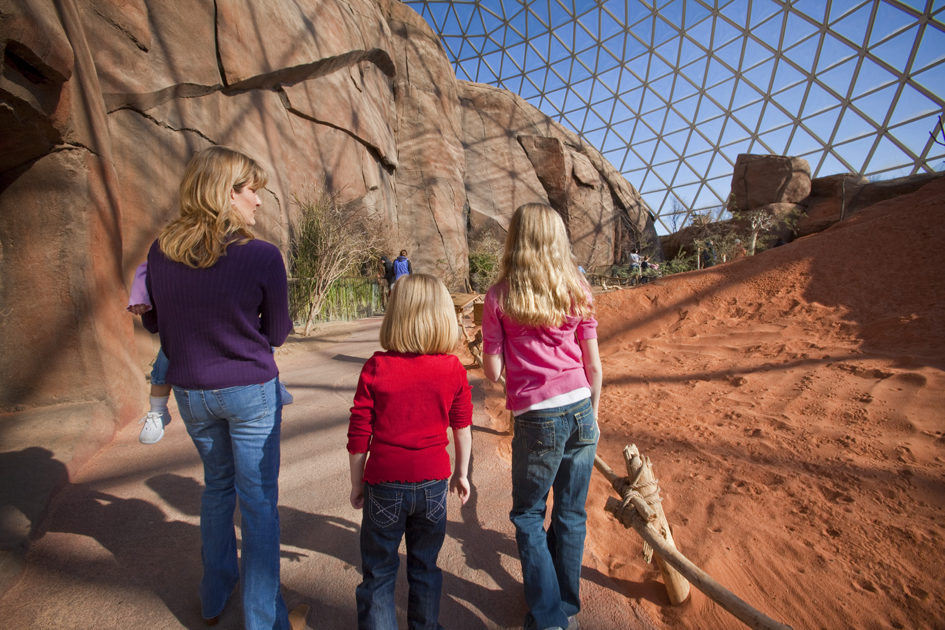 Photo courtesy of Omaha's Henry Doorly Zoo and Aquarium
Our local zoo, Omaha's Henry Doorly Zoo and Aquarium, is consistently ranked as one of the best in America. But it has more than just amazing interactive exhibits and interesting shows going for it! Our zoo also happens to be home to the largest indoor desert, the Desert Dome, which spans 84,000 square feet on two levels and features a unique mix of desert plants and animals from all over the globe. It is hosts the largest indoor rainforest, the Lied Rainforest, an 80-foot-tall, 1.5-acre, interactive rainforest full of monkeys, tapirs, macaws and pygmy hippos.
Johnny Carson got his start right here
In 1950, Carson started his broadcasting career at WOW Radio and Television in Omaha. His first TV show was titled "The Squirrel's Nest" and his routine was to interview pigeons on the rooftops of the courthouse to comment on the shady dealings of the politicians they witnessed from their perch. He later started another show titled "Carson's Cellar" on the CBS-owned KNXT. It was from this show that comic Red Skelton sought him out and asked him to work as a writer for his show on another channel—kicking off his career and skyrocketing him to fame.
We have the world's largest coffee pot
Serving as a landmark for all-night truckers, the Sapp Bros. Coffee Pot is known by locals as "The World's Largest Pot of Coffee". The old-fashioned percolator, which steams and flashes a light when coffee is "ready", is a refashioned water tower. It isn't really the biggest anymore after several more coffee pot-shaped water towers and buildings popped up throughout the world over the past few decades, but we still like to think of ours as the largest. And while we're pretty sure it isn't full of actual coffee, we can dream, right?
Omaha is also known as Swim City USA
You probably already know that Omaha hosts the Collegiate Baseball Championship every summer, making us a destination for baseball lovers and hardcore college sports fans from all over the country. But that isn't the only major sporting accolade we hold—Omaha has also played host to the U.S. Olympic Swim Trials for three consecutive trials. Quickly becoming known as Swim City, USA, Omaha will host the trials again in 2020!
The Reuben sandwich was invented in Omaha
Although there are several claims to the invention of the Reuben sandwich, many believe that it was originally crafted by Omaha's own Reuben Kulakofsky in the heart of the Blackstone Hotel. It appeared on the menu in 1925 (for a whopping 40 cents), and was further developed by the Blackstone's Charles Schimmel, who insisted on soaking the kraut in Russian dressing at least 24 hours in advance. The Reuben is now a popular option at delis across the country. One of our favorites here in Omaha is served by Crescent Moon, conveniently located just across from the historic hotel. Give it a try if you haven't already!
There's a six-foot-tall statue of Chef Boyardee in downtown Omaha
Until just a few years ago, Omaha was home to the headquarters of ConAgra Foods, Inc., a business that includes brands like Healthy Choice, Jiffy Pop, Reddi-Wip, Slim Jim and Chef Boyardee. The man behind the canned pasta mascot was actually Hector Boiardi, who was a renowned chef long before his face graced cans of Spaghetti-Os. As long as ConAgra Foods called Omaha home, you could find a six-foot-tall statue of Chef Boyardee standing happily outside their building. While he was moved after ConAgra Foods relocated their headquarters to Chicago, you can still find him in front of Building 6 on 707 Conagra Drive.
Our famed Joslyn Castle is full of secrets—including a hidden "Man Cave"
While Joslyn Castle might not be an actual castle, it's still a remarkable site. This gorgeous mansion is located in the Gold Coast Historic District of Omaha and was built by Sarah and George Joslyn, the area's first millionaires and philanthropists. Many local institutions benefited from George and Sarah's generosity, including the University of Omaha, the Nebraska Humane Society, the Fontanelle Home for the Aged, and many more. The castle-like mansion was completed in 1903 and features 35 different rooms that you can explore during a guided tour. But the most interesting room (in our opinion) is the secret "Man Cave" in the basement, complete with a smoking room, billiards room, personal gym and bowling alley. Of course, the hangout also features a wine cellar, stacked with bottles of vino and liquor. You can visit it for yourself during Joslyn Castle's new Speakeasy series, which they hold monthly.
We're home to a monastery-themed steakhouse
Inspired by the Spanish monasteries sprinkled throughout California, Brother Sebastian's Steakhouse is a far cry from a "traditional" steakhouse. This unique restaurant is complete with cozy booths, stained glass windows, a crackling fireplace and friendly servers dressed as monks. They offer choice cuts of authentic, raised-in-Nebraska beef, which have been consistently named "The Best Steaks in Omaha" over and over again since they opened in 1977.
There's a garden full of bronze heads in Old Market
Photo courtesy of the Old Omaha Association via the Garden of the Zodiac: Sculpture Garden & Gallery
Next time you're perusing the Old Market passageway, veer to the right and head all the way down the hallway until you see a sign that says "Garden of the Zodiac: Sculpture Garden & Gallery." Step inside and you'll find yourself in an art gallery that features rotating contemporary art exhibits—but it's the garden out back that is the true gem of this unique locale. The garden is a tiny, round green space covered in trees, bushes… and 22 bronze heads. The heads were created by Swedish artist, Eva Aeppli and installed in the garden to represent relaxation and meditation. And the garden itself is meant to represent the twelve constellations of the Zodiac and the planets as a group.
You can still visit Roy Rogers' faithful horse and dog in Omaha
Roy Rogers was one of the most popular Western stars of his era. Known as the "King of the Cowboys", he appeared in over 100 films and numerous radio and television episodes of The Roy Rogers Show. His faithful horse, Trigger, died of natural causes in 1965—but you can still see him at RFD-TV in Omaha. Not a replica—the real Trigger. The stuffed and mounted horse was displayed at the Roy Rogers and Dale Evans Museum in Branson, Missouri, until 2010, when he was sold at auction. RFD-TV uses Trigger for promotional events, along with Rogers' dog, Bullet.
What did we miss?
Do you know any weird or interesting facts about Omaha that we missed? Let us know in the comments!