There are a million ways to celebrate Dad this Father's Day, but as we all know, his favorite way to enjoy it would be spending the day with you—either virtually or otherwise.
If you need a little help coming up with the perfect Father's Day plan, below are some great things to do with dad in Omaha along with a few local gift ideas. No matter how you decide to celebrate, we hope your dad feels special. And if you yourself are a dad, in any form or fashion, thank you for all that you do. Happy Father's Day!
Jump Ahead
Activities
Play a Round of Golf
Omaha's gently rolling terrain makes it a perfect destination for golfers, and thankfully, we have a number of lush, championship golf courses in the area. No matter what your dad's skill level is, you're sure to have a blast. Stone Creek is a high-quality, yet affordable, course that offers 27 challenging golf holes on perfectly maintained land. Another one of our favorites, Indian Creek, consistently thrills visitors with its abundant water obstacles, well-placed bunkers, and lush fairways.
Or Try Frisbee Golf
If the dad in your life isn't a huge fan of traditional golfing, try frisbee golf instead! Not only is this unique sport a blast, but it's also completely free. There are local disc courses all over the Omaha area, all offering a variety of styles and levels of play. A couple of our favorites include Hummel Park, The Links at Lake Cunningham and Seymour Smith Park.
Sign Dad up for a Martial Arts Class
Martial Arts is a fantastic way to exercise both the body and mind, so consider signing Dad up for a class if he's interested in trying a new workout routine! Championship Martial Arts, a family-owned martial arts and dojo studio in Omaha, offers adult classes for anyone 13-65 years old. No matter the fitness level, everyone can benefit from one of their challenging and rewarding classes!
Play a Board Game Together
We love playing a good tabletop game with our dads, whether it's checkers, Monopoly or Parcheesi. Right now, Spielbound is offering their wide range of board game offerings to go! So head over and pick up a few drinks, some snacks, and a pile of interesting board games and then play the day away.
And if you'd rather play virtually—Tabletopia is an online "arena" where you can play a multitude of games with people virtually. All you have to do is choose a game (they have over 800 to choose from!) and share the URL with your dad to play together.
Enjoy a Delicious Meal
It's no secret that we're huge fans of the Omaha food scene. It's hard not to be when there are so many fantastic places to grab a bite to eat in the area. From farm-to-table eateries and vegan and vegetarian-friendly hotspots to upscale restaurants and casual, walk-in only joints—we've got it all! So no matter where you decide to take dad out to eat, you're in for a treat.
If he's a steak lover, you're in luck! Omaha is known for its high-quality cuts, and you can enjoy one at one of the incredible steakhouses in the area. Or bring the BBQ to dad this year by picking up an order of ribs or pulled pork from Jim's Rib Haven. We also happen to have some of the best seafood around, even if we do live in a landlocked state, because many local eateries fly their fish in daily! Here are the best fresh seafood restaurants and markets in town.
Due to the pandemic, most restaurants are hosting dine-in service at 50 percent capacity. We recommend calling ahead to make sure you can get a table before heading out.
Go on a Bike Ride
There are several trails in Omaha that are ripe for exploring and a family bike ride is the perfect Father's Day activity! Because biking is such a popular activity in the area, we even have a cyclist's guide to the city, which includes the best bike trails, shops and rental options.
A couple of our favorite trails include the Iowa Riverfront Trail, where you can enjoy a scenic ride on the Iowa side of the Missouri River. And the 144th Street Trail, which spans through a series of residential neighborhoods and offers great views of Standing Bear, Zorinsky and Wehrspann Lakes.
Go Camping
Since Father's Day happens to fall in the summer, why not spend it enjoying the great weather? Our region offers plenty of opportunities for exploring the outdoors, but one of the best ways to take in Omaha's natural beauty is by pitching a tent and spending the weekend basking in the outdoors! There are several amazing campgrounds within two hours of Omaha, including the Eugene T. Mahoney State Park which is located halfway between Omaha and Lincoln and is one of the most popular outdoorsy retreats in the area.
Watch a Movie Together
No matter how old you get, you just can't beat watching a movie with your dad. Whether it's a trip down memory lane or a brand new release, we recommend pulling up Netflix, popping some popcorn and sitting down to watch a film together this Father's Day.
Local Gift Ideas
A Coffee Subscription
Photo courtesy of Amateur Coffee
Some people just can't live without their signature cup of Joe in the morning (we don't blame them). If your dad has a particular love of local coffee, we have some good news for you. Many local coffee shops and roasters are now offering subscription services—so your dad can have a bag of coffee delivered right to his door every week, two weeks or month depending on the subscription. Just check out 7 Coffee Subscriptions in the Omaha + Lincoln Area for some ideas!
Some Husker Gear
For some, GBR (Go Big Red) is more than just a saying—it's a lifestyle. If that's your dad, getting him a slew of fabulous Husker-themed items is always a good idea. You can shop for official Husker gear on the UNL Merchandise website, but if you're looking for something a bit more local, head to Etsy to find some handmade Husker merch!
A Few New Books For His Collection
Is your father a certified bibliophile? Then we can't think of a better gift than a few brand new books! The Bookworm, one of our favorite local bookshops, is once again open for in-person shopping so you can spend all day perusing for a few new reads for him. Or head to the Aframerican Bookstore, an independent African American bookstore selling books written from African-centered perspectives for a few diverse reads!
Photo courtesy of Dan Brouillette Photography via Artifact
Artifact has been crafting briefcases, bags, totes, backpacks and aprons since 2010 right here in Omaha. In 2018, Artifact found a physical home in an old stove retail shop built in 1887 and continues to make each product using domestically sourced materials whenever possible. Peruse their products online—we think your dad will love one of their handmade wallets, but they also have a variety of belts, bags, key fobs and hats that he'll probably adore as well!
A Growler From a Local Brewery
If your dad just can't get enough of local beer, a growler from a local brewery might be the perfect gift for him this Father's Day. Click here for a list of the best breweries in the Omaha area where you can pick up a growler, a six-pack, a gift certificate and more for your pop.
A Nebraska-Made Album
Omaha just happens to have one of the best and most diverse music scenes in the United States. In fact, National Geographic just named Omaha as one of the "musically grooviest" cities in the country. Renowned bands Bright Eyes and 311 are from the area and the well-known Indie label, Saddle Creek Records, is located right here—making an Omaha-made album the perfect gift for any music-loving dad.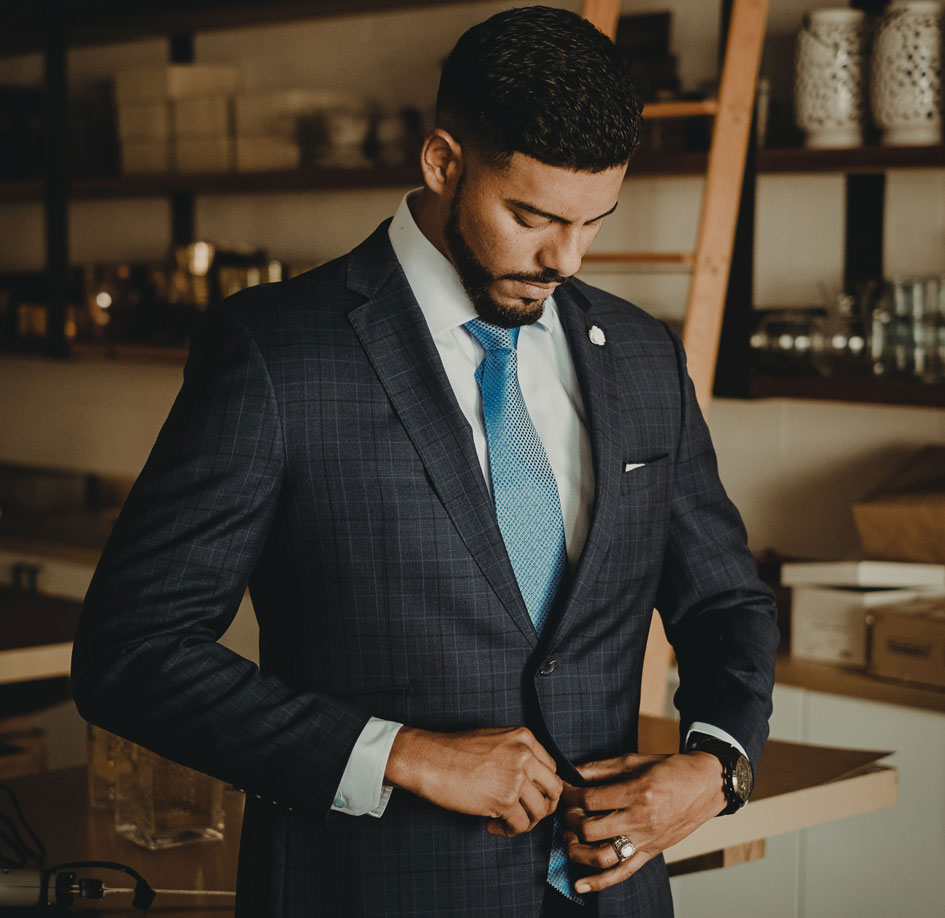 We all know a dad who is obsessed with collecting ties, even if he never actually wears them. Get him a brand new dapper necktie for his growing collection at The King's Clothes—a local store selling gently used and custom-made suits along with shirts, slacks, ties and more.
We all know a dad who loves to barbecue! Luckily, the Omaha area is home to an amazing barbecue supply shop where you can purchase a few amazing gifts for him. While you can also buy a fireplace, a grill, landscape supplies and more at Fireplace Stone & Patio, it's their wide selection of sauces and rubs that we think would make fantastic Father's Day gifts. Click here to start shopping.
If you ask anyone who isn't from Omaha what we're famous for, they'll undoubtedly say "the steaks" and they aren't wrong. Omaha Steaks has been a local institution since 1917, distributing high-quality meat all over the country. For the meat-loving dad—or pretty much anyone who loves a good meal—head to Omaha Steaks' website and order him one of their boxes, which can be packed full of meat, seafood, starters, sides, desserts, wine and more.
Established in 2008, Beard & Mane is a barber and grooming destination, providing old school haircuts and shaving services to "modern-day gentlemen." But Beard & Mane is more than just a barber, they also offer a wide range of men's hair and beard products online. If your dad has a beard—or has plans to grow one sometime soon—why not get him some moisturizing pomade or balm? Not only will it keep his furry face from being scratchy and dry, but it will also give him the opportunity to practice some relaxing self-care this Father's Day.
Happy Father's Day!
Let us know how you're planning to celebrate in the comments!