If breakfast is the most important meal of the day, brunch has to be the most important meal of the week, right? At the very least, it has become the most trendy meal—and we're okay with that! Anything that includes a late-morning mimosa and a plate of farm-fresh eggs is fine by us.
Today, we're celebrating our love for this weekend tradition by rounding up Lincoln, Nebraska's best brunches. Complete with innovative plates, brunch classics and plenty of cocktails, these local spots should all be on your brunch bucket list. Enjoy!
The Eatery specializes in food that tastes home-cooked in the heart of Lincoln. All the dishes are served in comfortable surroundings and the hospitality is second to none. Their social distancing hours are Sunday-Thursday from 9 a.m. to 8 p.m. and Friday and Saturday from 8 a.m.-9 p.m. Their massive menu is packed full of brunch favorites like chicken fried steak and eggs, breakfast pizzas, egg benedicts, breakfast burritos and so much more.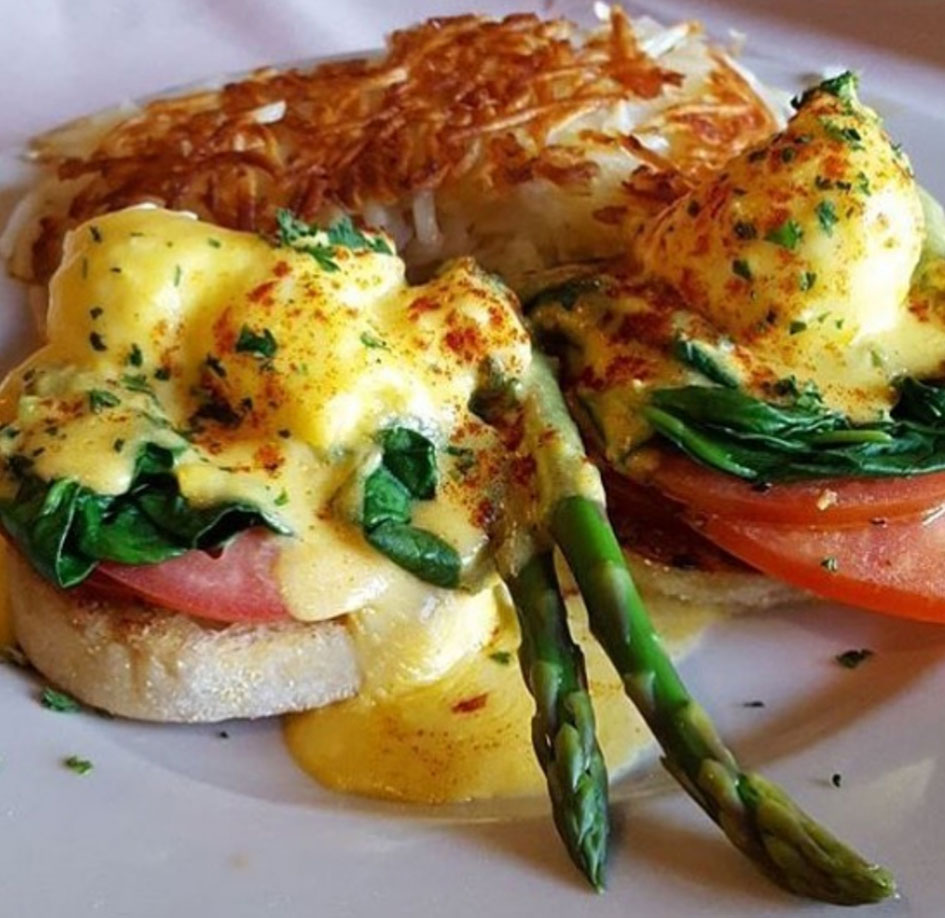 Photo courtesy of the Green Gateau
"Romantic and casual", "the perfect date spot", and "the best celebratory destination" have all been used to describe Green Gateau and today, we're naming them as one of our favorite brunch spots! Located in the heart of downtown Lincoln, the French-inspired, upscale restaurant is a must-visit whether you're a meat-lover or a plant-eater. Their huge menu includes brunch, lunch and dinner with extensive gluten-free options, clearly marked vegetarian meals and some of the best coffee drinks in town.
727 South 11th Street | 3535 Holdredge Street
Cultiva is a coffee roastery founded in 2004 that has three locations around the Lincoln area! At their two cafes, they serve a variety of delicious brunch options along with beautiful caffeinated beverages. Crepes, vegan bowls, breakfast bakes, cinnamon rolls and quiche are just some of the many brunch items they offer. Their specials change daily so make sure to follow them on Instagram to find out what's on the menu today!
This auto-motive themed diner is perfect for those who are looking for a simple, tasty and quick breakfast any day of the week. Their extensive menu is full of delicious breakfast items like signature omelets, biscuits and gravy, French toast, oatmeal, massive cinnamon rolls and so much more to help you fuel up during your pitstop.
Open daily from 7 a.m. to 2 p.m., Greenfield's is a favorite breakfast spot for many. Looking for some giant biscuits and gravy? Cinnamon roll pancakes? Avocado toast? Delicious omelets? No matter what you're in the mood for—Greenfield's has it! If you're dining during the warmer months, make sure you take advantage of their cozy patio. It's the perfect setting to enjoy breakfast classics and your favorite brunch beverage.
For locally sourced fare in a modern setting, you can't do better than Piedmont Bistro. This neighborhood staple is perfect for your next weekend brunch! Open for brunch Friday-Sunday starting at 8 a.m., you can enjoy staples like Farmers' Hask, biscuits and gravy, a daily oatmeal special, juicy burgers, garden-fresh breakfast sandwiches and of course, pitchers and pitchers of mimosas. Don't feel like dining out? You can order brunch to-go and pick it up for a classy breakfast/brunch at home.
This Lincoln cafe has truly redefined the meaning of cooking from scratch. Here, you'll find the epitome of comfort food, including buttermilk pancakes, fluffy omelets, hashbrowns and even vegetarian options! This beloved breakfast and lunch spot offers a laid back atmosphere perfect for a morning after a long night of studying, before-work breakfast, and a romantic luncheon for two. Follow them on Facebook to stay updated on all of their daily specials!
Patty melts, omelets, pancakes, soup—you name it, Engine House Cafe has it. They're here to give people what they love, which is why they serve breakfast and lunch every day. But no matter when you stop by this Lincoln favorite, you should definitely try their housemade breakfast sandwiches, which will ruin the fast-food ones for you forever.
Photo courtesy of Rutabagas Comfort Food
The completely plant-based food made by the Rutabagas team is always prepared fresh and ready for the brunch table, always vegan and gluten-free, and sometimes even oil-free! Especially famous for their flavorful Buddha bowls, vegan waffles, biscuits and gravy, and cinnamon rolls, the menu changes regularly so you always have a healthy and sustainable meal to take home for yourself or for your entire family.
Good Evans Breakfast & Lunch is a new dining concept that started in November of 2019. The idea for Good Evans stemmed from wanting to bring a more chef-inspired menu and vibe to the breakfast and lunch sector. Today, they have two locations around Nebraska, one in Lincoln and another in Kearney, all serving an elevated breakfast and lunch menu that includes favorites like corned beef hash, breakfast dogs, breakfast pot pie, shrimp and grits, brioche French toast and more! And if you're in need of a good drink, they also have a wide variety of espresso, tea and juice options.
The approach to food is simple at The Hub Cafe. This farmer-owned restaurant sources the best-tasting, freshest ingredients from local producers to inspire creative dishes. The flavors of Nebraska shine through in the breakfast, lunch and brunch menus, which all include delicious vegetarian options. A few of our favorites include the squash banh mi, the BBQ pulled oyster mushroom sandwich, the savory breakfast bowl and The Hub skillet.
Bon Appétit!
Did we miss your favorite place to brunch in #Lincoln? Let's chat in the comments!