We always look forward to the holiday season. The festivals, the lights, the gifts and the time spent with family and friends are traditions that we cherish and hold close to our hearts every year. But it's easy to forget that we're not all equally fortunate. There are many families in the Omaha area that are currently struggling to make d0—especially during the COVID-19 pandemic.
While the holiday season is always a great time to volunteer your time and spread a little cheer, this year, it's even more important. The pandemic has left many unemployed, homeless and unable to make ends meet.
So today we're outlining a few ways you can lend a helping hand during the 2020 holiday season. Whether you're looking to donate some money, some clothes, blood or want to spend the day volunteering, you'll find information about local Omaha organizations in need below.
Due to the ever-changing nature of the coronavirus, the urgent needs of the listed nonprofits may change throughout the holiday season. We recommend calling before donating to any nonprofit to see where you can be of the most help. 
Reach Out to People You Know
The easiest way for you to give back this holiday season is to reach out to the people you know. Neighbors, friends, co-workers and relatives can all benefit from a friendly text or video call. It may seem small, but checking in on people you care about can have a great impact. It isn't uncommon for people to feel vulnerable and helpless during this strange time—especially during the holidays—and a kind word can go a long way. Do you have a neighbor who lives alone who could use some socialization? What about a friend who struggles with depression who could benefit from a video call? Sometimes, lending a helping hand is as simple as letting people know you're there for them.
And if you aren't someone with a higher chance of getting COVID-19, another way to help is by running errands for those who are. Reach out to the people in your circle who are elderly, disabled or otherwise housebound during the pandemic to see if they need anything over the holidays, from a hot meal from a local restaurant to weekly groceries.
Make a Donation
There are many ways to help during the pandemic, but donating things like money, food, clothes and even medical supplies have proven invaluable during COVID-19. And as the holidays and colder weather grow closer, giving what you can is more important than ever.
Donating Money
Photo courtesy of Adam Casey via Omaha Foundation
Omaha Foundation's COVID-19 Response Fund provides flexible resources to organizations in the metro area working with communities who are disproportionately impacted by the coronavirus and the economic consequences of this outbreak. They have also been working directly with United Way of the Midlands to help those struggling with paying rent and mortgages during this difficult time. You can donate to Omaha Foundation here.
United Way of the Midlands has been working with more than 100 nonprofit programs that help provide three different things that are vital to helping families in need: basic needs, education and financial stability. By donating to United Way of the Midlands, you are contributing to a circle of support that helps those impacted by COVID-19 on all sides. You can donate here.
People who are homeless or facing poverty are particularly at risk right now due to the COVID-19 outbreak. That's where Open Door Mission Comes in. They help provide a safe place to live, nutritious meals, and homeless preventative resources to more than a thousand people struggling with poverty in the Omaha area right now. You can donate financially, here.
Even when the world isn't in the middle of a global pandemic—Food Bank for the Heartland is helping serve our community. This program distributes food to over 600 non-profit organizations in Nebraska and western Iowa, such as pantries, schools, emergency shelters and other meal providers. Click here to donate financially.
We've all seen the bright red kettles and heard the clanging bells outside of grocery stores and other community destinations. The Salvation Army is always dedicated to helping people out during the holidays and throughout the rest of the year. This year, their iconic red kettles are going virtual and you can donate to them online. The money raised goes to help provide toys for kids, coats for the homeless, food for the hungry and countless other social service programs each year.
Throughout the pandemic, Nebraska Medicine has helped provide supplies to hospitals and temporary housing and child care expenses for healthcare workers. Click here to donate to the cause and help support our healthcare heroes.
Donating Food
Photo courtesy of Food Bank for the Heartland
Food Bank for the Heartland also accepts food donations. You can find a list of their current urgently needed food items here. To donate, just visit one of their several food drop-off locations all across the city. Click here to find the food drop-off location closest to you on their interactive map.
Joseph's Coat/Washington County Food Pantry
Since the early 1990's, the Washington County Ministerial Association (WCMA) has maintained the Good Samaritan Fund to provide short-term assistance to individuals in critical need, commonly providing rental and/or utility assistance during times of crisis, and particularly in extreme weather months. They also have a food pantry that helps feed people in need in the Omaha area that accepts most food items. Click here for a list of accepted goods and information on how to donate.
The Salvation Army of Omaha has a food pantry at The Burrow Center that helps feed people in need all across eastern Nebraska. Right now, they are in need of non-perishable food items. You can donate food to The Burrows Center food pantry Monday, Tuesday, Thursday and Friday from 9-11 a.m. and 1-3:30 p.m. Click here for more information.
Open Door Mission's annual Turkey 'N' Fixens charity event provides more than 284,820 hot, nutritious meals to the hungry and homeless every holiday season—but they need donations to make it happen. Click here for a full list of their current food needs, including canned vegetables and frozen turkeys. And click here for a list of donation sites and their hours.
This faith-based food pantry provides a week's supply of food, clothing and hygiene products to the needy all throughout the Omaha metro area. While their clothing pantry is currently closed due to COVID-19, they are still accepting food and hygiene products. Click here for a list of their current needs and for information on their drop-off locations.
Project Hope is a Christian charity and food pantry that provides nutritious food, warm clothing and personal care items to the homeless and hungry population of Omaha. If you would like to donate to their food pantry, click here for a list of their current needs and pantry hours.
Hundreds of youth in the Omaha metro area are homeless, have been abused, or are suffering from health, mental health or substance abuse issues. The Youth Emergency Services of Omaha is here to help them turn their lives around. They provide local youth with food, shelter, clothing and safety before creating a support system to help them flourish. Y.E.S. is in constant need of frozen and prepared meals. Click here for more information on donating.
Donate Clothing & Blankets
Open Door Mission is always happy to accept donations of gently used men's, women's and children's clothing as well as bedding and blankets—especially during the colder months. They have three separate donation centers that you can visit. Click here to learn more.
Stephen Center is a safe haven, providing emergency shelter, permanent supportive housing, transitional living, addiction recovery for adults and juveniles, and life skills education to help those struggling with addiction or homelessness. They gladly accept donations of gently used bedding and clean clothing of all sizes. You can visit the center to donate, Monday-Friday 8 a.m.-6 p.m.
Siena Francis House is one of the region's largest homeless shelters. While they provide emergency shelter, food, and clothing to individuals experiencing homelessness, their ultimate goal is to end homelessness by helping each and every guest achieve housing out in the community. You can lend a helping hand this season by donating clean, gently used clothing—especially outerwear. Click here for a list of their current needs and information about where to donate.
A Warmer Day has a simple mission: to help their fellow Nebraskans stay warm during the winter months. You can help by donating gently used coats, mittens, gloves, scarves or hats at one of their many drop-off locations across the state. Click here to see which donation center is closest to you.
Together Omaha is a homeless prevention organization in Omaha that helps people in our community that are struggling with the basic necessities of life: food, clothing and shelter. You can donate clothing, blankets and winter wear at their donation center or you can arrange for a driver to pick up your donation from your home for a tax-deductible $25 pickup fee.
Donate Medical Supplies
In addition to accepting monetary donations, Nebraska Medicine is also currently accepting hard-to-find medical supplies, like new, unopened N95 masks; surgical/procedure masks; hand sanitizer; goggles; face shields; safety glasses; disinfecting wipes and more. Click here for the full list and information on how to donate.
Donate Presents
In addition to accepting food, clothing and monetary donations, Together Omaha also accepts gently used toys, books and clothes for children year round. Click here to learn more.
Open Door Mission's annual Project Santa Drive helps provide toys to needy children so that everyone will have gifts on Christmas morning. Click here for a list of toy ideas and information on how to donate.
The Salvation Army's annual Angel Tree Toy Drive has been helping low-income families and children ages 0-18 since they started serving the Omaha area 130 years ago. The holiday program relies entirely on donations from the community. Donors can pick a tag with a child's age, gender and suggested gift items from The Salvation Army Angel Tree donation sites. New toys that are purchased can be placed, unwrapped, in the donation boxes, which can be found throughout the metro area, November 15-December 13. Click here for more information and a list of Angel Tree donation sites.
The Marine's popular holiday charity, Toys for Tots, has a huge impact on Omaha every year. In 2019, they distributed more than 80,000 toys throughout the area, and they hope to distribute even more this year! Click here to learn about donating and their current COVID-19 policies.
Give Blood
The need for blood and plasma is constant in the age of COVID-19. If you are healthy and willing, consider making an appointment to donate blood to a local blood bank.
The American Red Cross is one of the largest humanitarian organizations in the United States, providing emergency assistance, disaster relief and disaster preparedness education all across the country. During COVID-19, they are desperately in need of blood donations. Click here to make an appointment to donate blood. And if you have had COVID-19 and have recovered, your plasma could help current coronavirus patients in need. Click here to learn more about antibody testing and donating plasma.
Nebraska Community Blood Bank is one of the only contracted blood sources for many local hospitals—including UNMC and the Children's Hospital. They are closely monitoring the coronavirus outbreak and are continuing to carry out their life-saving mission in our communities.
Right now, they are urging individuals who feel healthy and well to make an appointment to give blood, platelets and plasma. They are also encouraging those who have had COVID-19 and have recovered to give plasma. While there is no proven cure for the virus yet, it is possible that convalescent plasma, which has antibodies against the virus, could help patients with serious or life-threatening infections. Click here to learn more and to make an appointment to donate.
Volunteer
Even in the time of COVID-19, there are still plenty of ways you can help nonprofit organizations in person. While these volunteer opportunities may look a little different than usual—with masks and social distancing requirements—you'll still be able to make a difference.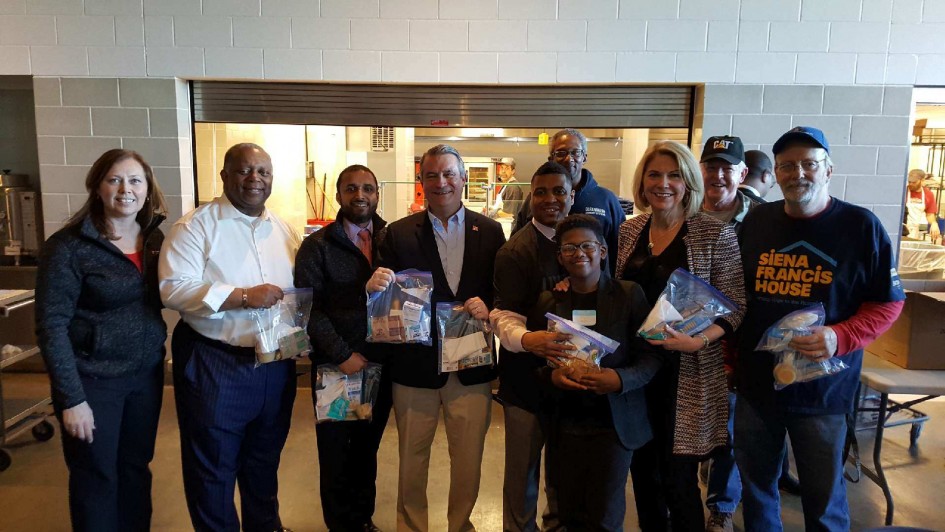 Photo courtesy of Siena Francis House
On June 1, Open Door Mission lifted Shelter in Place and began phase one of their plan to return volunteers to work at their campus. Because they serve vulnerable people with weakened immune systems, they are taking COVID-19 very seriously. Individuals should only volunteer if they are well and are not showing any symptoms. Click here for more information on how to volunteer and their current COVID-19 policies.
Siena Francis House provides over 400,000 meals every year, and they need volunteers to help serve them every day. They are also looking for volunteers to help with pantry stocking, laundry service and transportation. Click here to learn about all the different ways you can help Siena Francis House throughout the holiday season and all year long.
Food Bank for the Heartland is always looking for volunteers to help out with specific events they have going on throughout the year, along with people to help out in their warehouse. Click here to see their calendar, which outlines dates and times along with how many volunteers are needed for each event and location.
For more volunteer opportunities or information, visit SHARE Omaha, a local organization that helps local nonprofits come together to share resources. They have a handy tool on their website that allows you to search for volunteer opportunities all across the Omaha area. Click here to learn more.
How will you help during the holidays?
While we know we haven't outlined every nonprofit organization and opportunity to help in the Omaha area, but we hope this helps you get started. If you know about a local organization in need this holiday season, let us know about them in the comments below!