We love decorating for each new season. With just a few color changes or textile additions, you can update the entire look of your home four times a year! Don't tell the others, but fall may just be our favorite decor season of all. We love the colors, the patterns, the coziness and especially the pumpkins. Really, any excuse to add plaid (and more blankets!) makes us happy.
Too often in our seasonal updates, the front porch gets ignored. We've all been guilty of it — we just slap a wreath on the door and call it good. This fall, we want to step it up a notch! So we found a few front porch decor ideas that you can copy or DIY and make all your own.
Scroll through our adorable finds and get some autumn inspiration!
1. Add Seating
There's no better place to appreciate the fall weather and the changing leaves than from your own front porch. Adding a small table and chairs makes your home look warm and inviting — and you can redecorate the set to fit every season!
Photos provided by 21 Rosemary Lane
For fall, Barbara at 21 Rosemary Lane embraced an autumn-inspired color palette with multi-colored pumpkins, yellow pillows and flowers to match.
Photo provided by Master Pieces of my Life
MaryJo at Master Pieces of my Life, transformed her bench into a fall paradise — complete with fleece and fur. Metal pumpkins add a rustic look which contrasts beautifully with the bright flowers and real squash.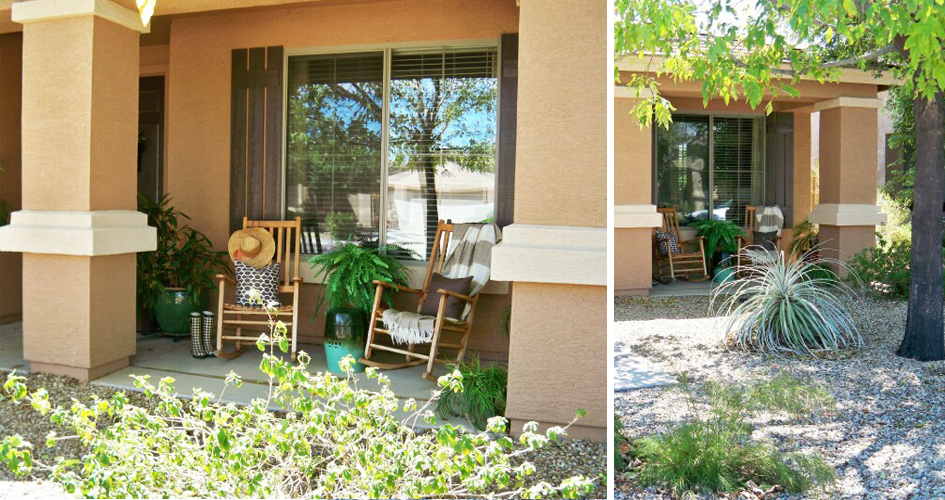 Photos courtesy of A Stroll Through Life
You can also use your seating and your front porch decor to preview the inside of your home. Marty from A Stroll Thru Life added some cozy fall blankets and pillows which mimic the color palette inside. We also love the festive rain boots!
2. DIY a Statement Piece
Adding a statement piece to any decor makes decorating around a theme much easier. This fall, add one of these fun pieces to your front porch to increase your festive spirit and your curb appeal!
Photos courtesy of Duke Manor Farm
We love the DIY wheelbarrow Laura put together for her entrance. It matches the farm harvest season perfectly, but can also be reused in spring and summer! She loaded it up with bright and festive flowers, but you could show off your autumn spirit with pumpkins, textiles or anything else your heart desires! Find out how to make the wheelbarrow and see the rest of Laura's gorgeous porch.
Photos courtesy of Snazzy Little Things
Jeanette at Snazzy Little Things turned an old table into a gorgeous potter's bench. Her cool tones, twig wreath and evergreen shrubs are a subtle salute to the upcoming winter and can be switched throughout the year.
3. Embrace the Harvest
Fall is harvest season — especially in Omaha! Not only do we have plenty of pumpkins and squash, but our farms are loaded with apples. Adding these, and other fall flowers and specialties add life and a local touch to your decor.
Photos courtesy of The Anatasia Co.
Jillian at The Anastasia Co. put together an awesome blog post on all the different ways to spruce up your pumpkins without carving. This is another great way to add statement pieces, extra color and some sparkle to your look. We especially love the black pumpkin with brass decal!
Photos courtesy of Our Southern Home
You can also use harvest-inspired shapes to add different textures. Christy's grapevine pumpkins contrast beautifully with the white ones she painted and create an adorable farmhouse look.
4. Venture Outside the Traditional Color Palette
We do love the oranges, browns and golds of fall, but you can keep the cozy feel and stand out from other houses on your street by using a few unexpected colors.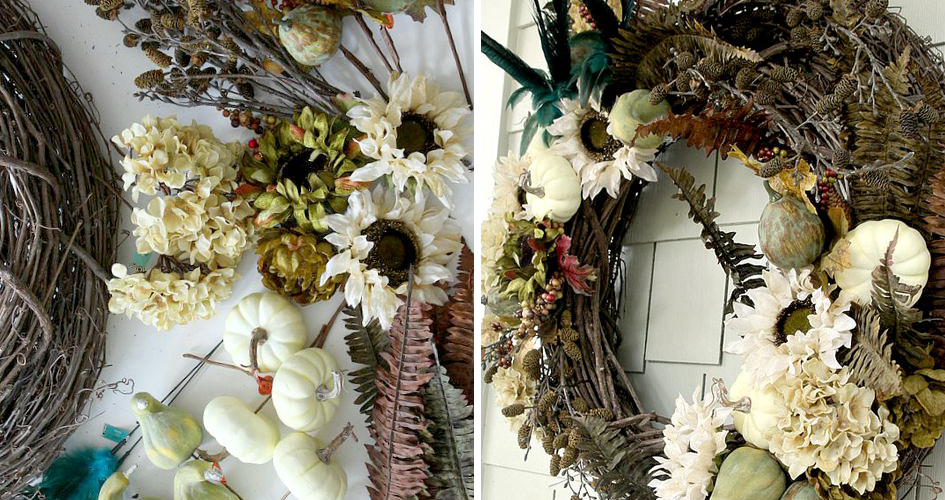 Photos courtesy of Duke Manor Farm
Laura combined bright and dark colors with a DIY Rustic Luxe wreath. We love the pops of color from turquoise feathers and light green details. But creams, yellows and a touch of red keep the wreath in line with traditional fall palettes and make it perfect for the season!
Photos courtesy of Our Fifth House
Carmel decorated for fall around her pink front door. The deep orange hues pair beautifully with the pastel color and she was able to add some gold pieces to tie it all together.
Heather at Setting for Four decorated with metallics this fall and we love the look! The deep tones fit in well with the calm atmosphere of the season but add unexpected shine. They'll also easily transition into winter.
5. And yes, you can still slap on a wreath
Let's be honest, it's not really fall without a festive wreath on your front door. We found a few tips to turn traditional into exceptional!
Photo courtesy of Bill Sitzmann | Story, wreath and design by Kristen Hoffman
Omaha Magazine put together a great Autumn Wreath DIY that lets you control just how traditional you'd like to be. We love their example, filled with acorns and deep hues that emphasize all our favorite, cozy parts of fall.
Photos courtesy of Rain on a Tin Roof
If you like the idea of a door hanging but want to try something other than a classic wreath, we suggest trying Jenna's DIY! For lack of a better word, she calls it a wreath. We love the warm and inviting touch it adds to her door. With mixed patterns, colors and textures it embraces a little bit of everything from our list of front porch decor ideas!
Share your tips and tricks!
Have any new decor ideas you're dying to try? Or any classic fall standbys? Share your ideas and photos with us. We'd love to see how your front porch embraces our favorite season!