This post has been updated on August 28, 2019 to reflect current information
Between costume contests, trick-or-treating, Jack-O-Lanterns and caramel apples, Halloween is one of the most beloved times of year. But the season just wouldn't be complete without a visit to one of our area's most terrifying haunted attractions!
From mystifying manors and creepy carnivals to freaky forests and haunted hollows, there are plenty of ways to get your fill of frights in the Omaha area this fall. We listed our favorites below — but do you dare to read on?
Use our interactive map to find a haunted house near you!
Schedule varies, September 13-November 2
Photo courtesy of Scary Acres 
Scary Acres is one of Omaha's most anticipated spooky attractions during Halloween season — and it's not difficult to see why. The venue offers three different bone-chilling attractions, including Master's Castle, the Haunted Woods, and House on the Hill. After embarking on your adventure of choice, warm up at a bonfire on site and enjoy a snack from the concession stand. View the complete schedule here.
Weekends, September 20-October 27
Boasting more than an hour of continuous frightening experiences, the Ranch of Terror at Bellevue Berry & Pumpkin Ranch is Nebraska's longest haunted attraction. Each year, thousands of dollars are invested to ensure the most spine-tingling experience possible, including a twisted walk through a truly terrifying haunted house, spelunking in the haunted caves, a visit to zombie jail, and a spooky hayride through the woods.
Bellevue Berry & Pumpkin Ranch also offers a no-scare Halloween night and daytime events for the little ones, including face painting, hayrides, vendors and pumpkin picking.
September 15-November 1
Photo courtesy of Madness Haunted House
There's a crisis in Council Bluffs — a paranormal presence has entered the city, causing nightmares and spine-chilling sensations. The source of the trouble seems to be the Madness Haunted House, the only haunted attraction in town. Do you dare to enter the madness, where only the brave survive?
Schedule varies, September 13-October 31
You have never experienced fear like this. According to stories passed through the ages, Mystery Manor was built in 1887 by William and Greta Hall, who opened their home to Omaha's elite. When the stock market crashed on October 23, 1929, William lost his fortune — and his sanity along with it.
Rumor has it that the ghost of William Hall returns year after year to protect his home from intruders. Visit the Mystery Manor, Omaha's longest-running haunted attraction, and see for yourself. Check the Facebook page for the most updated schedule.
September 20-21 and September 27-October 31
This spooky theme park may seem innocent at first, offering fried Twinkies, funnel cakes, caramel apples and the like, but only the bravest will be able to enter. Inside, you will find a three-story haunted house, a barn maze with terrifying obstacles, the Whack Shack, a tarot card reading station, and more — and that's not to mention the thrilling roller coasters. After you've had your fill of frights, enjoy nightly movies under the stars and a relaxing bonfire.
Fridays and Saturdays, September 13-October 31
Image courtesy of Camp Fear
What happens when a peaceful summer park lapses into evil in the fall? Camp Fear! This spooky attraction offers a truly unique experience, inviting you to spend the night in the haunted campground — but make sure to sleep with one eye open. Expect terrors to close in at all hours of the night, including creepy crawlers from the river banks and frightful things emerging from the forest. Before you settle in for the night, bring your lawn chairs, blankets and coolers, and experience a horror movie under the stars.
If you're not too spooked, make sure to check out Bloodrush, the haunted forest, or Z-Bunker, an old abandoned army facility filled with zombies.
October 4-5, 11-12, 17-19, 25-27 & November 1
Photo courtesy of Eagle Hollow Haunts
Eagle Hollow Haunts is an easy 50-minute drive outside of Omaha, and is well worth the journey. Here, you will find scares for every thrill-seeker, including a creepy alien vortex, a spooky bus ride to the Darklands, and the surreal Night Terrors exhibit. Afterward, grab some emergency refreshments at the E.R. and dance along to the tunes of DJ Scary-oke.
Fridays and Saturdays + Halloween Night, October 4-31
Bone Shaker is located in Crete, just over an hour away, but is well worth the drive. Of course, If you're afraid of the dark, you might want to avoid it all together. As Nebraska's only completely pitch black haunted house, you will have to rely on your other four senses to make it out alive. Try not to get swayed off course by those breathing noises in the corner, and be sure to run faster than the monsters.
Fridays and Saturdays + Halloween Night, October 7-31
While visiting Crete, make the night doubly terrifying by following up the Bone Shaker attraction with Terror on 12th Street. This haunted house may be a bit more well-lit, but once you experience the terrors within, you might wish you weren't able to see at all.
Weekends and evenings during October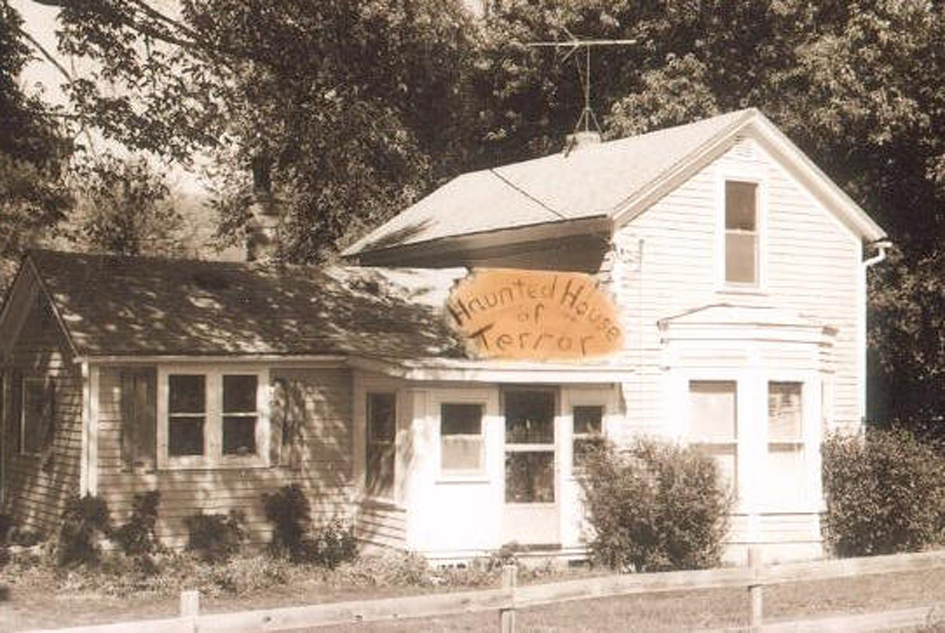 Photo courtesy of the Pioneer Trail Orchard & Pumpkin Patch
The farmhouse at Pioneer Trail Orchard & Pumpkin Patch was built in 1890, and has become the perfect creepy attraction for those who are brave enough to enter. We recommend avoiding the kitchen at all costs — something is lurking within that would very much like to turn you into dinner. If you do happen to make it out alive, you will still have to cross the haunted graveyard that lies behind the structure.
Weekends, September 27-October 27
Roca Scary Farm goes beyond the haunted house, offering a full haunted farm with unparalleled attractions. Hop on the haunted hayride, twist your way through the manor house, and try to keep your senses straight in the house of illusion. If you choose to visit during the day, you can help save the world by hunting zombies — just make sure to take them out before night time falls. View the full schedule here.
Are You Scared Yet?
What is your favorite haunted house in the area? Let us know in the comments!