After months of preparation, we're proud to announce the launch of our brand-new website at NPDodge.com! 
We're passionate about real estate, our communities, and helping our customers make the best property investments. Therefore, changes made to our site focus heavily on creating a better experience for the evolving needs of buyers and sellers in Nebraska and Iowa—whether you're searching on a desktop or mobile screen. 
We constantly invest in our technology so that we can respond more adequately to the needs of our clients, further our reach, offer accurate and updated information, and foster every user's overall experience. No matter if you're buying, selling, or just perusing the local market—we hope every second you spend on our site is an enjoyable experience.  

A Newly Optimized Mobile Site
According to a recent report from the National Association of REALTORS®, 89% of new home shoppers use a mobile device at some point during their search. Therefore, making sure our mobile website is just as beautiful and functional as our desktop site was a no–brainer! Exploring everything NP Dodge has to offer on your phone or tablet has never been easier, with every feature perfectly optimized to fit whatever screen you love using.  
The most noticeable of our website changes is the redesigned homepage! From evolving into a more user-friendly interface to transitioning to a more modern design—our homepage has received a facelift and we couldn't be more excited about it. 
A Smarter Quick Search
Neighborhood, county, school district—there are a lot of variables to consider when it comes to buying or selling a home. Now, our quick search can help you find exactly what you're looking for in a fraction of the time! Just visit our homepage to search anything from MLS numbers to specific addresses and school districts! It will autofill with suggestions for search options, pulling information from both the Nebraska AND Iowa multiple listing services.  
You can also easily toggle between multiple search bars, including Find a Home, Price My Home and Agent Search. Hundreds of helpful pages are now at your fingertips! 
A More Intuitive Menu
To create a more streamlined and intuitive homepage, we designed our new menu to be there when you need it and gone when you don't! Just hover your mouse or tap the "Menu" button with three bars on the right side of your screen to start exploring. This is where you can find direct links to our Map Search, Advanced Search and New Construction Search features; our handy Price My Home tool; information on our agents and offices; the history and mission of NP Dodge Real Estate; a link to register for a new account; and links to our family of services like apartments, commercial real estate, insurance and so much more.  
A Helping Hand
Not sure where to start in your home buying or selling journey? Our new homepage is full of links that can help guide you in the right direction, including a Home Buyers Guide, information on our robust mobile app, and more.  
Blog Spotlights
NP Dodge has never been just a real estate company, but rather a community resource for you and your family! We publish new articles on our blog every week featuring local businesses, events and more—so that you can stay on top of what's going on in your community. Our new website homepage features an easy-to–navigate carousel that showcases our latest and greatest posts. 
Join NP Dodge
Ask any of our real estate agents and they'll give you a list of reasons why you'll find a promising future at NP Dodge. Interested in joining our ever-growing family? You can now access a plethora of information on getting licensed and a list of current job openings at NP Dodge right from our home page!  
Our Map Search feature has always been one of the most–used tools on our website, so we decided to make it easier to use than ever before! Enjoy a brand new interface, full of helpful and exciting features that will make your home search fast, simple and fun. Similar to the quick search on our homepage, you can easily search by city, school district and other filters that matter most to your needs.
A Birds-Eye-View
Now, when you visit our Map Search, you'll see a top-down view of the greater Omaha area featuring some numbered dots. The navy ones are active properties that you have not viewed yet, while gray dots are the properties that you have viewed. Pending properties are blue, with the viewed properties being light blue and the not viewed, royal blue. Finally, all the red dots are sold properties, which will give you a good idea of a normal selling price in your target neighborhood. 
As you zoom into your favorite neighborhood—or add some filters into your search—some dots will be removed, showing you exactly how many currently listed properties fit your parameters in the area. As you move around the map, the list of properties on the right side of the screen will also change, giving you the chance to easily click or mark properties you're interested in looking at. 
New Filter Options
At the top of our Map Search, you'll find three search bars that will help you narrow down your home search. The first is a quick search bar, allowing you to explore certain neighborhoods, zip codes, counties, school districts or specific schools with just a few clicks. The second, and most important for many, is the price bar! This one allows you to input a minimum and maximum dollar amount so your search can stay within your desired price range. The third and final bar takes you to our Advanced Search tool, giving you the chance to include even more filters on your search, like the number of bedrooms, property type, year built, garage spaces, laundry room level and so much more. Once you click that "View Results" button on the right side—it will take you right back to our Map Search tool, showing you properties currently for sale that fit your exact specifications.  
A 
Simpler
 Way to 
Preview
We know how it goes. One moment you're looking for a home in the area and the next you have 30 tabs open and an endless stream of photos to click through. To help you see whether or not you're actually interested in a property before clicking into a new page, you can now scroll through property photos right on our Map Search! After you've put in your search parameters and have a list of listings on the right side of the page, just hover over the listing and click the left or right arrows to scroll through.  
Base Your Search Off of Local Points of Interest
We all have places we'd prefer live closer to: work, school, the mall, a hospital, the airport, or even a specific restaurant. So why shouldn't your online home search be able to factor that information in too? Our new and improved Map Search does exactly that! Simply click on the new "Drive Time" button on the top left side of the screen and type your desired point of interest in the new search bar. Then you can click on the small clock on the right side of the bar to include the amount of time you want to be able to arrive at that destination in. Our Map Search will then only pull properties within the specific drive time you've set to your chosen point. Gone are the days of being late to work or school or missing happy hour at your favorite neighborhood hotspot! 
The same experience found on our Map Search is available within our newly designed Advanced Search as well. With a new, streamlined look, you'll be able to find exactly what you're looking for in record time! Just scroll through and put on all the home parameters that matter to you: price, location, size and more. You can even put specific filters on your search like "Corner Lot" or "Attached Garage" and choose whether or not you're looking for homes with homeowners' associations.  
If you're interested in more than just residential real estate—no problem! Our Advanced Search page allows you to toggle between several different searches like Multi-Family, Lots and Land, and Commercial real estate with just one click. 
After you've entered your ideal home parameters, sit back and relax as the search effortlessly pulls information from the Nebraska and Iowa MLS. If you've found two or more properties that you like, just click the box next to the "heart" button and then click "Compare" on the top menu to compare essential information about each property, all on the same page. While you're in the "Compare" page, don't miss the "Driving Tour" button, which will map out the properties you're interested in so you can see exactly where they fall on the map.
Without our amazing agents, we wouldn't be Omaha's #1 real estate company! So, when you're beginning your home search or deciding whether or not to sell your home, we recommend giving one of them a call to help guide you on your journey. Our Agent Search allows you to explore all 460+ of our agents and teams at once. You can even put parameters on your search including what languages they speak, where they are licensed and what positions they currently hold to find an agent that is the best fit for your needs.  
If you're not sure where to start where your agent search, there's a button for that too! Just click the "Need Assistance?" button on the top of the search page and fill out the contact form. Someone from our team will be in contact soon to help connect you with your perfect agent! 
Our offices are where the magic happens. It's where agents can collaborate with each other, meet with clients and host events that showcase the incredible culture at NP Dodge Real Estate. So, if you're looking to stop by—or just want to learn more about each of our offices—visit our Office Search page. Here, you'll find a handy map that outlines all of our offices so you can choose the one closest to you. Once you've clicked into a specific office, you'll also be able to learn all about that office's particular support team, agents, history, office culture and more!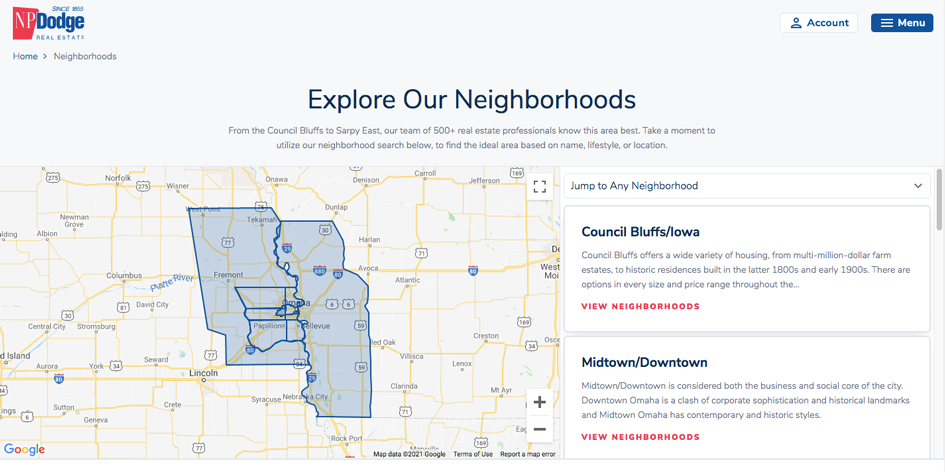 If you're new to the Omaha area, the most helpful tool for you is our Neighborhood Search! This tool gives you a birds-eye view of the community, outlining specific regions in the area. To learn more about each area, just scroll over them on the map at the top of the page. Then click on the "View Neighborhoods" button to learn about all the communities located within that highlighted region.  Once you've found a neighborhood you're interested in, just click the "Explore Neighborhoods" button and you can find out the history, population and scroll through photos of that community.  
Newly Rebranded Agent and Team Websites
In addition to redesigning our websites, NP Dodge agents and team websites have gotten a facelift as well! Utilize the power of NPDodge.com—including our Map Search, Advanced Search, Neighborhood Search and more—all from your agent's website. Here's what one of our agents, Jesse Skudler, had to say about the newly rebranded agent sites: "Very easy to use and navigate.  Easy to read and I really like the mapping feature as well… I love all the area information, school information and stats, demographic information.  That is incredible information.  NICE JOB!  I am just wowed by this.  This definitely sets us apart from the competition."
Easy–to–Find Social Media Icons & Contact Form 
It has never been easier to get in contact with our agents! Their new websites feature prominent social media icons and a simple contact form, that makes it quick and easy to reach out or ask a question.  
Exciting Video Display 
Our agents are more than just a name and face—and now their websites showcase that! On every agent website, you'll be able to peruse agent-selected videos that will help you learn more about them and how much they love their community.  
Easily Access NP Dodge's Other Features 
Because each NP Dodge agent and team website comes with the same power of NPDodge.com, you'll be able to access all of our exciting features in one place. That includes the option to set up Property Alerts, sign up for our Mobile App, or explore the amazing neighborhoods and communities we serve.  
And 
So Much 
More!
These are just a few of the new features on our site. Take a minute to browse our new website and explore everything it has to offer!